3 Best Rapid eLearning Practices to Implement in Your Corporate Training Now!
Rapid eLearning is an effective and efficient approach for developing high-quality eLearning courses quickly. But have you ever wondered if you can make it any better? Like probably the best! Well, here are the 3 best practices in rapid eLearning.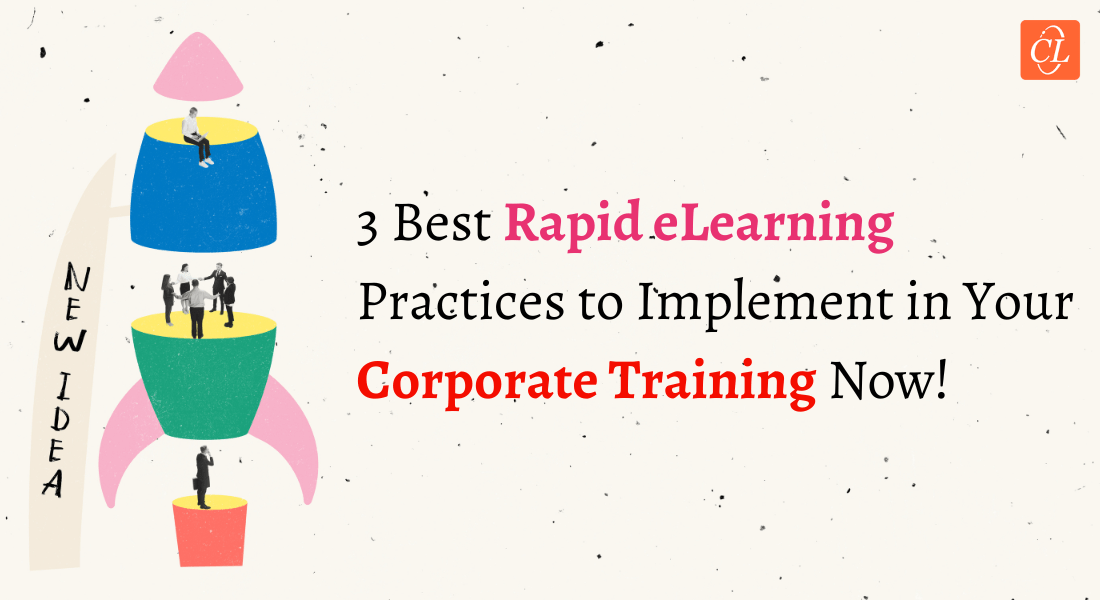 Rapid eLearning— an approach where innovation and interactivity meet speed and quality! In today's fast-paced world where business scenarios are changing faster than ever, it has become crucial for organizations to keep up with the ever-evolving learning needs of their workforce. And to bridge the gap between training needs and relevant training material, rapid eLearning has emerged as the go-to solution. It facilitates designing and developing eLearning courses quickly and efficiently.
But, have you wondered what makes some rapid eLearning initiatives more successful than others?
Rapid eLearning At Its Best!
Here are the top 3 practices that ensure that:
Simplify the eLearning course development process
Design engaging and interactive courses
Continuously evaluate and improve
Well, the answer lies in adopting the best rapid eLearning practices that not only save time and resources but also enhance the quality and effectiveness of the learning experience. In this blog, we will explore the top 5 practices that are sure to help you make the best of rapid eLearning and level up your corporate training game. Let's begin!
3 Best Rapid eLearning Practices to Implement Now!
In this ever-evolving field, staying on top of the latest trends and strategies is essential to create impactful learning solutions that meet the needs of the modern learner. Here are the 5 best rapid eLearning practices that enable you to match the quickly changing needs of your training.
Simplify the eLearning Course Development Process
To create effective eLearning courses quickly, it's essential to simplify the content creation process. You can do so by following a structured and streamlined approach, such as using templates and frameworks that standardize content elements and the development process. Moreover, it's also important to establish a content development and review process that involves Subject Matter Experts (SMEs), instructional designers, and other stakeholders to ensure the training material is accurate, engaging, and relevant to the learners.
Rapid eLearning follows the Successive Approximation Model (SAM) which is an agile process. Moreover, leveraging rapid eLearning authoring tools contain built-in templates, themes, interactivities, and assessments that ensure seamless eLearning course development.
Design Engaging and Interactive Courses
I'm sure everyone understands the time constraints involved in rapid eLearning. But let me tell you that's no reason to let your employees struggle with boredom and distraction. Therefore, designing engaging and interactive eLearning courses is a must! It helps you keep learners motivated and involved. And you can ensure immersive, learner-centric training material by incorporating interactive elements such as quizzes, infographics, simulations, digital flashcards, etc. Wait! There's more.
Rapid eLearning also provides you with a variety of multimedia elements such as images, videos, and audio that you can use to make rapid eLearning courses more engaging and effective. Moreover, you can deploy different instructional design strategies like microlearning, gamification, scenario-based learning, storytelling, and more to augment the effectiveness of your training material and boost learner engagement. This improves information recall and retention, thereby fostering employee performance and productivity.
Continuously Evaluate and Improve
Imagine giving a test but never getting the results! I'm sure you'd wonder, "What's the purpose of that?" Exactly! You won't know your strengths or your shortcomings. Therefore, improvement without proper analysis is next to impossible! Similar is the case of corporate training. Rapid eLearning definitely offers you the advantage of developing and delivering eLearning courses quickly. However, it's essential to continuously evaluate and improve the training material based on learner feedback and analytics.
You can easily gather the analytics by conducting regular assessments, surveys, and focus groups to gather feedback from learners. Based on the learner feedback, you can revise, update, and even replace the old content with new one to provide an effective learning experience. It's also important to monitor learning analytics to gain insights into learner behavior, progress, and outcomes, and use that data to continuously improve the learning experience.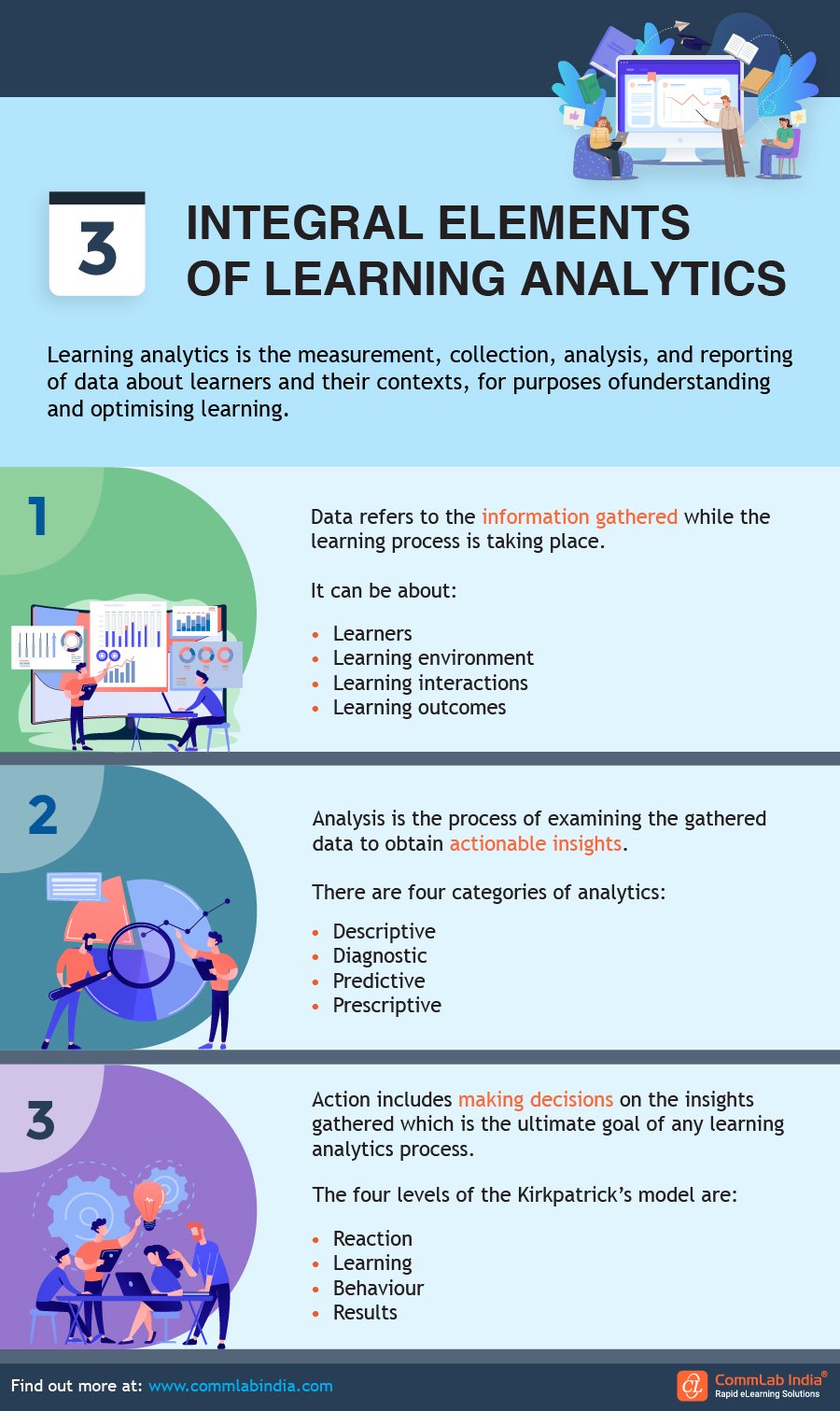 Summing It Up!
As the world of corporate continues to evolve rapidly, so does the way we approach learning and development. To ensure your best foot forward, rapid eLearning offers a flexible, scalable, and cost-effective way to deliver the training and development that employees need to thrive in a fast-paced and ever-changing business environment.
By embracing the best practices of rapid eLearning, you can unlock the potential of eLearning to transform the way you develop and upskill your workforce, drive performance, and achieve business goals. With a commitment to continuous improvement and a focus on creating engaging and effective learning experiences, the possibilities are limitless. And if you're struggling with the what and why of learning analytics, don't worry! Here's a simple solution for you: our informative eBook on learning analytics is sure to make things easy for you. Check it out now!
Editor's note: This post was originally published in March 2023 and has been updated for comprehensiveness.