A Roundup of Rapid eLearning for Today's Training Managers
Are you looking for the best resources on rapid eLearning? Look no further because this blog will furnish you with 5 popular resources on rapid eLearning. Offering scale, speed, quality in corporate training – rapid eLearning is the key!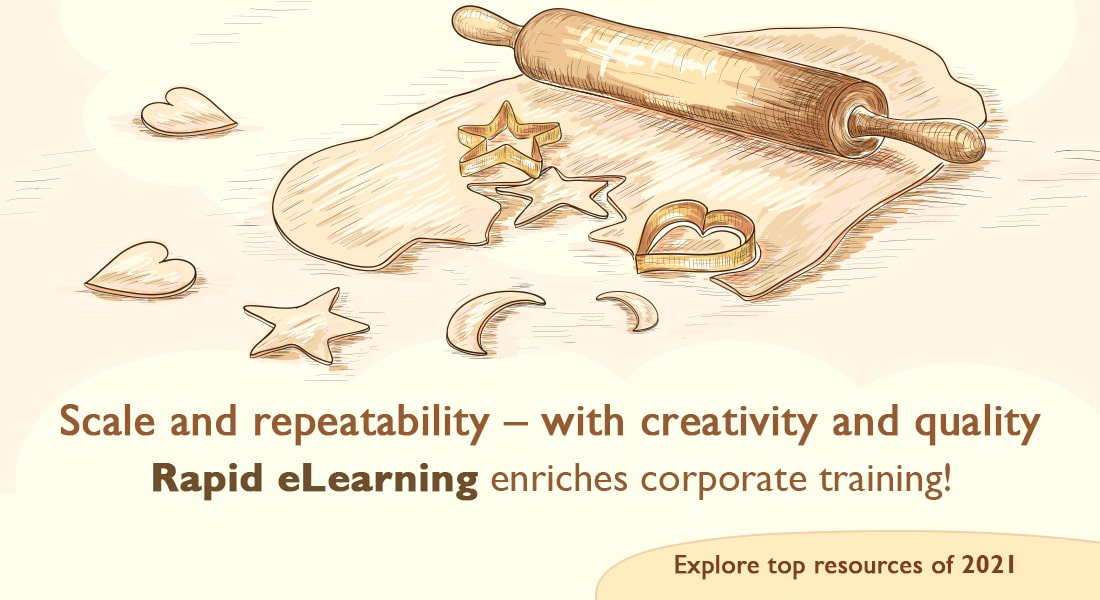 Do you know that rapid eLearning can benefit you in several ways such as rapid production, quality, scalability, and save your SME time?
Is it necessary to delegate a significant amount of time and resources to develop high-quality eLearning courses? Is it possible to create online training with minimal time and expense while still ensuring effective learning?
Rapid eLearning is the way, and this blog answers these questions through the 5 top resources of 2021, as well as additional information on rapid eLearning.
What are the Top Resources of 2021 on Rapid eLearning?
Do You Know the Real Rapid eLearning?
Instructional Design through the Lens of Rapid eLearning
The 4 Rs of Rapid eLearning and Corporate Training
Features and Benefits of Rapid eLearning
A Whirlwind Tour of Rapid eLearning
1. Do You Know the Real Rapid eLearning? [SlideShare]
What is rapid eLearning? Well, it isn't publishing a well-designed PPT deck with an authoring tool, lack of creativity, or monotonous, boring courses. Rapid eLearning is a faster, leaner version of custom eLearning – the Occam's razor of custom eLearning.
Rapid eLearning:
Follows instructional design principles, while reducing bells and whistles
Leverages available content – classroom training material, legacy courses, webinar recordings, videos
Utilizes authoring tools
Adheres to iterative, agile project management
Let's find out more about rapid eLearning in this SlideShare.
Gain insights on:
What rapid eLearning is and isn't
Services rapid eLearning can offer
Role of authoring tools
Essential elements for rapid eLearning
2. Instructional Design Through the Lens of Rapid eLearning [Blog]
Custom eLearning is now back in the leaner, faster avatar of rapid eLearning. Rapid eLearning cuts down the time and cost associated with traditional custom eLearning by adhering to the basics of instructional design.
Instructional design is also evolving, making it easy and simple to convert classroom training material to eLearning – without losing the element of interaction.
Some easy-to-include strategies that connect with today's learners include:
Storytelling to make it emotional
Offering edutainment
Opening navigation and personalizing courses
Here's to Instructional Design, the unsung hero of corporate training, and rapid eLearning, the herald of effective, engaging training with speed and scale at quality. To know more, take a look at Instructional Design Through the Lens of Rapid eLearning.
3. The 4 Rs of Rapid eLearning and Corporate Training [eBook]
Well-designed training programs help employees perform their best to achieve organizational goals and maximize your training ROI. Rapid eLearning also accommodates emerging formats such as virtual training and microlearning to offer uninterrupted training and appeal to today's learners.
Can rapid eLearning ensure all this, well within your timelines?
The answer is a resounding YES, thanks to rapid eLearning's 4 Rs – Redesign, Record, Rebuild, Republish.
So, it's time to delve deep and explore these mystical 4 Rs.
4. Rapid eLearning and the 4 Rs [Webinar]
Rapid eLearning offers training at scale and speed, with quality – leveraging existing training material or subject matter experts' inputs. And the 4 Rs discussed in the eBook help. If the eBook has you hooked on to rapid eLearning, get in-depth insights in this webinar.
REDESIGN classroom training material to get started with online learning
RECORD inputs to save time
REBUILD lengthy courses as microlearning
REPUBLISH legacy courses for mobile compatibility
5. 4 Features and 4 Benefits of Rapid eLearning (That'll Make you Drool)! [Blog]
We've saved the best for the last. Check this blog for a birds-eye view of rapid eLearning.
Features:
Is based on instructional design minus the frills
Leverages existing content
Uses rapid authoring tools and pre-built templates
Ensures learner engagement
Benefits:
Quick and inexpensive course development
Easy updates and legacy conversions
Scalability
Multilingual translations
Those are the top four features and benefits of rapid eLearning any training manager would love to take advantage of! Want to explore in detail? Click here…!!!
Parting Thoughts
By now, you must be familiar with the main aspects of rapid eLearning. So why wait any longer? Reap the benefits of these resources. Furnished you with these insights, get ready to tackle your training challenges in 2022! If you want to dig in more into rapid eLearning and find out how to save SME time with it, then don't forget to take a look at this webinar.
Be an eLearning Champion!