A Mini Guide to Rapid eLearning!
Do we need a lot of time and resources to create quality eLearning courses? Is there a way to develop online training with minimum time and expenditure, while still making learning effective? Rapid eLearning is the way and this blog answers these questions, and more on rapid eLearning.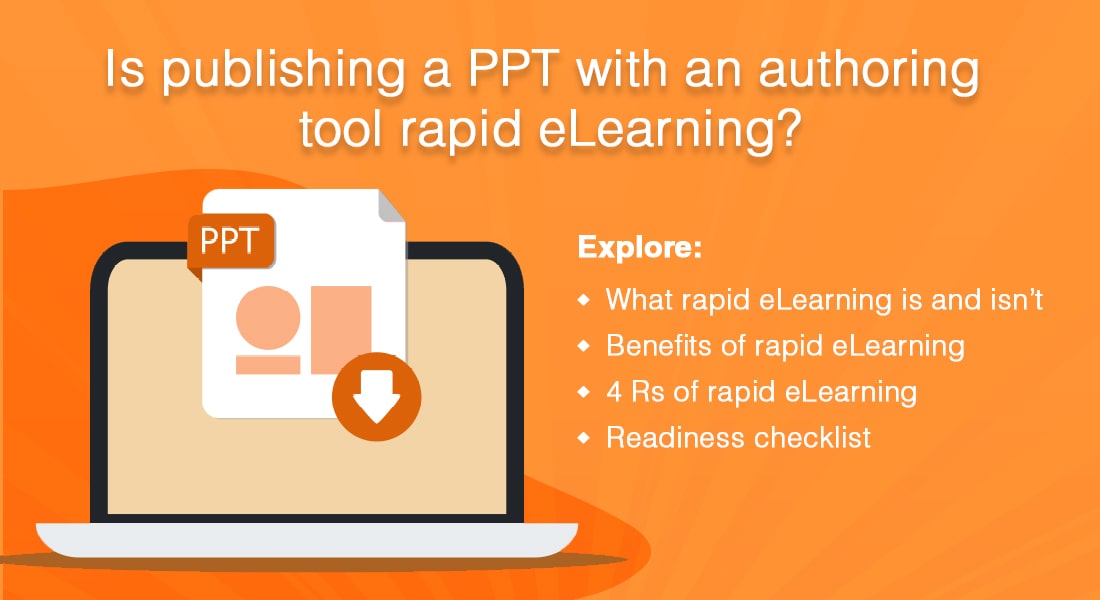 Do you believe that developing an engaging and high-quality eLearning course requires a lot of time and money? What if I tell you that's not true? With the global COVID-19 pandemic affecting the way we approach training initiatives, it has become very important to change the way we look at learning and development, and that too, in record time. Because it is becoming more and more challenging to develop online training programs in the present time of shrinking budgets and timelines. This is where rapid eLearning can help.

What is Rapid eLearning? (And What is it Not?)
Rapid eLearning is the answer to all our training challenges!
Rapid eLearning cuts down on the unnecessary ornamental elements that are an integral part of conventional eLearning courses. It leverages the power of authoring tools for efficient course development, while adhering to the principles of instructional design. Simply put, it focuses on utility (not eye-catching design), while incorporating all the elements of effective learning.
What is its appeal?
While conventional eLearning courses can take several months to develop, rapid eLearning needs only a few weeks to develop courses based on stakeholder requirements. These courses are designed focusing on the all-important performance-based learning objectives (which cascade from the business goals of the organization), making them highly effective for on-demand training.
Rapid eLearning differs from conventional eLearning in that it:
Reduces the development time and cost
Uses an agile project management process
Offers higher learner engagement
We now know what Rapid eLearning is.
So, what then is NOT Rapid eLearning?
The mere use of authoring tools is NOT rapid eLearning, nor is publishing a PowerPoint deck with an authoring tool. Rapid eLearning does not mean:
Compromising on instructional design and quality
Designing courses with zero creativity
Doing away with efficient project management
How Does Rapid eLearning Save Time and Cost?
Rapid eLearning saves valuable time and cost because it:
Leverages existing, readily available content
Standardizes and reuses templates
Leverages rapid authoring tools
Why Does your Organization Need Rapid eLearning?
The more dynamic organizations are in their approach to training, the greater their chance of success. eLearning is one of the best and fastest ways to keep your workforce motivated, engaged, and productive. To keep up with the immediate requirements of the changing times, it is also important for us to adapt as quickly, and to take urgent action for the upskilling and reskilling of employees through on-demand courses developed with rapid eLearning.
Advantages of rapid eLearning include:
Faster Turnaround and Better Costing
Rapid eLearning is 'rapid' due to three reasons:
A substantial number of courses can be rolled out in a very short time.
Using rapid authoring tools doesn't need programming skills.
Costly rework can be avoided due to agile and dynamic processes.
How does this help training facilitators? You spend less time and resources to get high- quality training, thus having more time to focus on what matters most – the learning.
Easy Updates
It is easy to make updates to courses with the help of authoring tools in-house, saving on time and costs. That makes providing updated courses to employees a walk in the park, when there are changes in policies, regulations, or market trends.
Use of New-Age Instructional Strategies for Robust Learning
Unlike conventional eLearning, rapid eLearning doesn't take a 'one-size-fits-all' approach. It considers all the learning concerns and requirements of a multigenerational, multicultural, and geographically diverse workforce, and the different learning styles and specific needs of different learners.
These 'New-Age' learning approaches greatly increase learner engagement, and include:
Personalization
Storytelling (using case studies and scenarios)
Open navigation
Gamification
Enhanced ROI
Training ROI (Return on Investment) is the only metric that can confirm whether the training being rolled out is bringing in the desired results. So, how does rapid eLearning improve ROI?
Enables quick rollout of responsive courses (cuts development time by almost 40%)
Increases proficiency and reduces costs by allowing easy updates
Makes for more effective learning due to compliance with adult learning principles and robust instructional design
How Does Rapid eLearning Deliver on its "Rapid" Promise?
Rapid eLearning saves valuable time and cost because it:
Leverages existing, readily available content: Rapid eLearning uses existing training material – classroom material or legacy courses. Whatever form the content is in (PPTs, SOPs, PDFs, eBooks, etc.), it can be converted to eLearning.
Standardizes and reuses templates: When pre-existing templates are used for creating rapid eLearning courses, it saves the developers and Instructional Designers a lot of time.
Leverages rapid authoring tools: Authoring tools help create meaningful learning experiences, quickly and effectively – from creating interactive modules and multimedia assets to making them mobile-compatible.
eLearning development can be really streamlined with online reviews. SMEs don't need to work with bulky PPTs, and the design team doesn't need to deal with contradictory feedback from multiple SMEs.
What is the Strategy for Rapid eLearning?
Rapid eLearning uses a 4-pronged strategy – The 4 Rs of Rapid eLearning: Record, Republish, Rebuild and Redesign.
1. Record to save SME time
Since SMEs can't spare too much time for course development, reducing their touchpoints from 9 (in conventional eLearning courses) to a mere 3 (in rapid eLearning) is a huge incentive for them to get involved in the course design and development.
The SMEs provides the ID team with the PPTs they use for classroom training along with a recording of their explanation for each slide. The design team only approaches the SME in case of doubts, and at the remaining 2 touch points (reviewing PPT without audio, and with audio).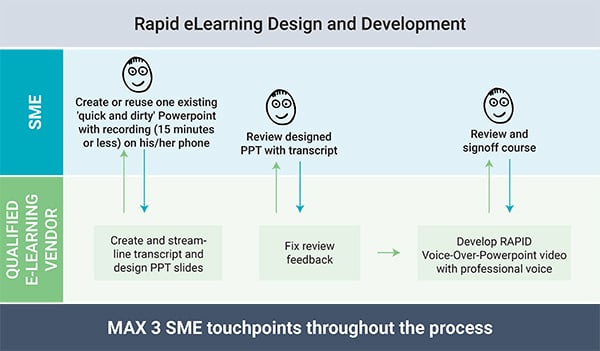 2. Republish for mobile compatibility
If your organization has been using eLearning for long enough, you must be having a huge library of courses developed using obsolete software such as Flash or older versions of authoring tools. The Republish strategy of rapid eLearning development enables you to:
Upgrade the course to a newer version of the authoring tool (adding new interactivities and assessments)
Update the content and branding
Make courses compatible with mobile devices
Revamp the look and feel of old courses
3. Rebuild legacy courses into microlearning assets for more efficient learning
Courses developed a few years ago might be lengthy with long seat times. However, using rapid eLearning, these courses can be rebuilt by logically dividing the course material into short microlearning nuggets, each crisp module covering one learning objective.
4. Redesign existing classroom ILT material into online training
You can avoid the cost and logistic hassles associated with classroom Instructor-led Training (ILT) by converting existing classroom training materials into online training that may be:
Asynchronous (eLearning, mobile learning, blended learning, job-aids)
Synchronous (Virtual Instructor-led Training)
Are you ready for Rapid eLearning?
The ball's in your court now. Here's a checklist to help you answer this question.
Content: Is the available content complete and meeting the learning objectives?
SME: Is an SME available for reviewing the rapid eLearning project?
Vendor: Does your eLearning vendor have the resources and the expertise to develop rapid eLearning?
LMS: Do you have a SCORM-compliant LMS?
If your answer to all these questions is a resounding "Yes!", you are!
Do you want to know more about designing rapid eLearning courses or explore the 4 Rs? Join this webinar for actionable insights.
Editor's note: This post was originally published in December 2021 and has been updated for comprehensiveness.