Looking to Reduce eLearning Development Cost and Time? Try Rapid eLearning!
Is managing eLearning development time and cost giving you a hard time? Here's rapid eLearning to take your worries way! Discover 5 ways how rapid eLearning does it like a pro!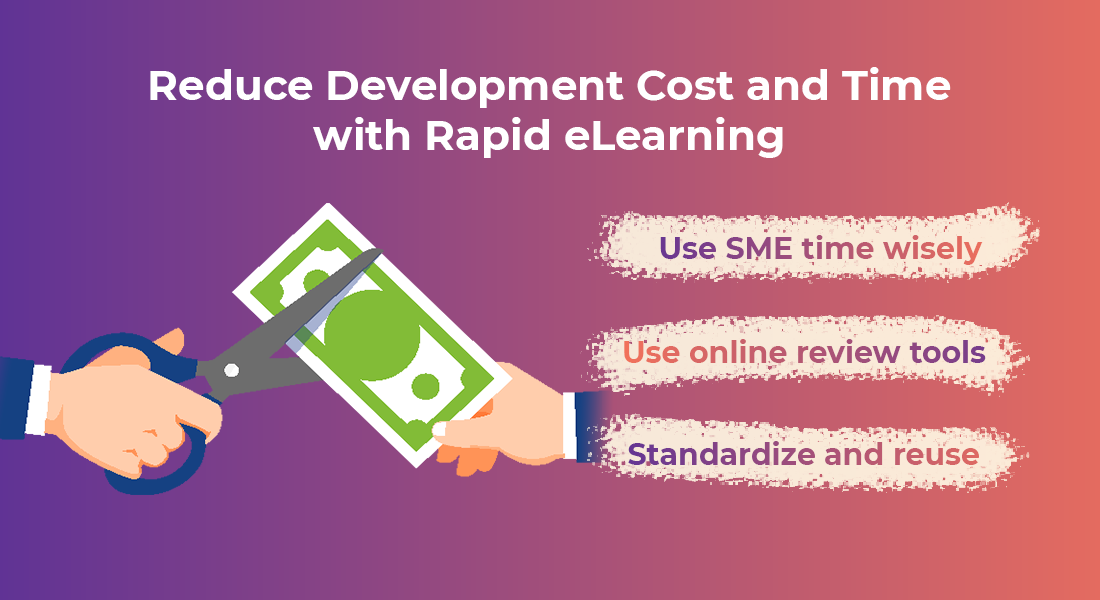 What are your biggest challenges as a training manager in your organization?
Training budgets? Tight timelines?
Dwindling budgets and ever-reducing timelines will continue to be with you, especially now with the global pandemic raging around us. However, it's time we have a solution to these challenges once and for all. And here's rapid eLearning to your rescue!
Rapid eLearning, done the right way, is the perfect solution to cut eLearning cost and development time. But before we move on to the tips, let's first define rapid eLearning.
5 Tricks to Reduce Cost and Time with Rapid eLearning
Be smart with SME time
Use online review tools
Follow the iterative SAM process
Leverage the right eLearning authoring tool
Standardize templates and elements
What is Rapid eLearning?
Rapid eLearning, as the term suggests, ensures eLearning course development (the process of developing eLearning courses) in minimum time. This is achieved by:
Using rapid authoring tools to ensure quick development
Eliminating the frills of conventional eLearning courses
Leveraging robust project management
Standardizing common screens and other elements
…… and much more!
All in all, rapid eLearning offers an effective solution to reduce training gaps quickly. However, there is a misconception that the only thing it does is provide "quick fixes" for training needs. This needs to be debunked as rapid eLearning does much more!
What's So Special About Rapid eLearning?
Training managers are always under tremendous pressure – to create effective training for employees in the quickest possible time. It is not easy to develop engaging courses with robust instructional design – hence the pressure!
But let's face it­­, we live in a fast-paced world! (Look at COVID-19, and how fast it has spread!) We are all expected to produce as much as we can in the shortest possible time. That's where rapid eLearning comes in handy – to convert your existing classroom materials into eLearning courses quickly and effectively.
Without further ado, let's take a detailed look at some of the ways rapid eLearning reduces time and cost. ]
5 Great Ways to Reduce Development Cost and Time with Rapid eLearning
1. Be Smart with SME Time
Subject Matter Experts (SMEs) play an important role in building good eLearning courses. Their expertise and knowledge make courses what they are – hence their importance in eLearning development. However, SMEs are also very busy people – whose primary job is not training – who usually do not have much time to spend on training. But without their involvement, your eLearning courses will not create the kind of impact you wanted.
Therefore, one needs to try to reduce the time the SMEs need to spend on the eLearning project. This is how you can do that:
Ask the SME to put together a rough PPT deck as the base content to begin with.
Request the SME to record the explanation for each slide of the PPT deck using the recording feature of their smartphones. (You can then send the recording to the development team along with the PPT.)
You can share any webinar recordings on the subject with the development team to facilitate better understanding.
Involve the SME right from the kickoff of the project to avoid any miscommunication. Here are a few tips:
Factor in the SME's availability while creating the project plan.
Go prepared for meetings, keep the discussions short and productive.
Set clear timelines for clarifying doubts and course reviews.
Ask the right questions to save time and ensure the SME is comfortable with the mode of communication decided on. (It is best to ask them what method they prefer).
2. Use Online Review Tools
Online review tools are specific tools used to make the process of reviewing easy and quick. Most online review apps come as a part of the authoring tool. For example, the popular authoring tool Articulate Storyline comes with its own review tool called Review 360.
Online review tools:
Provide a common platform where multiple people can view the development process of the courses simultaneously, thereby avoiding the issues that come with repeatedly sharing, transferring, or downloading information.
Allow comments to be viewed by others, keeping everyone up to date and aware of the changes that need to be made or have been made.
Reduce the feedback cycle (since redundant or repeated information can be eliminated and issues in the course can be addressed on the same platform).
Allow the team to find errors at an early stage since the whole team gets to see the progress of the work with online review tools. Some online tools can even detect glitches automatically.
3. Follow the Iterative SAM Process
The SAM (Successive Approximation Model) is an alternative to ADDIE. It is an iterative process with constant communication between the development team and the stakeholders at different points. It minimizes rework, thus helps save time and cut costs.
If the eLearning outsourcing vendor follows the agile SAM process, that is the way to go!
SAM has three phases:
The Preparation Phase where all information about the project is gathered, and a brainstorming session is held where the design team and key project stakeholders review all information and discuss initial ideas and finalize the learning objectives.
The Iterative Design Phase includes finalizing the project plan and designing the prototype.
The Iterative Development Phase involves developing the fully functional eLearning courses.
The idea is to design and develop eLearning courses in 'sprints' and implement feedback after each step to ensure error-free courses at the end. Needless to say, the process of developing eLearning becomes much faster and bump-free.
4. The Right eLearning Authoring Tool can be a Game Changer
Gone are the days when you had to use Flash to create eLearning courses – code-heavy, time-consuming and costly. Fast forward to the current times, eLearning authoring tools have not only made course creation hassle-free, they are also loaded with in-built features to speed up the development process.
Authoring tools can help reduce development costs to a great extent. However, this will only work if you choose the right authoring tool depending on the specific unique requirements.
For example, simulation-based courses for software training work best with Adobe Captivate. Going for Articulate Rise – whose strength lies in the quick development of text-based courses into fully-responsive eLearning courses – would be a bad idea.
Here are some key considerations while choosing the right authoring tool:
Keep in mind the training requirement of the organization and check whether the authoring tool meets that requirement.
Choose the right authoring tool based on your team's knowledge and skill sets.
Decide whether you need to outsource or develop your course in-house based on what stage of eLearning adoption your organization is in.
5. Standardize Templates and Elements
eLearning templates are inbuilt screens offered by rapid authoring tools, that are particularly useful in reducing time and cost.
Instead of creating a course from scratch, developers just need to import templates and tweak them to match your corporate branding. These templates can then be stored in a library which can be used for future projects.
Standardization in eLearning come to one's rescue when you have very little time to rollout online training in your organization. Articulate Storyline offers more than 6 million illustrations, photographs, icons, and videos which can be accessed right from the tool. Trivantis Lectora offers 100,000 cut out characters, 89,000 new icons and so much more to make amazing design upgrades to your courses.
Apart from templates, there are other elements which can be standardized to make the development process faster:
GUI (buttons, icons, color, menu)
Screen layouts (common screens such as welcome, learning objectives, introduction/agenda, assessment introduction and result, summary, and so on)
Typography (font style and sizes for headings, subheadings, bullet points)
Wrapping it Up!
Rapid eLearning has proved that it really is a great way of delivering training quickly, while reducing the cost of development as well. We live in a world that demands quick results and that is exactly what it achieves, along with multiple other benefits. If you need to finish that training in a jiffy, and wish to reduce development cost and time, rapid eLearning is the way to go!
Want to learn more about rapid eLearning? Download our free guide 'Rapid eLearning Design for Quick Rollout" and discover best practices to churn out world-class, highly effective eLearning courses, within timeline and budget.