Saving SME Time in eLearning? It's Easy if You Do it Smart! [Video]
A guide on collaborating with SMEs effectively and saving their time helps make eLearning development easy. Explore how to speed up eLearning development.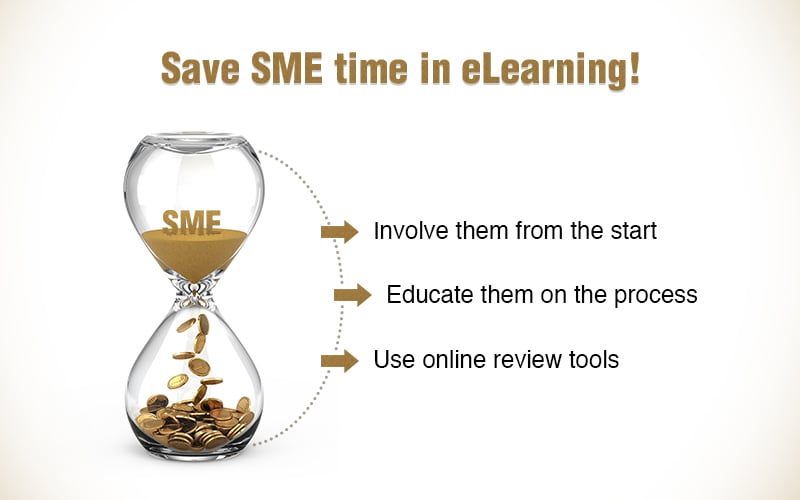 Subject Matter Experts (SMEs) – yes, they are an integral part of eLearning design and development. Your L&D team or the vendor will be responsible for collaborating with the SMEs for content review and approval. SMEs are experts in their domain and they provide information that is not common knowledge amongst other employees of your organization. But how can they spend time in training when they're almost always on-the-move, and always busy?
It is also not easy to expect SMEs who work on highly technical issues to contribute to training – especially eLearning design and development. However, their involvement is necessary as they validate the accuracy of the content and help IDs understand and chart through unfamiliar subjects. Here's a look at some key areas where your SME involvement is crucial:
Address subject-related queries
Approve the storyboard and developed course
They work behind the scenes for a well-structured online course and as they are busy, it is our responsibility as training managers, to make it easy for them to contribute and get their buy-in for eLearning. They will appreciate a simple process wherein their time is minimized and utilized with maximum efficacy. But here's the problem – collaboration with SMEs can be a painstaking task, especially when there are no clear expectations or a well-defined communication plan.
While you cannot provide them extra time to spend on eLearning, you can always take a few measures to cut down their time in the development process. HOW? Here's a video that offers a sneak peek. Do watch it and download our eBook for more tips!