Top 5 Reasons to Choose Rapid eLearning For an Unconventional Learning Experience
With rapid eLearning & instructional design strategies, training millennials and Gen Z learners is easy. Read on to know the reasons.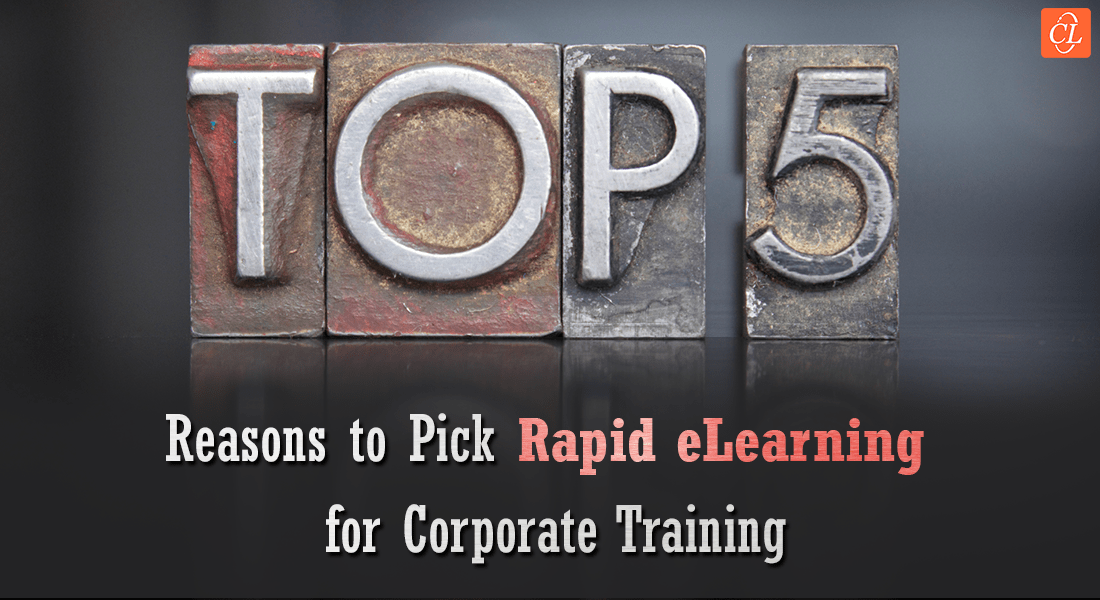 As famously quoted by Michael Altshuler, 'The bad news is time flies. The good news is you're the pilot. A hard-hitting, yet hopeful line when it comes to time management. Time is superior to money in most business industries around the world. L&D is no exception. The sooner you produce your deliverables without compromising the quality, the quicker you can ace up your business. Rapid eLearning is just about the same. Read on to discover the amazing world that rapid eLearning has to offer for you.
Why Should you Choose Rapid eLearning Over Conventional Classroom Learning?
Because, Rapid eLearning is,
Readily Available
Easy to Update
'New Gen' Learning
Easy to Deliver
Influential In Enhanced ROI
What is Rapid eLearning?
As the name suggests, rapid eLearning is a method to quickly develop eLearning courses by making use of rapid authoring tools. It has strongly built on the instructional design and the adult learning principles which differentiate it from ordinary online learning. And that is one big reason for not to compromise on its quality of delivering courses that too, with a low cost of developing.
How Rapid eLearning and Instructional design are related?
By using instructional design strategies one can create a learning experience that is long-lasting. Let us look at some of the learning strategies and see how rapid eLearning is making use of these techniques.
By Making it Personal!
We all feel valued and respected when we are called by our names. It builds rapport and evokes a feeling that we are taken seriously by the other individual. This mechanism is a powerful tool used in rapid eLearning for active learner engagement. You can ask their names at the beginning of the course and can be used to:
Initiate a new idea or introduce a new point
Give them feedbacks
Share Icebreakers
Summarize the learning
By Telling Them Stories
Stories are a wonderful way to convey the meaning of what you're trying to say. By evoking an emotional connection, stories help learners empathize with the characters and prompt them to take up action. This is an easy and effective way to learn. In eLearning, telling stories can be done in two ways. Those are,
1. By using Scenarios
In scenario-based storytelling, the learner is given a scenario that they are likely to come across while working. In a total risk-free setting, they can understand the consequences of their actions and how they affect other people and make an impact on the organization.
2. By using Case Studies
In the case of study-based storytelling, the learners are directed to use a sole case throughout the course. As the learner moves forward, the case becomes more intricate. The learners are prompted to use the knowledge they have gained in solving complex problems here.
By Using Open Course Navigation
Course navigation is composed on adult learning principles. Adults do not like to be controlled, instead they want to freely explore the possibilities of what they are learning instead of learning monotonous lessons. Here, learners can skip a particular part and go ahead with their own pace, if they want to come back, they are allowed to do it without losing the progress.
Why Rapid eLearning?
Here are a few reasons why rapid eLearning courses are different from conventional eLearning courses. Rapid eLearning courses are:
1. Readily Available
Unlike the other conventional eLearning courses, rapid eLearning courses take less time to develop and that constitutes less amount of development cost as well. The process is very flexible, and it eliminates expensive rework. Rapid eLearning makes use of rapid authoring tools that do not require programming skills.
2. Easy for Updating
It is easy to update existing courses with rapid authoring tools such as Storyline 360, iSpring, DominKnow, Lectora, and Adobe Captivate. Rapid eLearning can help you with employee training even when the courses are being updated or if there are any changes in the company rules or regulations or in the market. Because the authoring tools are easy to use, you can go for the updates in-house rather than going to a vendor.
3. 'New Gen' Learning
Working with a multigenerational workforce can be difficult as their learning needs are rather different from conventional learning and they require a learning strategy that caters to their modern-day needs. It is with rapid eLearning that this has become possible. Rapid eLearning allows learners to use their mobile devices from anywhere at their convenience of time.
4. Easy to Deliver
Rapid eLearning tools can be used on different platforms and on mobile devices too. It can be used with operating systems such as iOS, Windows RT, Android, and browsers such as Chrome or Mozilla. With rapid authoring tools, the courses can be updated and accessed easily. The existing courses can be imported to the rapid eLearning dashboard and the changes can be made simply.
5. Influential in enhanced ROI
Rapid eLearning can create an enhanced growth rate in the ROI. The reduced rate of course development time gained by leveraging adult learning principles and instructional sound designs accelerates the time to proficiency. It also helps to enable the quick rollout of responsive courses.
Wrapping up
Rapid eLearning is not a learning method of the future, it is the learning method of the current world. With rapid eLearning, you can say 'good riddance to the ordinary, tedious learning process that takes up your time but without compromising on the learner engagement or quality. In short, rapid eLearning can answer all your training needs and help you achieve the best of results in your eLearning business. Here is an eBook to discover the 4Rs that matter to rapid eLearning. Download to get more insights that can guide you to ace up your business!