How Can Rapid eLearning Help You Achieve Your Business Goals
Rapid eLearning has been proved to be highly beneficial in terms of productivity and engagement. But did you know that rapid eLearning can help organizations to achieve their business goals? Read till the end to find out how.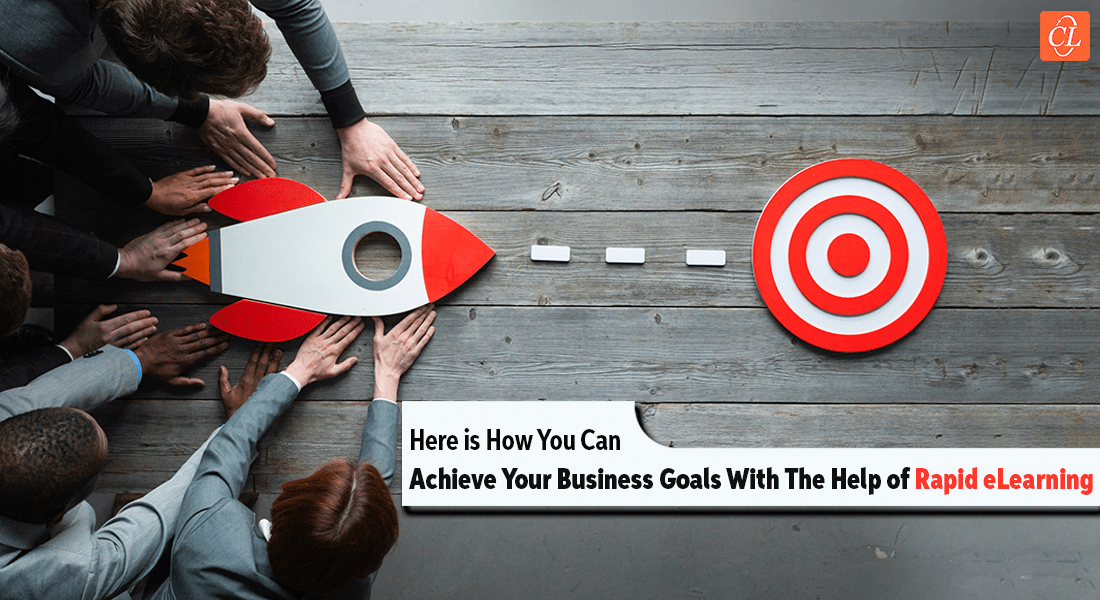 In today's competitive work environment, companies are always thinking of different ideas to make sure they achieve their business goals. Business goals can be unique as per the functioning of an organization. For example, some organizations prioritize sales, while others might prioritize employee efficiency, and some companies can even go for engagement or collaborations as their primary business goal. A business is considered successful if it is able to meet its business goals quickly and efficiently.
Whatever the goal might be, the learning and development of employees is mutually required to achieve each of these business goals. Have you ever wondered why is there a need for companies to train their employees, and how you do it with the help of custom eLearning courses? eLearning courses help the employees to level up their proficiency and organizations would benefit from their buffed knowledge. Rapid eLearning plays a vital role in training employees because it is aligned well with the learning objectives.
Wondering How Rapid eLearning Helps You Achieve Your Business Goals?
This rapid eLearning strategy can directly support your business goals:
Conduct a Detailed TNA (Training Needs Analysis)
Plan Your Learning Objectives
Follow an Agile Instructional Design Model
Read on to find out why this strategy is impactful to achieve your business goals.
Why Choose Rapid eLearning?
As the name suggests, rapid eLearning is fast and efficient, but it is equally important to understand what actually makes it so 'rapid'.
It utilizes the existing content instead of creating new content from scratch.
It follows iterative processes to eliminate expensive rework procedures.
It uses rapid authoring tools with built-in templates and other course assets.
Apart from these straightforward benefits, rapid eLearning follows new-age learning. The modern workforce comprises employees that belong to different generations, thus their ways of learning also differ. It would be next to impossible for conventional training methods to cater precisely to this highly versatile workforce. Rapid eLearning is incorporated with multiple modern-day strategies and the technological innovations have made it possible for the courses to be accessed anytime, anywhere.
Other notable benefits of rapid eLearning include:
Easy updation of courses – Rapid authoring tools have made it relatively easy to update any existing course without any major problems. Due to the tools being user-friendly, all the timely updates can be done in-house only, without the need for outsourcing it to an external vendor.
Development of courses in HTML5 – Most of the modern rapid eLearning courses are published in HTML5 format so that they are responsive and compatible with new-age devices.
Enhancement of ROI – Since rapid eLearning follows adult learning principles and strong instructional designs, its approach is quite learner-centric, and thus, it improves the training ROI for the companies.
How to Create a Rapid eLearning Strategy That Supports Your Business Goals?
1. Conduct a Detailed TNA(Training Needs Analysis)
It is crucial to analyze certain specifics before any development process starts, to ensure a high-quality end product. Companies conduct a training needs analysis to gain clarity over their overall business goals and figure out the different types of training sessions that need to be conducted for their employees to achieve these goals. Training needs analysis report will help you to:
Get insights on the different skills possessed currently by the employees.
Understand the expected results from employees to achieve business goals.
Realize the skills employees need to gain, to minimize the performance gaps.
The data in this report will clarify the learning objectives and help you to decide which training format is best for any specific department and which type of authoring tools and LMS(learning management systems) to use.
2. Plan Your Learning Objectives
Learning objectives are distinct in nature and depend on various factors such as a learner's compatibility, or a company's training goals. Learning objectives can define the scope, the instructional strategy, or even the assessments within a course. Learning objectives help the learners get a clear idea of what will they find inside the course and how much knowledge will they gain when they finish the course. Modern organizations believe that the learning objectives need to be SMART(that's a homonym right there). SMART in this context refers to:
Specific: It should clearly state what learners need to accomplish at the end of the course.
Measurable: It should be data-driven and provide a target that learners need to achieve.
Attainable: It should be achievable under favorable or comfortable work conditions.
Relevant: It should be relevant to the training subject and aligned with the business goal.
Time-bound: It should have a certain time limit to be achieved.
3. Follow an Agile Instructional Design Model
An instructional design model specifies the activities and interactivities within the course development and delivery processes. Rapid eLearning design and development follows the Successive Approximation Model (SAM) which is based on agile or iterative processes. This agile process saves a lot of time because it understands and eliminates most of the early occurring problems, eventually reducing the margin for errors. SAM follows a cyclic process that includes 3 phases, planning, design, and development.
Phase 1: Planning – In this phase, all the inputs are gathered to finalize the learning objectives, content, and design of the course.
Phase 2: Design – This phase involves the designing of a fully functional prototype of the course. This prototype provides a clear idea of how the course will proceed and what interactivities are included in the course.
Phase 3: Development – This is the final phase and here, the actual course development takes place. The course is also reviewed before it is ready to be delivered to the learners.
Parting Thoughts!
Rapid eLearning supports your business goals in various noteworthy ways and helps you achieve these goals in a budget-friendly and time-proficient manner. Rapid eLearning uses multiple instructional design strategies to cater to the multigenerational workforce spread globally. Since the role of training managers is extremely crucial to mark the impact of these rapid eLearning courses, it's necessary to clear their doubts. If training managers would have a clear vision ahead, it will help them get past the barrier of time and speed. Grab this free eBook to understand how rapid eLearning can help the training managers stay one step ahead of the competition.