Top 4 Impressive Benefits of Rapid eLearning
Rapid eLearning is the solution to quickly design and develop eLearning programs. Explore the strategies and benefits of rapid eLearning in this blog.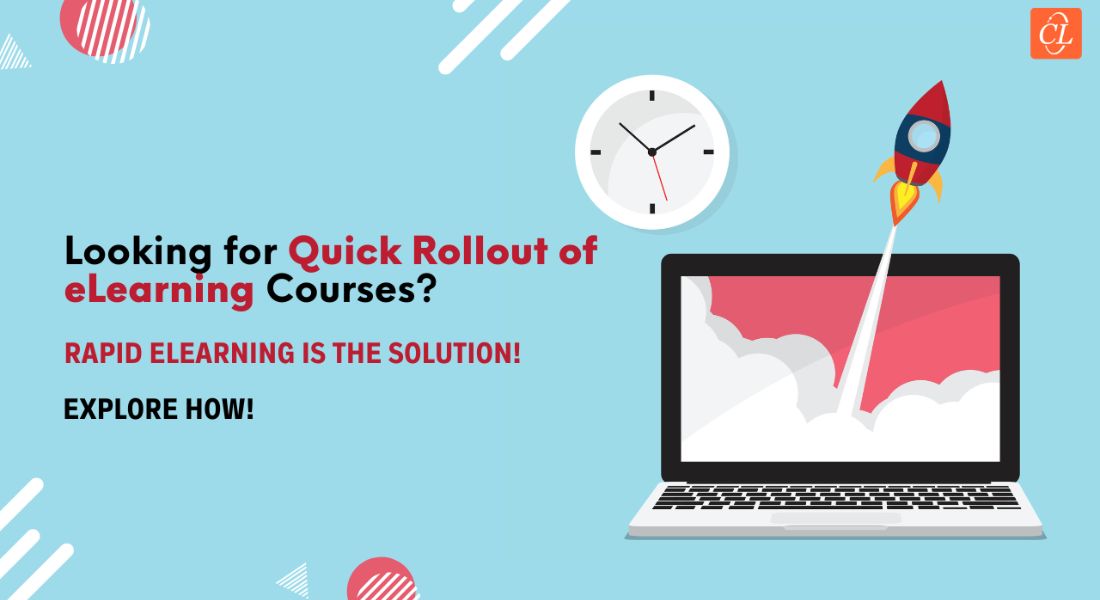 Rapid eLearning is a faster and more cost-effective way to create eLearning courses that align with your company's learning objectives. This is a versatile method for hastening the rollout of training courses. Rapid eLearning allows for the creation of powerful eLearning courses in a matter of weeks. Moreover, to create effective eLearning courses, it makes use of authoring tools and adheres to instructional design principles.
As we all know, rapid eLearning allows for the rapid design, development, and rollout of eLearning courses without affecting quality or creativity. All of this is made possible by the four heroes of rapid eLearning- The 4R's of rapid eLearning, which transform traditional training material into more exciting and interactive forms for a stronger learning experience.
How is Rapid eLearning Beneficial?
Here are a few outstanding benefits rapid eLearning offers:
Rapid and Economic Development
Interactive Assessments and Simpler Course Updates
New Age Learning Support
Multilingual Translation
4Rs of Rapid eLearning
Let's get familiar with the 4Rs of rapid eLearning!
1. Redesign
This strategy allows you to redesign your existing Instructor Led Training (ILT) material into online training formats like-
Virtual Instructor Led Training (VILT):
It is similar to a traditional physical classroom, with the essence of face-to-face training, but is done virtually. It's simply a virtual replica of a traditional classroom, with the instructor and students virtually joining at the same time but from different locations. However, this is not like a webinar or a classroom session hosted by a conference facility. Virtual Instructor Led Training is a synchronous online training format that provides learners with the benefits of social interaction in a traditional classroom setting without the associated costs and logistical headaches. To boost engagement, activities like polls, chats and breakthrough rooms are used.
eLearning
Your classroom material can also be redesigned into eLearning courses – either standalone or a curriculum of courses.
Standalone Courses are:
Self-paced
Usually between 30 and 45 minutes
Designed to Cover one topic thoroughly
Created with a variety of instructional strategies
eLearning Curriculum is
Configured as a set of small, interconnected modules
Usually, sequential where one module leads to the next
Efficient as its completion leads to mastery in the topic
Performance Support
Classroom training material yields good material for creating job aids that assist learners in recalling and applying knowledge in times of need. Repurposed ILT material can be utilized to make effective job aids in the form of microlearning assets like videos, eBooks, or infographics.
2. Record
This strategy is excellent and very beneficial for Subject Matter Experts (SMEs), who find it difficult to review eLearning courses within timelines due to their hectic schedules. The record strategy comes in handy here. The SMEs create a rough and quick PowerPoint deck and record the explanation in their voice, after which the Instructional Design (ID) team enhances the PowerPoint by adding various elements and script, then the SME reviews the work, and finally a rapid voice over with professional narration is developed. At last, the final review by SME's happens and course is rolled out.
3. Rebuild
This strategy is used to convert lengthy eLearning courses into Microlearning, which is smaller, more focused learning bytes. Microlearning assets like quizzes, animations, flashcards, eBooks, and infographics can be created by repurposing existing classroom training materials such as ppts or PDFs that are very long and obsolete but still beneficial.
Relevant chunks can be extracted from the existing training material and can be converted into interactive bite-sized learning modules and shared with the learners. These micro modules can be used for refresher training or as a part of the eLearning courses to engage learners. This method is used to reinforce learning and overcome the forgetting curve. Furthermore, the rebuild strategy ensures easy accessibility and knowledge retention.
4. Republish
With the republish strategy, you can revisit your obsolete but valuable legacy courses and give them a new look while also making them mobile compatible. This enhances the utility of the courses which otherwise would have been lying unused in your eLearning course library. The republish strategy allows you to use new authoring tools to upgrade legacy courses that were made with older versions of authoring tools (such as Storyline 2, Captivate 11) .It allows to update content and branding, translate courses, and reconfigure content as job aids.
Now that we've learned about the incredible strategies behind rapid eLearning, lets delve into the benefits offered by rapid eLearning
4 Outstanding Benefits Rapid eLearning Offers
1. Rapid and Economic Development
As the word rapid suggests, it is quick and swift process of eLearning development. It facilitates rapid creation, conversion and even translation of eLearning courses. To develop courses rapidly, customization of content is minimized and instead authoring tools and their inbuilt templates are used which play a key role in development process. This ensures a quick and cost-effective development of courses.
2. Interactive Assessments and Simpler Course Updates
The task of creating interactive assessments is simplified with rapid eLearning, thanks to rapid authoring tools such as:
Adobe Captivate which offers question pages updates
Lectora which offers tracking of assessments and scores
iSpring which allows addition of media to questions
Storyline 360 which offers a wide variety of quiz questions and preferences
These tools modify the course and update the information and visuals accordingly.
Another fantastic feature of these tools is that, even if your eLearning course was outsourced, you can update the course it in-house due to the ease of use of authoring tools and the pre-existing templates they provide.
3. New Age Learning Support
Modern learners prefer to learn on their smartphones and laptops as they allow anytime anywhere access to learning which promotes continuous learning. Furthermore, modern learners find it easy and comfortable to access learning and retain knowledge through digital devices. The typical slide-based learning courses are inadequate now. Learners learn faster and retain knowledge for a longer period of time when courses are interactive and engaging. The millennial and Generation Z learners are always looking for a fun learning experience. New age instructional strategies such as simulations to familiarize learners with the work environment and scenario-based learning to aid decision making can be used.
4. Multilingual Translation
It is essential to convert an eLearning course from its original language to multiple other languages to ensure that your eLearning course is diverse and accessible globally. Rapid eLearning allows you to use Computer Assisted Translation (CAT) tools to translate your eLearning courses into multiple languages. Furthermore, Rapid eLearning translations can help you ensure global employee satisfaction, attract global talent, enhance your company's image, and expand your global reach.
Wrapping it up!
Without a doubt, Rapid eLearning is the best way to achieve quality, scale, and speed in corporate training without forgoing creativity. Rapid eLearning, with its quick development process and amazing benefits, enhances corporate training results and makes workforce upskilling much more efficient and cost effective.
Looking for ways to bring the best eLearning to your learners in the quickest amount of time? Discover the best strategies to master rapid eLearning in our eBook 'Rapid eLearning and the 4 Rs – Corporate Training Must-Haves'. Access your free copy right away!