5 Best Practices in Rapid eLearning Design for 'Truly Rapid' Course Roll-Out
Though it may seem easy, the process of designing and developing eLearning courses is time-consuming. The increased need of training in the ongoing pandemic time calls for quick roll-out of eLearning courses to ensure undisturbed training. How do we do that? Read on to explore the 5 best practices in Rapid eLearning design for rapid course rollouts.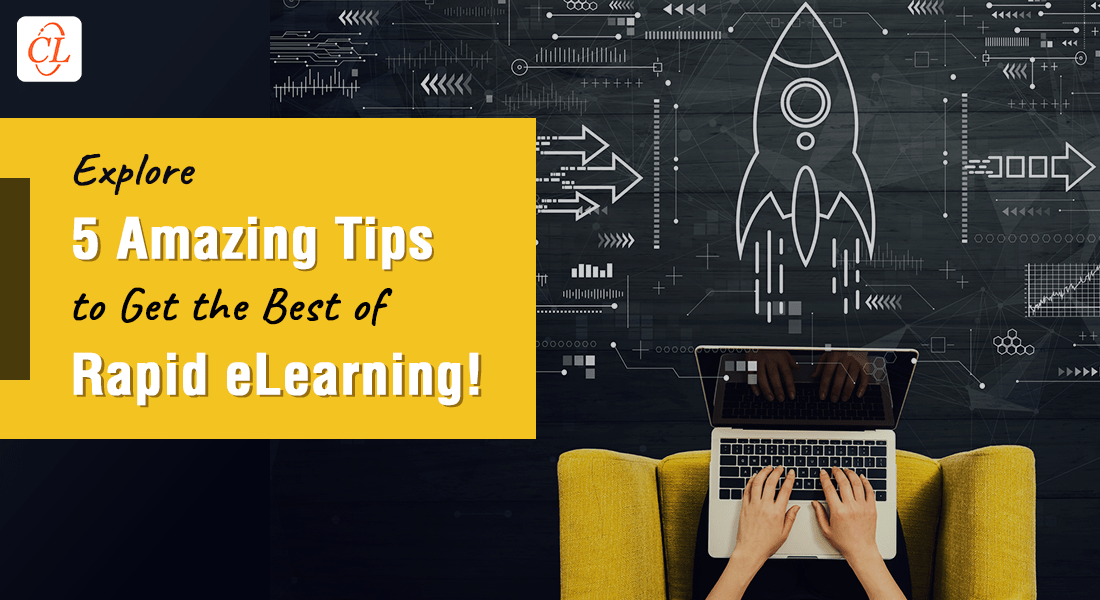 Let me guess. You have been in the L&D space for a long time now and have been consistently rolling out eLearning courses for your corporate training needs. But the process takes a lot of your time which is a major concern. It's even more challenging when you need to roll out courses at a moment's notice, to train your employees on a new organizational policy, or a sudden change in operations. With the pandemic bringing a humongous shift in global corporate operations, the need for training has increased immensely. This calls for the quick roll out of eLearning courses to ensure training is undisturbed. How do we do that you might ask? The answer lies in Rapid eLearning. Here are the 5 best practices in Rapid eLearning design that ensures the quick roll out of courses.
Are you looking forward to revving up the roll-out of your eLearning courses?
Check out these five best practices:
Align Training to Your Business Goals
Work Efficiently with the SMEs
Nudge your Learners Emotionally
Choose the Right Authoring Tool
Standardize and Scale Up
Best Practices in Instructional Design That Can Rev Up the Roll out of eLearning Courses
Though it may seem easy, the process of designing and developing eLearning courses is time-consuming and requires both experience and expertise. Moreover, the process requires an agile project management system for its execution to be seamless. Here are the 5 best practices that can help you roll out your eLearning courses in no time without compromising on creativity and quality.
1. Align Training to Your Business Goals
Training helps achieve business goals, and for any business to meet its goals, it should:
Sell more
Improve efficiencies and
Stay compliant
It is important to design courses that align with the business goals. This requires a solid understanding of the business goals and how training can achieve them. How do we gain that knowledge? Here are 3 key parameters you should consider:
Align Learning Objectives to Business Goals
The learning objectives should be aligned with your business goals to better achieve training ROI.

Have a Blended Solution
For effective learning and for a more meaningful learning experience, you need to design courses with a blend of learning strategies. You can also facilitate the access to learning 'anywhere and anytime' and focus on making learning a guided process instead of a one-time event. By using a blended learning solution, you will be able to expedite time and proficiency.
Develop eLearning Curriculums Instead of Standalone Courses
Planning for curriculums instead of standalone courses has multiple benefits for learners, SMEs and your organization as a whole.
For the Learner
For the SME
For Your Organization
Enables meaningful learning as the modules follow a sequence
Makes best use of the SME's time

Enhances Cost-effectiveness
Ensures the faster roll-out of courses
2. Work Efficiently With the SMEs
SMEs are valued professionals who travel frequently to various client locations to solve issues. They have packed schedules and tight deadlines. In addition, they are a storehouse of domain knowledge, and their inputs are extremely valuable when designing courses. You need them at every step of the eLearning design and development process; right from gathering content to reviewing courses and catering to other training needs. They are undoubtedly the most sought-after personnel in every aspect of course design and development.
It is the SME's meagre time-bandwidth that becomes a problem. As a result, you need to bear the brunt for any delays in course roll out. Here are some tips that can help you make best use of your SME's time.
Plan for curriculums instead of standalone courses: This prevents the SME from repeating their work to approve templates, storyboards, and prototypes and the whole process becomes much faster.
Involve SME's right from scratch: Make them a part of your introductory call to rule out all confusion and ensure absolute clarity on the scope and expectations of the project.
Prepare thoroughly: Do your research well to get a fair idea of rudimentary elements and make a list of questions to avoid going back and forth multiple times.
Gather all possible written inputs: Ask your SME to share all the relevant and existing written content such as classroom training materials, marketing collaterals, and reference guides. This is for you to gain a better understanding of the subject matter and come prepared with fewer questions for the SME.
Conduct online course reviews: Share a link for online course review with your SME to expedite the review process. This works great when multiple SMEs are involved because it becomes easier to implement their feedback and resolve any inconsistencies.
Minimize SME touchpoints: This significantly reduces the SME's time and effort spent and leads to the on-time roll out of the eLearning course. Here's a simple yet effective process to minimize the SME's time.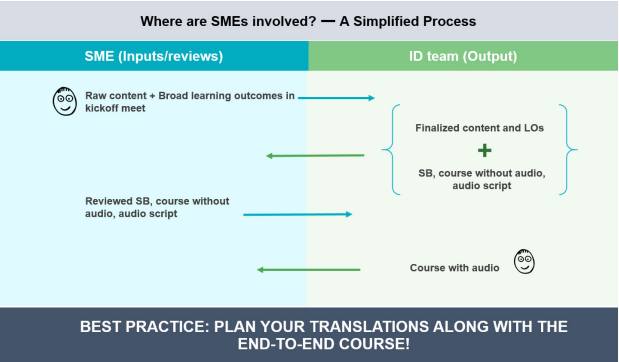 3. Nudge Your Learners Emotionally
When you recall your most memorable learning experience you find that you were emotionally invested in the training. Either you liked the way your facilitator explained the topic using charts, videos, audio clips, and role-play exercises or you were genuinely interested in the topic. Whatever might be the reason, the bottom line is that it moved you. If you want to make your eLearning courses resonate with your learners, you should use elements that make the content engaging to provide an immersive learning experience.
Are you concerned that this might be time-consuming or require a specific set of skills? Let me assure you that by leveraging the power of Rapid eLearning authoring tools you can make your courses engaging and ensure their hassle-free, timely roll out.
You can enliven your eLearning courses by using the following strategies:
Make it Personal
You can welcome learners to the course by allowing them to type their names and addresses that will remain with them throughout the course. This will make them feel special. Another personalization strategy is to use avatars of known faces such as their peers, managers, or people they can relate to. Give your learners the chance to choose their avatar. The Graphic User Interface (GUI) is the first thing your learners will come across, so you want to choose colors and elements that'll appeal to your learners.
Use the Power of Stories
Who doesn't love a good story? Integrating stories into your eLearning courses can make your courses highly engaging. A compelling narrative can help you capture your learners' attention for the total duration of the course thereby maximizing their learning. You can make learning experiential by using real-life scenarios to boost your learners' critical thinking and decision-making skills. A dash of storytelling and humor can give your learners a rejuvenating break amidst complex content. You can also use comic strips to add a bit of fun to your eLearning courses to reinforce key points or outline the highlights of a complex module.
Step Into the Learners' Shoes
Adult learners are self-directed, so you need to make sure that your eLearning courses offer a simple and easy-to-access navigation style. Ensure that your courses are intuitive and learner centric. You need to provide clear instructions for your learners to undertake the interactivities as well as provide constructive feedback after assessments such as explaining right or wrong answers to reinforce their learning.
4. Choose the Right Authoring Tool
Rapid eLearning authoring tools help you design engaging and interactive eLearning courses with minimum effort and technical expertise. These tools come with in-built templates, animations and themes that allow you to create highly interactive courses without the added expense of hiring skilled programmers.
Here are a few amazing Rapid eLearning authoring tools that can help you design highly engaging eLearning courses and roll them out in no time:
Articulate Storyline 360 and Rise: Articulate 360 has everything you need to design an eLearning course right from scratch. Storyline 360 is a part of Articulate 360 and it lets you create compelling interactivities. Rise is a fully responsive web-based authoring tool that is also a part of Articulate 360.
Adobe Captivate: This tool uses virtual reality to help you design highly interactive courses. It allows you to add text labels and interactive hotspots to the screen that makes the course highly responsive and learner centric.
Lectora Online: Lectora Online is a cloud-based authoring tool that allows you to create and review eLearning courses anytime and anywhere.
iSpring Suite: This is one of the most popular authoring tools that converts PowerPoint presentations into eLearning courses. It is extremely user-friendly as it can be integrated into PowerPoint. As a result, it is easy to transform your slides into eLearning courses.
Before choosing an authoring tool, ask yourself these questions:
Does the authoring tool offer responsive templates?
Does it offer a fully responsive output?
Does it have an in-built asset library?
Does it offer translation-friendly features?
Does it offer features to develop mobile accessible courses?
Does it offer online reviews?
5. Standardize and Scale Up
By standardizing your style guides and templates you can build an asset library that will help you save a lot of time as you will be able to reuse templates for future projects.
Consider the following 3 components when scaling up:
Style Guide: Create a style guide that captures your organization's templates and logos to ensure that your courses are standardized in terms of their look. Standardization is to be done for both textual (formatting, alignment specifications, fonts, and bullet styles) and visual (branding and logo colours, and placement guidelines) elements so that your courses are uniform.
Templates: You can customize templates offered by the authoring tools. You need to personalize your templates to build a library of reusable assets of screen layouts, interactivities, and assessments. This in turn eases your task as you can cut and paste content and replace images onto the created templates when rolling out a new course.
Outsourcing: In case you lack the resources to develop eLearning courses in-house, you can outsource the work to a vendor with experience and expertise in training and instructional design.
The Bottom Line
Rolling out eLearning courses in time requires well thought out action plans and efficient implementation. The above best practices can help you rapidly roll out your eLearning courses and achieve your training goals.
Have you discovered the 4Rs of Rapid eLearning? Are you interested to get a sneak peek? Explore this eBook to gain insights on the 4Rs of Rapid eLearning.