Rapid eLearning: How to Implement It and The Pitfalls to Avoid
Rapid eLearning is an approach to training that uses advanced features of modern eLearning authoring tools to create eLearning content quickly and efficiently. Explore the basics of rapid eLearning implementation and a few pitfalls to avoid.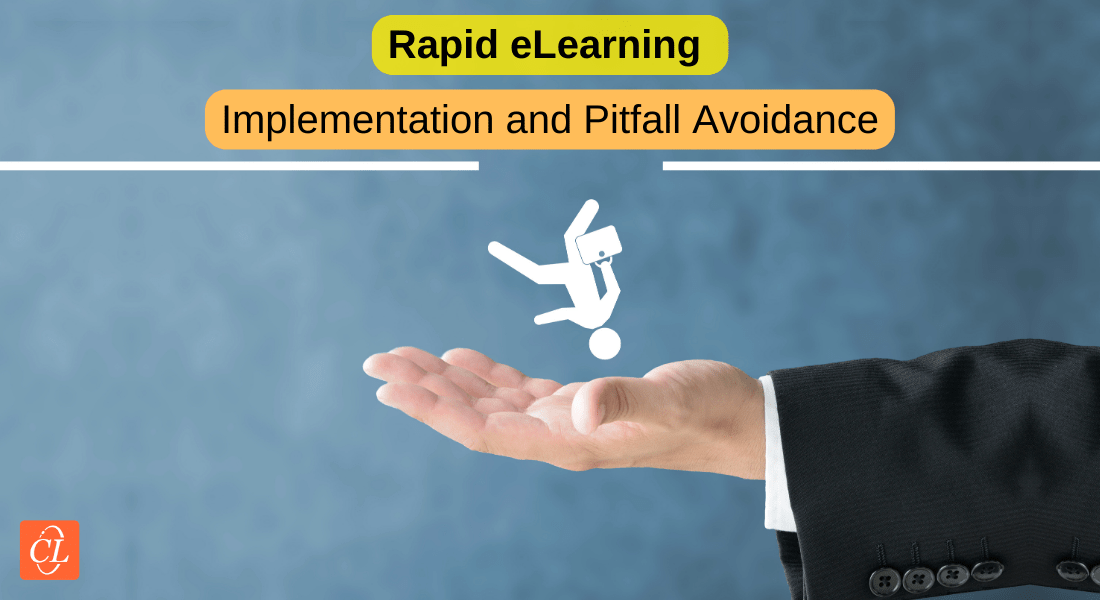 Are you tired of the time-consuming process of creating training programs from scratch? Are you looking for a way to quickly and efficiently develop effective training content for your employees? Look no further than rapid eLearning! This approach to training leverages the advanced features of eLearning authoring tools to create interactive and engaging content in a fraction of the time it takes to develop traditional training programs. But, to ensure seamless implementation, you need to avoid a few pitfalls as well. Read on to learn more about implementing rapid eLearning for your corporate training needs and check out the video to explore the pitfalls associated with rapid eLearning development.
How to Implement Rapid eLearning for Corporate Training
1. Identify learning objectives
In order to develop effective training content, you need to have a clear understanding of what you want your employees to learn. Identifying learning objectives involves defining the specific skills, knowledge, or behaviors that you want your employees to acquire as a result of the training program. This is extremely crucial because aligning the learning objectives with training needs helps organizations achieve their business goals.
2. Develop content
Once you've identified your learning objectives, the next step is to develop the content that will help your employees achieve those objectives. This can include a variety of different types of content, such as videos, interactive simulations, quizzes, and more. Almost all the modern rapid eLearning authoring tools come with a huge collection of templates and multimedia assets, and on top of that, most of them are customizable.
3. Choose an authoring tool
Rapid eLearning involves using authoring tools to create content quickly and efficiently. There are many different authoring tools available, each with its own strengths and weaknesses. Choosing the right tool for your needs is important to ensure that you can create the content you need within your budget and timeframe. As a bonus tip, prefer cloud authoring tools over desktop-based ones to streamline remote development and review processes. Some of the few cloud authoring tools are Elucidat, dominKnow, and Lectora Online.

4. Create and customize templates
Creating and customizing templates can help you speed up the content creation process by providing a starting point for different types of content, whether it's for your main course body, assessments, or external assets. For example, you might create a template for a quiz that includes a standard format and layout, which you can then modify to create multiple quizzes. You can also customize these various templates as per your training requirements and update any sort of content wherever necessary.
5. Test and refine
Once you've developed your content, it's important to test it to ensure that it's effective and engaging. This can involve testing the content with a sample group of employees, gathering feedback, and making changes based on that feedback. You can use SCORM testing to ensure the technical compliances are taken care of. In case you encounter any sort of changes to be done, you can do it easily with the help of authoring tools themselves because they allow you to update the content quickly.
6. Deploy the training
Once your content has been developed and refined, it's time to deploy it to your employees. This can involve using a learning management system (LMS) to deliver the content, track employee progress, and provide data on the effectiveness of the training program.
Pitfalls to Avoid While Implementing Rapid eLearning
Now that we understand how to implement rapid eLearning for your corporate training, it's also advised to take a look at the potential challenges you might have to overcome or certain pitfalls you need to avoid, to ensure seamless implementation. Check out the short and crisp video below to know more about the pitfalls you need to avoid.
Parting Thoughts!
Implementing rapid eLearning for corporate training can help organizations quickly and efficiently create and deploy effective corporate training programs that improve employee skills and knowledge. To ensure your business goals are met effectively, you can utilize the 4 Rs of rapid eLearning. The 4 R strategy is crucial to cater to specific organizational requirements, so if you are curious to know more about it, why go anywhere else, just access our free eBook and clear all your doubts.
Editor's note: This post was originally published in March 2023 and has been updated for comprehensiveness.