5 Rapid eLearning FAQs Answered to Kickstart Your Corporate Training
Rapid eLearning solutions have been on the radar of organizations due to the advantages it offers. You must have a few questions in your mind due to its overwhelming benefits, isn't it? To help you out, we have answered 5 FAQs on rapid eLearning.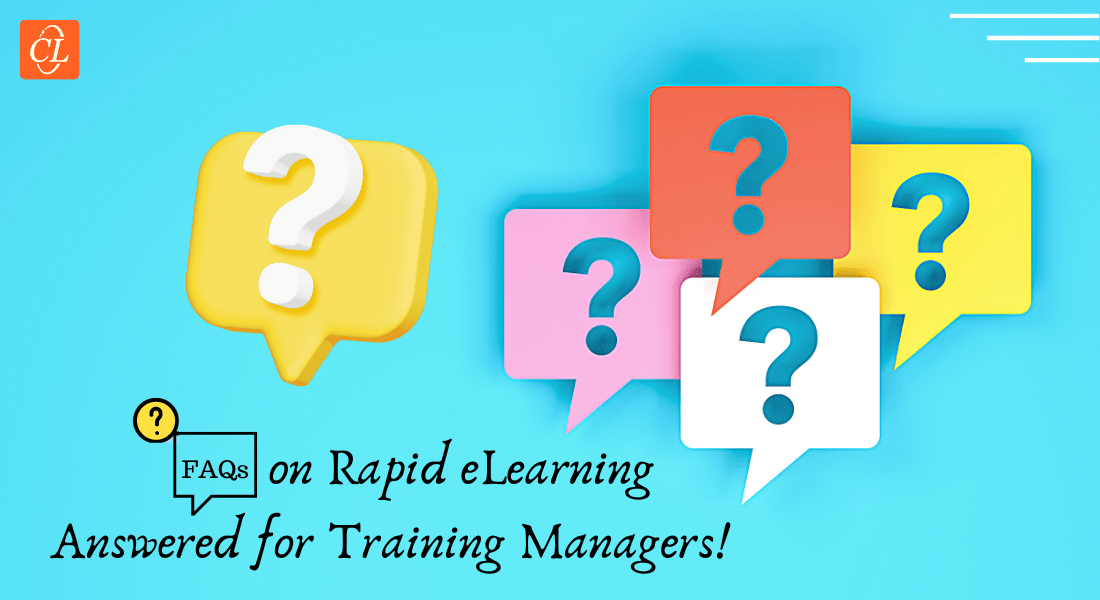 Rapid eLearning offers scale and speed to corporate training as it helps organizations develop and deliver their eLearning courses quickly without compromising on quality to meet fluid business requirements under tight deadlines. Apart from developing, updating the courses is also made easy with rapid eLearning because it follows an agile development process. But sometimes it's hard to believe that productive training can be rolled out within mere weeks while the quality remains top-notch. This disbelief often leads to multiple questions popping up in an individual's head, and this blog will answer 5 such FAQs to clear various doubts and misconceptions.
Trying to Develop Rapid eLearning Courses for Your Corporate Training?
Are any of these queries stressing you out?
How it maintains the quality of courses when developed under tight deadlines?
Why it has been creating such a buzz among the new generations lately?
How can it enhance the training ROI for corporate organizations?
When is it the right time to opt for it?
What are the most important features of rapid eLearning authoring tools?
Read on to get the answers to these questions and kickstart your rapid eLearning initiatives.
5 FAQs About Rapid eLearning, Answered!
1. Why rapid eLearning has been creating such a buzz among the new generations lately?
Rapid eLearning incorporates new-age learning formats to engage the modern workforce and deliver quality training to them. With rapid eLearning solutions, organizations can scale their corporate training quickly and under a tight budget. The learning objectives are pre-specified so that the individuals get to know their takeaways from the course before starting it, and they are allowed to freely navigate through the course as per their learning preferences.
Some of the new-age instructional design strategies that can maximize learner engagement are gamification, scenario-based learning, and microlearning. Such modern strategies promote personalization, storytelling, and empathy within the training sessions to make them interesting and productive.
2. How rapid eLearning maintains the quality of courses when developed under tight deadlines?
Rapid eLearning utilizes existing resources and follows agile development processes to create engaging and interactive eLearning courses leveraging the power of modern authoring tools and adhering to the strong instructional design principles to design learner-centric courses. Rapid authoring tools come with a huge repository of templates, icons, images, and other media assets that makes the development of courses and implementation of modern ID strategies easier and more efficient.
Rapid eLearning help organizations to transform classroom training materials into effective assets for virtual instructor-led training, eLearning, and other online training formats efficiently. Apart from that, rapid eLearning solutions can also help you with eLearning translations and legacy course conversions, making it a one-stop shop for all your training requirements. Rapid eLearning makes it all possible by aligning training with performance-based learning objectives and incorporating new-age learning strategies within the courses to achieve the desired business goals.
3. How can rapid eLearning enhance the training ROI for corporate organizations?
Organizations often have tight budgets to design their eLearning courses and are focused to deliver them within mere weeks. Rapid eLearning solutions help organizations roll out these courses faster than conventional courses because it strictly follows strong instructional designs and adult learning principles. The fact that existing training materials are repurposed and all the "nice-to-know" information is cut off, it saves a lot of development time and accelerates time to proficiency, enhancing the overall training ROI.
4. When is it the right time to opt for rapid eLearning?
The market trends and business requirements keep changing over time, thus rapid eLearning courses are extremely useful when the content has to be updated/altered frequently or when the content has short expiry. Apart from this, organizations need to roll out eLearning courses quickly within a tight budget, to make this possible, rapid eLearning acts as their savior. You can also go for rapid eLearning solutions when you have to deliver training in multiple languages for your global workforce.
Consider an example of sales training for a particular product to understand things better. The product details like what is the product, how to use the product, and what precautions to take while using, etc, will only stay relevant till that particular product stays in the market. Once the product is upgraded with its improved version, the content within the courses has to be updated accordingly. Rapid eLearning leverages the power of authoring tools to create these short-life courses quickly and efficiently.
5. What are the most important features of rapid eLearning authoring tools?
Rapid authoring tools are the game changer in terms of rapid eLearning development because of the extensive and advanced options they come with. There are a lot of important features of an authoring tool but make sure the one you choose for your eLearning development –
Provides a user-Friendly Interface to provide a seamless user experience for developers. Although every modern authoring tool has an interactive and easy-to-understand interface, some advanced features are accessed and utilized differently.
Allows easy collaboration so that the stakeholders, SMEs, and other external teams can communicate well with the in-house L&D teams. The manager can assign tasks to different teams easily through the "comment" feature, or the review link can be shared with the SMEs that can be accessed on any device.
Includes pre-installed media library and customizable templates. Visual assets such as graphics, animations, clip-arts, etc are one of the major aspects of why any course stays engaging till the end. But it's quite a hassle to create everything from scratch or buy each and every asset, so authoring tools make your job easier if it has a large repository of all these assets. The same goes with templates, creating a template costs a lot of time and effort, but if you have customizable templates, you can just organize your content accordingly and design your training course under tight deadlines.
Enables responsive design because accessing training only on desktops is nostalgic at this point. Modern learners prefer their training to be flexible and personalized. It's one of the most crucial must-have features of an authoring tool to be able to create rapid eLearning courses because mobile learning is the new normal for the hybrid workforce.
Wrapping Up!
Rapid eLearning development might make you question a couple of things, but once you implement it correctly, all you see is productivity. Implementing rapid eLearning correctly has its own list of challenges, but with correct guidance and understanding, pulling off the feat isn't as hard as it sounds. This eBook can help training managers to unlock the secrets of impactful training efficiently, access it now to kickstart your rapid eLearning journey.