5 Facts Your Boss Should Know About Rapid eLearning
Is your organization looking for a quick training solution without compromising the quality? Worry not, we will debunk a few myths by listing 5 facts your boss might need to know about rapid eLearning.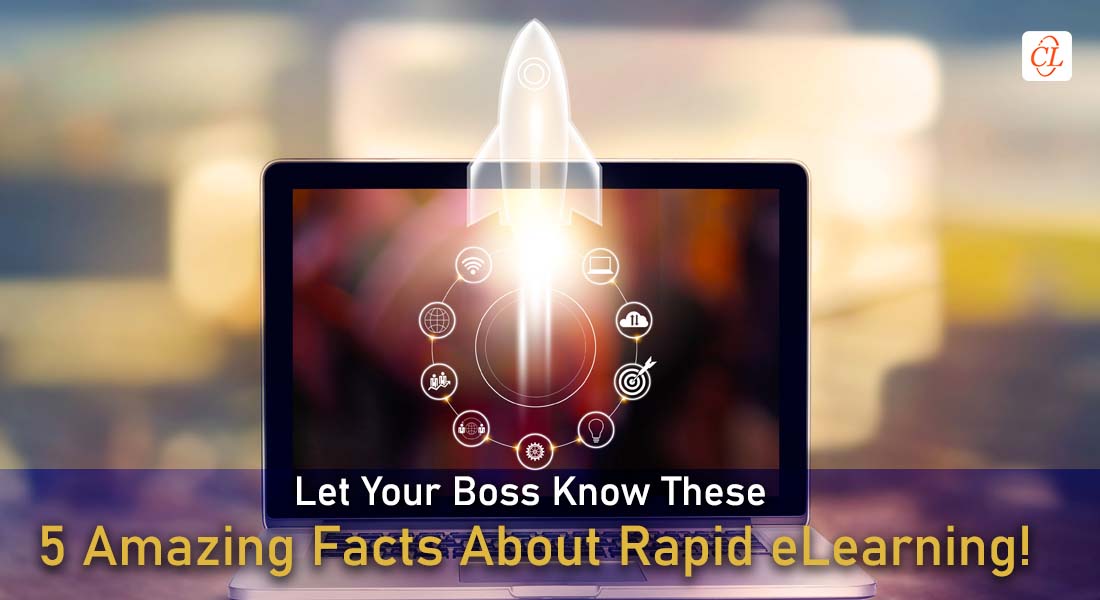 Trying to explain to your boss why your organization needs rapid eLearning?
Let us help you. There are many misconceptions and myths about rapid eLearning, let us debunk these for you and list 5 things you should tell your boss about rapid eLearning.
1. No Compromise with Quality and Instructional Design
It is a common myth that achieving short timelines, effectiveness, and quality together is a difficult task. Hence it is believed that rapid eLearning might compromise on quality while achieving the other two. But it is farther from the truth, rapid eLearning does not compromise on quality as it is based on robust instructional design principles.
Saying Yes to Rapid eLearning For Your Organization?
Here Are a Few Things Your Boss Needs to Know:
No Compromise with Quality and Instructional Design
Yes! It Requires Creativity
Effective Usage of Authoring Tools
Less Time and Cost to Develop
Save SMEs Time
2. Yes! It Requires Creativity
A very common misconception that rapid eLearning throws creativity out of the window. While rapid eLearning may not use all the fancy and frills but it does not lack creativity. Creating short courses and cutting down development time does not mean that a course cannot be creative.
Engaging courses does not mean adding unnecessary glitters and bells, it is the usage of a new-age learning strategy that makes a course engaging and creative, and rapid eLearning offers a lot of scope for that. Scenarios, case studies, gamification, and comic strips are a few of many elements that make courses engaging and creative, and rapid eLearning makes good use of them.
3. Effective Usage of Authoring Tools
Authoring tools are a significant part of the rapid learning development process. Authoring tools offer features such as graphics, built-in templates, stock images, animations, simulations, interactivities, etc. and rapid eLearning makes good use of them. Usage of reusable templates also saves a lot of time and effort when used correctly and not repeatedly. These features of authoring tools help in developing creative designs and interactivities easily.
4. Less Time and Cost to Develop
This is a common misconception but also true at the same time. Rapid eLearning does take lesser time and cost to develop however it is a misconception that all the courses will take less time and cost. Yes! The time and cost involved while developing a rapid eLearning course will depend on the level of interactivity in the course.
If you want courses that demand minimal interactivity, then yes it will be time and cost-effective, but at the same time, if you want a highly-interactive course, it is going to cost you comparatively more and take more time too. Depending on your training needs the courses can be curated. It is efficient if you decide in advance the budget and time you want to invest in the course depending on your learning objective. A well-organized and well-planned rapid eLearning course development will never disappoint you.
5. Save SMEs Time
Yes! It is true. Your SMEs already have a lot on their plate, taking a little bit away will make them more efficient and effective. Rapid eLearning does not eliminate SMEs altogether, however, it makes effective use of their time and expertise. Rapid eLearning courses are made using existing content like ILT material, legacy courses, PPT decks, etc. The classroom content is usually lengthy and all of it might not be relevant to convert into eLearning. SMEs help in reviewing the available content and decide upon the final content. They also help in assessing the gaps and updating the content accordingly.
At the initial stage of development, you can get the relevant information from the SMEs and then involve them only and when required. This way you can schedule according to their time and convenience. Thus, saving their time.

Also, Let Your Boss Know…
Rapid eLearning is far from some glorified PPT decks. Rapid eLearning is an effective approach that majorly focuses on learning outcomes and objectives. In this dynamic world of learning and development, Rapid eLearning might be your go-to solution. Grab our eBook to get an overview of how rapid eLearning development can help training managers create successful courses.
Editor's note: This post was originally published in August 2022 and has been updated for comprehensiveness.