Rapid eLearning: 3 Challenges you Ought to Know, and Ways to Address Them
Rapid eLearning is an excellent way to roll out modern eLearning courses faster. While there's no doubting it, it has got its own share of challenges! Read on to know more about the challenges and ways to address them.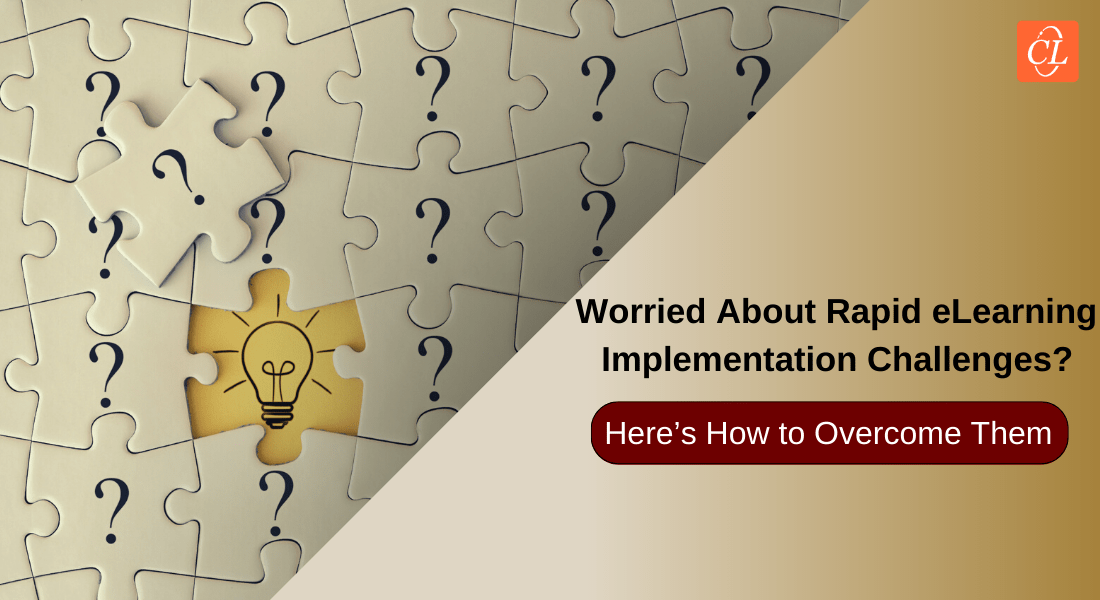 As the name suggests, Rapid eLearning serves as a dependable solution to develop eLearning modules faster! But, it is important to understand that speed is not the only focus in rapid eLearning development. Rather, speed is a result of using sophisticated tools and techniques that make sure that the eLearning solutions built are scalable, efficient, and impactful.
Along with the number of advantages associated with it, rapid eLearning also has some implementation challenges. This blog discusses the challenges (and ways to overcome them).
What Could be the Challenges Stalling Your Rapid eLearning Implementation?
Here are a few –
Selecting the Right Rapid eLearning Authoring Tool
Having to Deal with Bulk Loads of Content
Picking up the Level of Interactivities
Read on to discover ways to mitigate these challenges.
Rapid eLearning Challenges (and How to Overcome Them)
Selecting the Right Rapid eLearning Authoring Tool
Rapid eLearning authoring tools are the heart and soul of rapid eLearning. It is the authoring tools such as Articulate 360, iSpring Suite, Adobe Captivate, etc that add speed and efficiency to the online courses developed. However, with so many options available, it is often a challenge to choose the right authoring tool.
Understand that the selection of the rapid authoring tool is often tied to a on a specific need. You will have to consider your target audience i.e., the employees, the subject, the strategy, etc. you should also consider the eLearning developers' expertise with the tool, its ease of use, availability of rich media library, etc.
Also, you will have to understand that the authoring tools are divided into three broad categories – desktop-based authoring tools, PowerPoint -based authoring tools, and cloud—based authoring tools.
The desktop-based tools are the best when you have large, experienced eLearning developers creating customized eLearning solutions. Some of the examples include Lectora Inspire, Articulate 360, Adobe Captivate.
The PowerPoint-based tools have an easy-to-use, PowerPoint-like interface. They include tools like Adobe Presenter and iSpring Suite and are well-suited for organizations developing their eLearning courses in-house.
The cloud-based authoring tools are known for being very handy in terms of accessibility. They are best suited in environments where multiple developers are working on the same project at different locations. Some the best cloud-based authoring tools include dominKnow, Articulate Rise and Lectora Online.
Having to Deal with Bulk Loads of Content
While content is of utmost importance when developing eLearning courses, lengthy, complex content is not ideal for current day learners. So, it can be challenging to handle excessive content. Considering this, rapid eLearning advocates chunking of content into meaningful, individual units called microlearning modules.
The thought process here is that, instead of developing the entire topic into a single, lengthy eLearning course, the information can be chunked into logical segments as potent microlearning units.
Additionally, the microlearning courses can be made more engaging by adding simulations, personalization, and gamified components.
Picking Up the Level of Interactivities
A common misconception about rapid eLearning courses is that there is minimal scope for adding interactivities! The misconception could be because of the use of templates for developing the courses or because of the idea of keeping only need-to-know content, and eliminating what is not! As a result, it is also considered that the courses developed are rather boring and uninspiring. Getting mixed up in such ideas could come as a challenge for rapid eLearning implementation.
The first step to overcome this is to understand that rapid eLearning is definitely not about eliminating the interactivities. In fact, rapid eLearning development is based on core Instructional Design (ID) strategies that help in churning out highly impactful eLearning solutions with engaging interactivities such as simulations, scenario-based learning, gamification, etc. These interactivities make the courses more fun, boost learner engagement and performance, and also increase retention levels. Additionally, the use of authoring tools, makes the development faster and easier.
Wrapping it up
"Rapid eLearning challenges" well, the words can be a bit intimidating and put you in doubts whether or not to adopt in! I hope the article has cleared all your doubts and helped you understand the right way to kickstart your rapid eLearning journey. Let us go a step further and try to understand the how rapid eLearning accommodates all your corporate training needs with the 4Rs – Redesign, Record, Rebuild, and Republish.
Know more about the 4Rs and how to maximize your training ROI by signing up for this webinar recording.