Why Personalize Learning for Online Training?
Personalized learning for online training, if done right, can provide major benefits for learners and the organization. Read this blog to know what is personalized learning, and how to implement it in online training.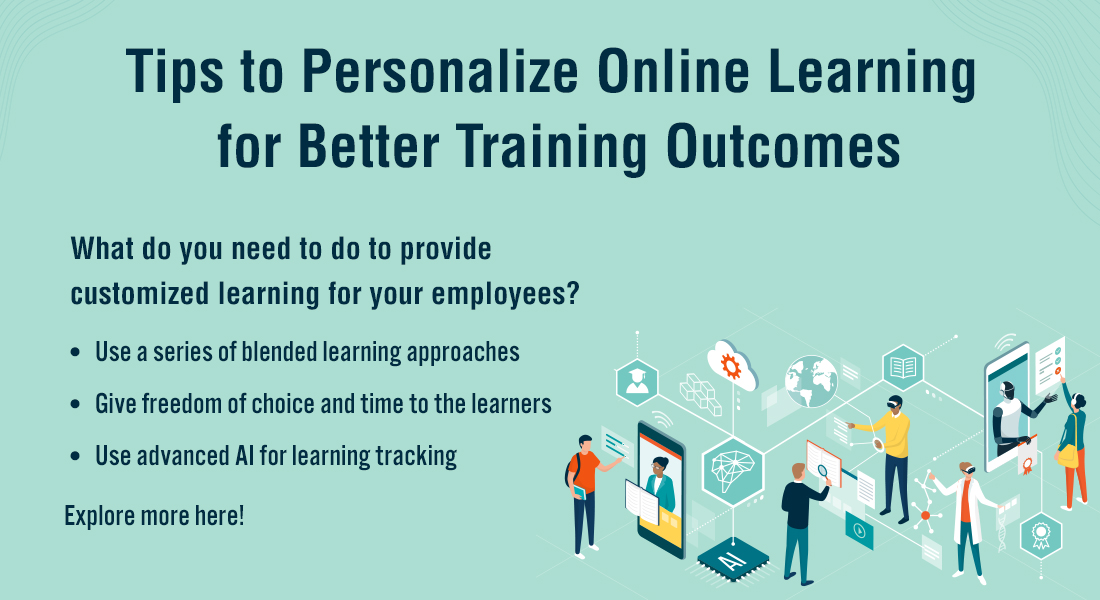 Managing training for a large number of employees in a global corporation is not a cakewalk. Most of the time, we don't see the trees for the forest. We are so focused on the overall training that we forget to consider the needs of individual learners. No wonder then we often fail to understand what learners find easy to learn. Personalizing learning for online training goes a long way in helping learners learn with ease. Wondering how it's done? Let's find out.
Personalize Learning for Online Training, but How?
Improve training efficiency by personalizing learning for employees. Here's how:
Leverage blended learning for online training
Build collaborative and social learning opportunities
Let learners learn at their own pace
Add entertainment in education
Use AI powered adaptive learning and analytics
In this blog, I have discussed five ways you can customize corporate training to offer personalized learning to your learners. Remember, personalized learning in online training improves employee performance, simply because learners are able to connect with the learning content. But hang on! Before you dive into the best practices for personalized learning, let's first understand what personalized learning actually means.
What is Personalized Learning?
The name itself is a no-brainer. Personalized learning, in its simplest form, means learning that is personalized to meet the preferences and interests of the learner. Personalized learning helps improve training outcomes by:
Making learning relevant to learners
Enhancing their motivation towards learning
Improving course completion rates
Improving overall work performance
Unfortunately, like all good things, personalized learning also comes with a catch. It is just not possible to personalize eLearning material for hundreds or thousands of learners. So, what do we do? We allow learners to personalize their own learning. Sounds tough? Not quite.
How to Personalize Learning for Online Corporate Training.
21st century corporate training is heavily dependent on technology, more so in the present situation, with COVID-19 turning all workforces remote. It is this very technology that makes personalizing learning for online training possible. Let's look at those five methods to build personalized learning for online training.
1. Consider Blended Learning for Online Training
Unlike what is popularly thought about it, blended learning is more than simply mixing classroom instructor led training (ILT) with online learning. In fact, blended learning includes classroom training, eLearning, guided learning, social learning, mobile and microlearning, on the job training, performance support, mentoring and coaching, and more. But more than the type of learning, it's the way it is used that makes all the difference.
Using a blended learning approach means that learners have the flexibility to opt how they would like to learn. Learners don't have to solely depend on classroom ILT or virtual ILT (or VILT). They can choose eLearning and follow up the learning with bite sized microlearning modules . Yet, they have the freedom to learn through classroom or VILT sessions when they want to.
2. Foster Collaborative Learning and Social Engagement
There are several benefits of fostering collaborative learning while personalizing training. For starters, learners interacting with each other creates an informal learning environment, which reduces the stress of formal training. Besides, as they interact, they also get to know about what others are learning and how their learning content is personalized for them.
Integrate collaborative learning practices into the training program through discussion boards, chat boxes, diverse online groups, as well as social media platforms. They can also be leveraged to host mini learning events to promote important microlearning modules.
3. Enable Self-Directed Learning for Learners
Trust me (and trust your learners), self-directed learning is an excellent way to keep your learners invested in their own learning. That's because the way adults learn is quite different from how children learn – adults are self-directed, bring their life experiences and knowledge to learning experiences, and are goal oriented. That is why it makes sense to hand over the responsibility of their learning to the learners themselves.
Of course you will have control over what the learners are learning and when. But giving them flexibility in regard to the time and method actually helps personalize the learning experience.
Here is how you can make online training self-directed.
Use an LMS – A Learning Management System can host courses, as well as store post training resources. Some LMSs also have native mobile apps (where you can download the learning resources) for the convenience of 21st century learners.
Increase access to mobile learning – Mobile learning can be a motivating factor for a lot of learners who love to scroll through social media feeds.
Use varied microlearning formats – to deliver the same training. This way learners can choose their preferred method of learning easily.
4. Add a Dash of Entertainment
21st century learning is anyway a healthy mix of education and entertainment, but when most of the employees are working and training from home, work-life balance tends to become a bit lopsided. In such a situation, edutainment becomes the perfect solution.
Edutainment, as most of you already know, is education + entertainment. It makes learning engaging and interesting, while still keeping the 'education' in focus. But how do you incorporate entertainment in education?
The answer is gamification. Gamification of eLearning courses means adding elements like leaderboards, level-ups, scores and ranks, rewards and achievements, etc. in the course. Top it off with attractive design elements like customizable characters, sprites or avatars to facilitate guided learning, and they will be in it to win. Make Jack believe that work itself is play, and he will never be a dull boy again.
5. Use Advanced Learning Analytics
Time to channel your inner Tony Stark with bleeding edge artificial intelligence, programmed to study, analyze, and help customize learning. Adaptive learning helps deliver a truly personalized learning experience to learners, while other strategies discussed so far only help a little.
Adaptive learning is like a smart learning strategy that tracks and analyzes the learning activities of different learners on the LMS. It uses artificial intelligence and deep learning analytics to track, analyze, and customize the learning, thus helping deliver the most personalized learning. Here's how it works.
Adaptive learning tracks the learners' actions with the course, including access time, duration, number of attempts in assessments, etc.
Adaptive learning also helps identify learners' strengths and weaknesses with respect to the course topic.
Adaptive learning, based on learners' interests and preferences, also suggests customized learning paths to individual learners.
Still quite new in the corporate training domain, AI is all set to rule the eLearning industry with the world class statistics it is capable of providing.
Summing it Up!
Irrespective of how similar the training goals for employees are, each individual learner has his own way of learning and analyzing information. Considering each learner's unique needs and strengths and weaknesses is the only way of delivering personalized learning to employees. Gone are the days when training needed to be totally formal and structured. 21st century learners tend to understand things better when given the freedom to learn on their own.
I know understanding the intricacies of corporate training design, development, and delivery, and more importantly, training ROI can be a bummer. So I have something here for you – a handy eBook that discusses learning analytics in and out. Check it out below.