10 Best Examples of Microlearning Assets to Leverage Right Away!
Microlearning is the new paradigm in corporate training. Do you want to know the ways to use microlearning in your organization? Read on to find out!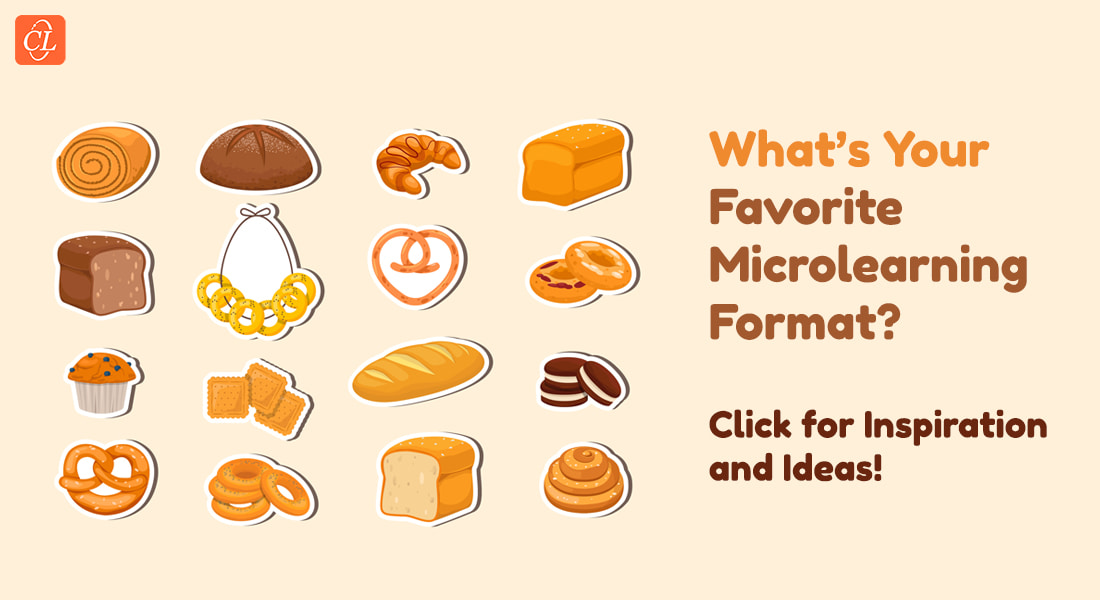 Did you know? Most learners prefer microlearning over traditional learning methods! Well, this is not surprising considering how learner-centric and immersive it can be. You might wonder whether organizations stand to benefit from microlearning as well? The answer is a resounding yes!Microlearning increases employees' productivity and performance significantly because learners get access to relevant information they are looking for, right when they need it. That's right! While there are several benefits of microlearning, the biggest one is that it can fit right into your existing training model. Intriguing! Isn't it?
Why Your Organization Needs Microlearning
Reasons to include microlearning in your learning programs:
It's quick, easy to consume, increases learner retention and saves the instructor's time.
Learners can partake of microlearning when needed instead of cramming extensive material.
It offers quick answers to practical problems that learners might face at work.
Continue reading to explore a few examples of microlearning!
So, adopt microlearning into your learning strategy and improve your organization's business goals. Continue reading this blog to find out more and learn about the different microlearning assets that are a must-try.
Why Should Your Organization Adopt Microlearning?
Microlearning is a strategy where large chunks of information are broken down into small, digestible nuggets. Here are a few of many impressive reasons why you should adopt microlearning in your organization.
These mini lessons lead to increased knowledge consumption and better retention.
Microlearning helps in boosting learner engagement and interactivity as it caters to different learning styles and preferences.
Microlearning provides the learners with flexibility and convenience as they can access the training material anytime, anywhere, and at any device. This further ensures continuous learning.
Microlearning courses take less time to develop and are cost-effective.
It facilitates just-in-time learning, thereby enabling better productivity and performance.
So you're planning to integrate microlearning into your training program? Awesome!
Here's a video to help you plan your microlearning strategy in 3 steps. Check it out right now!
Once you've watched the video, it's time to take a good look at the top 10 microlearning assets that you can leverage for effective, engaging, and learner-centric training!
10 Best Examples of Microlearning Assets Trending in 2022
Microlearning is flexible both in terms of knowledge consumption and implementation. You can get creative with how you want to incorporate the following microlearning assets in your training programs. Let's explore!
Microlearning Videos
Written content provides learners with reams of information. However, in a world of dwindling attention spans, it's videos that hold everyone's attention. They're one of the most captivating formats for imparting knowledge in the quickest manner possible.
So you can leverage microlearning videos to boost learner engagement and promote attention. You can break down the lengthy online modules into short 7 to 15 minute microlearning videos. This brings an element of interaction and interest to the learning process. Learners can watch informational videos anywhere, be it in the office, at home, or even on the go!
Interactive PDFs
Interactive PDFs are a great microlearning asset to convey information in an engaging and interesting manner. You can include clickable elements, embedded multimedia, links, GIFs, etc. All these things provide the learners with an opportunity to interact with the content, thereby promoting active learning.
Microlearning Apps
Microlearning apps enable learners to access information anytime, anywhere. They are directly associated with the accessibility to a mobile phone. Learners can quickly access the required information at the click of a button. Microlearning apps are an impressive option to attend to the learning needs of diverse, avid learners.
Microlearning Games
Who said games are only for children? Well, if you design games in a way that they end up imparting knowledge and polishing skills, then they can be for everyone! Micro games are an effective asset where you can train learners in a fun and engaging way. You can create multi-level games for various types of training ranging from product training to onboarding to sales enablement and more!
Infographics
Infographics are another spectacular way of adding microlearning to your L&D program. You might ask why? It is because they are engaging and all-encompassing. They cover all the information learners might need to cover on a certain topic and they present it in a way that captures the learners' attention.
Learners prefer infographics over regular text-based content because the former comes with an insightful flow of information. Infographics are rarely presented to be direct. Instead, they're depicted in a way that learners connect each piece of information with the other step-by-step. Their graphical representation also helps with visual learning.
On this very note, here's an infographic about the top 5 applications of microlearning in corporate training.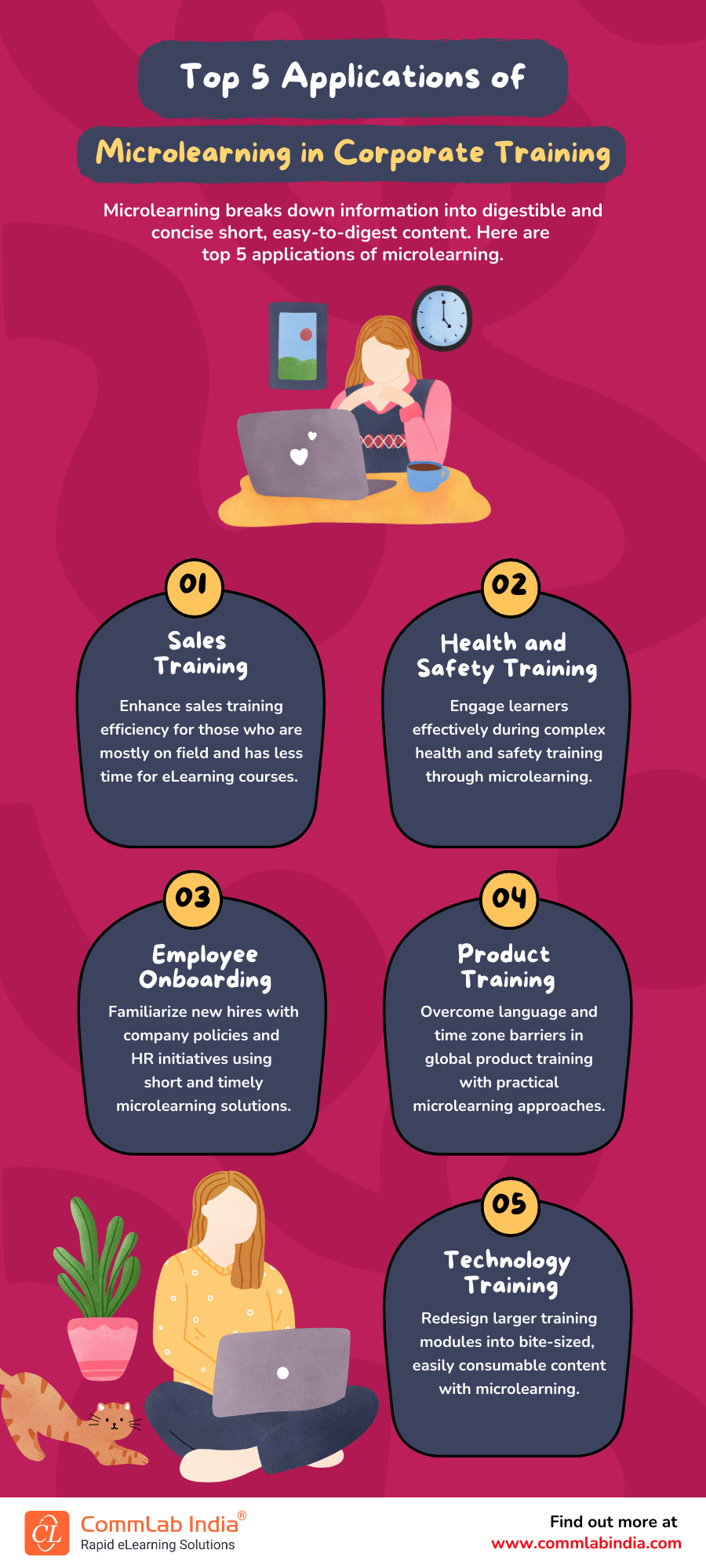 Microblogging and Posts
Leveraging this microlearning asset is a great way to promote interactivity and learning among the employees. You can use company intranet to share various short tips and tricks, best practices, updates, activities, etc., to help employees learn new things without being overwhelmed.
Podcasts
Micro podcasts are useful for learners with strong auditory memory. Learners can use this microlearning asset to gain some light information. This format comes in handy when the learners are traveling or doing some other work that doesn't demand much attention.
Quizzes
From interactivity to evaluation, interactive quizzes are a powerful microlearning asset. You can use them in various types of training and in different ways. Quizzes can be used for pre-assessment and post-assessment purposes.
Simulation
Simulation immerse learners in real-world scenarios that mirror situations the employees are likely to face in their professional roles. This allows them to develop essential skills and gain knowledge in a risk-free environment without the fear of real-life consequences. The experiential learning facilitated by simulations fosters lasting retention of information and improves the practical application of acquired concepts in the actual work context.
Digital Flashcards
Digital flashcards are an interactive microlearning asset. One side contains a small chunk of information and the other side has a clickable prompt. The information is revealed when the learners click the prompt. This can be used for definitions, terminologies, etc.
Summing Up
There you have it! Ten best examples of microlearning assets that inspire you to improve your organization's training program. It's easy to use all or a combination of them and incorporate them into your comprehensive eLearning strategy. Check out the eBook below to understand where does microlearning fit in your learning strategy.
Editor's note: This post was originally published in May 2022 and has been updated for comprehensiveness.