Are Your eLearning Courses Learner-Centric?
Today's learners have a world of knowledge available to them, but it needs proper structure for them to make the most of it. The sounder the instructional design, the more robust the course. This blog explores five Instructional Design Principles that will help design the most learner-centric eLearning courses.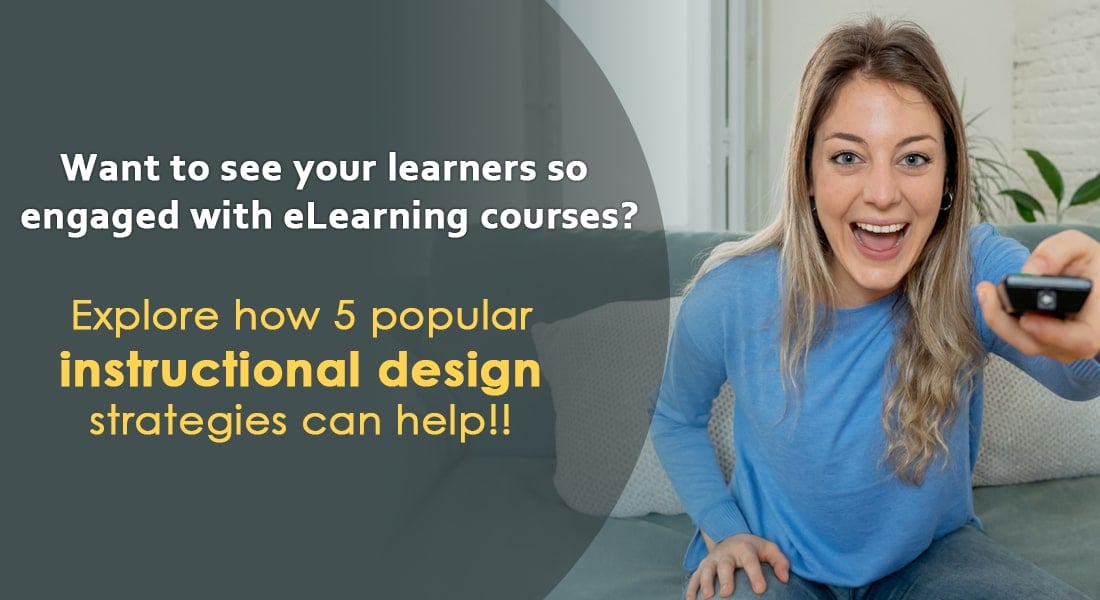 In today's perpetually online world, knowledge is truly at one's fingertips. Learning has become a dynamic experience, with learners expecting quick and free access to knowledge. And if they don't find that with you, they will go somewhere else. Under such circumstances, it is important for us, as training professionals, to cater to our learners and capture their attention. However, it is not enough to just capture their attention. To design effective, learner-centric eLearning courses, we need to have robust instructional design strategies in place.
Want to Design Learner-Centric eLearning?
Address these five principles of robust instructional design:
Identify learners' requirements and capture their attention
Schedule a pre-test and inform them of the learning objectives
Present information in a modular structure
Offer practice exercises and formative assessments
Provide prompt and detailed feedback
What is Instructional Design? It is the process of assessing a learner's needs and developing an eLearning strategy based on those needs.
Here's how you can implement five instructional design principles so crucial for effective eLearning development:
Five Instructional Design Principles Crucial for Effective eLearning
1. Identify learners' requirements and gain their attention
An eLearning course can appeal to a learner only if it is designed based on their requirements. Is the learner new to the domain? Or are they seasoned employees with years of experience? Learners' requirements might vary according to their role in the organization, their experience in the domain, their learning style, and so on.
For instance, if an employee has a lot of experience in his domain and is hard pressed for time, microlearning courses would be ideal as they are fast paced, provide focused information, and are available as short modules in mobile friendly formats, allowing them go through the eLearning course at their convenience.
To determine the level of learner participation and set expectations about the eLearning course, it is important to grab their attention – present a challenge, tell a story they can relate to, share fun facts, or present a scenario that needs to be navigated or solved. This first-impression strategy arouses the learner's curiosity very effectively.
2. Schedule a pre-test and inform the learners about the learning objectives
Pre-tests are an effective strategy that can help identify what learners already know before starting an online course. This helps us design courses that are appropriate to learners' level of understanding. Depending on the learner's score in the pre-test, they can be directed to a course more suited to their needs, whether it is an expert assisted hands-on training, or an advanced level eLearning course. A pre-test makes the learner want to learn by making them aware of what they do or do not know about the topic. This way, the learner identifies areas in the course where they need to focus.
Another part of this strategy that also involves the learners in the learning is informing them why they are learning what they're learning, and how it is going to be useful to them. The learning objectives define this and help the learners focus their efforts better on learning. It also helps them organize their thoughts around it. Once a learner understands the organization's expectations from the course, they will be able to understand if they are successful in meeting those expectations.
3. Present information in a modular structure
Figuring out the best way to present information in an easy and interactive manner is one of the important aspects of instructional design for effective learning. When it comes to presenting information in a creative way, the sky is the limit. Storytelling, branching scenarios, role plays, interactive videos, gamification, and so on, can all be used considering the learning objectives and desired outcome.
Chunking the information into easily digestible portions is also very helpful in avoiding cognitive overload. This makes presenting information in a modular structure essential. When we use a modular structure for eLearning courses, each module acts as a self-contained chunk of knowledge within the entire course curriculum, that helps learners focus more on specific content.
So, what are the core elements of any ideal eLearning module?
An Introduction
An outline of the concepts to be covered in the course
A discussion of the said concepts
Formative assessments with constructive and reinforcing feedback
A summative assessment at the end of the module
Reference material in the form of articles and links of videos for further reading
4. Offer practice exercises and formative assessments after every module
This principle of instructional design helps learners assess what they learned so far in the course. You can use learning games, drag and drop interactions, word puzzles, scenario activities, or flash cards to make your assessments more engaging. You can also choose to give a second attempt to learners who have not answered correctly.
Formative assessments and practice exercises after each module are a wonderful opportunity for learners to evaluate and reinforce their new knowledge. This in turn helps enhance their skills and competence. For instance, learners can be provided with simulation-based exercises to understand their application in real-life scenarios. This helps learners to actively experiment and reflect upon their knowledge, answer the questions at the end of the module, and improve their learning experience.
5. Provide feedback
Good feedback is not limited to "correct" and "incorrect". The feedback also needs to include why it is correct or wrong to help reinforce the learning.
Immediate feedback serves three purposes:
Corrects the learner where needed
Reinforces knowledge
Addresses and clarifies misconceptions
Done properly, feedback can truly connect the learner with the course. To be effective, feedback needs to:
Be immediate and constructive to help the learner improve their understanding
Demonstrate the implications of right and wrong choices with the help of case studies and scenarios
Inform the learner as to how the learner could improve upon the error
Connect to the overall achievement of the performance-based learning objectives outlined at the beginning of the course
Parting Thoughts
A systematic approach that keeps instructional design at the forefront is a must for effective eLearning design. If you're looking for more ways to make your online training truly stand out with brilliant instructional design, check our eBook.