7 Quantitative Metrics to Evaluate the Effectiveness of Your eLearning
Are you looking to measure the outcomes of your corporate training program? This blog discusses 7 quantitative metrics that you can use to evaluate the effectiveness of your eLearning.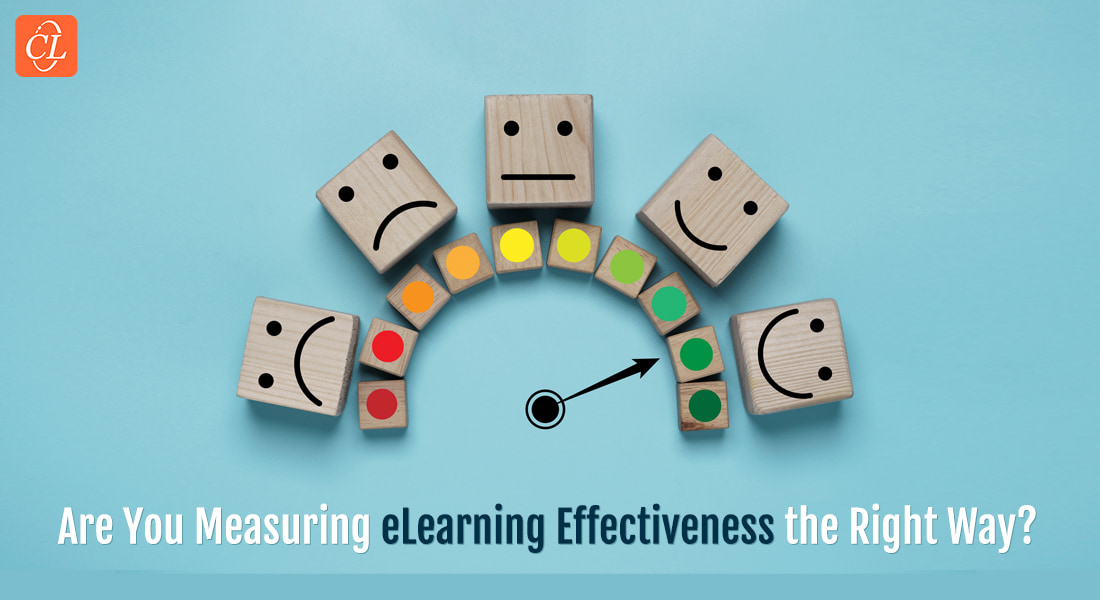 Despite the potential benefits that eLearning solutions can provide, many organizations remain skeptical of their effectiveness. This view exists partly because organizations don't know how to measure learning outcomes. As a result, they either switch back to conventional training methods or they spend countless hours refining their online training strategy and introduce new courses that don't serve their performance goals and objectives.
Are You Wondering How to Measure The Effectiveness of eLearning?
Here are 7 quantitative metrics to evaluate the effectiveness of your eLearning solutions:
Time Taken to Complete Training
Rate of Course Completion
Employee Turnover
ROI Tracking
360-Degree Feedback
Revenue
Training Cost
In this post, we'll focus our efforts on discussing what effective corporate training looks like and the importance of measuring the effectiveness of eLearning projects. We'll also share seven basic performance metrics to evaluate the effectiveness of your eLearning courses. These seven measurables play a crucial role in helping you decide whether your training courses are working. This way, your L&D team can make decisive changes to improve your organization's performance outcomes. You can also use them to proactively optimize your workspace's training strategy and reap the full benefits of online training with minimal trial and error.
Defining Effective eLearning
Effective eLearning occurs when businesses achieve, with the help of eLearning courses, their desired short-term or long-term goals, such as improved customer experience, increased product sales, and enhanced internal data security. eLearning developers design eLearning courses for the specific intent of upskilling employees with the knowledge and skills to reach those outcomes.
No matter how advanced, expensive, or easy-to-understand an eLearning course is, we would think it is ineffective if it doesn't help our employees and trainers achieve their goals.
The Importance of Measuring Training Outcomes
Measuring the effectiveness of your eLearning solutions will help you generate actionable insights into its quality and its impact on employee performance, operational efficiency, and the company's bottom line.
Evaluating training effectiveness also helps learning and development (L&D) teams meet or even increase the margin between the cost they've laid out for the eLearning course's design and implementation with the training program's benefits. Assessing effectiveness also helps in calculating the ROI of your organization's training strategy.
7 Quantitative Metrics to Evaluate the Effectiveness of Your eLearning
Let's check out the major performance metrics for evaluating training effectiveness:
1. Time Taken to Complete Training
This measurable helps L&D teams determine their employees' pace of learning. They also discover which learners are lagging behind and use this information to help them improve the course's average completion time.
2. Rate of Course Completion
Along with determining how long it takes to complete the training, it's also important to determine how many employees complete the eLearning course. This help L&D teams understand their employees' strengths and weaknesses and adapt their courses to maximize their capabilities and fulfill their needs.
3. Employee Turnover
Regular training is an important driver of employee job satisfaction as it improves competencies and skills on the job and also prepares employees for more complex roles, activities, and projects within their organization. The general rule of thumb in an organization is the greater the level of employee satisfaction, the lower the employee turnover. For this reason, it makes sense to correlate the pre-training levels of employee turnover with post-training levels. This, consequently, illustrates the efficiency of your eLearning course.
4. ROI Tracking
Every employee is affected by the company's bottom line. If the organization flourishes, so do the employees, and vice versa. Measuring the financial impact of your training program using results from the pre-training and post-training assessments can help reflect its effectiveness. A positive ROI (return on investment) can also increase the corporate training budget which further improves the bottom line.
5. 360-Degree Feedback
A 360-degree feedback is another powerful metric used to assess an employee's training performance. It provides an accurate and multi-perspective view of their skills, pace of learning, strengths and weaknesses, and performance forecast for everyday duties on the job.
6. Revenue
Organizations can use this performance metric to estimate how much an employee brings in, revenue-wise, before and after training. To calculate the revenue generated for every employee, you need to divide the total revenue generated by the company in a fiscal year by the revenue made full-time.
7. Training Cost
Training cost for each employee is simply the ratio of the total cost of training, which is calculated by adding the cost of eLearning course development with miscellaneous expenses, and the number of employees. For example, if your total training cost is $50,000 for a hundred employees, the training cost amounts to $500 for every employee.
This performance metric helps you determine if you're overspending when you compare your costs with the revenue generated for every employee. If this ratio is positive, then it could justify an increase in your training budget in the future.
A Few More Ways to Measure the Effectiveness of eLearning
Here are a few more ways to measure your eLearning project's effectiveness:
1. Use Assessments to Gauge Employees' Knowledge and Skills
On the surface, assessments, including various quiz formats, such as Multiple-choice, True or False, and Branching, benefit learners by enabling them to analyze their performance and satisfy their knowledge and skills gaps. However, many trainers ignore the fact that gauging their learners can also showcase how effective their online training course is.
For instance, if your employees cannot pass an assessment following completing the final module, you need to improve this module's content or method of imparting it to increase its pass rate.
You could include more interactive elements, such as infographics and interactive PDFs, or use a microlearning tool like iSpring, EdApp, or mLevel to break down the content into smaller, bite-sized, more manageable learning nuggets.
2. Use Scenarios and Simulations
Another great way to measure the effectiveness of your eLearning course is by creating scenario-based quizzes. These quizzes are smart alternatives to conventional assessments that allow employees to apply what they've learned in a safe, immersive environment.
For instance, instead of assigning trainee lawyers' fresh cases following the completion of their training, you can instead conduct online mock trials that simulate real world cases at court. Mock trials enable trainers to measure their learners' capabilities and not harm their client's confidentiality.
3. Use Learning Analytics
Many modern LMSs (learning management systems), such as Stream LXP, Absorb LMS, and Loop, have built-in analytics. This gives trainers more insight into how their teams are progressing by providing them with real-time data, such as attendance, activity completion time, learners' proficiency, and training ROI. With this information, trainers can adjust their online courses to meet their learners' needs and upskill or reskill them effectively.
Bottom Line
So, there you have it. 7 quantitative performance metrics to help you evaluate the effectiveness of your eLearning solution. With this information, you can proactively track your employees progress during and after training, and you can adjust your content or training style to improve your employees' overall performance at work.
Undoubtedly, eLearning is a cost-effective corporate training solution, especially in the post-pandemic digital age, where progressively organizations are taking on online training. However, eLearning can become all the more powerful if you actively gauge its effectiveness. It also helps you achieve your business goals and your employees' grow by gaining new concepts and skills.
Are you eager to know about the other trends that are evolving in 2022 in the corporate training space? Well, download this free webinar recording to get interesting insights on the recent popular trends.