eLearning Outsourcing: Top 4 Tips for Successful Collaboration
Outsourcing eLearning gives you more time to focus on your primary line of business. In this post, we'll look at the top four suggestions to support your eLearning outsourcing provider and guarantee a fruitful and smooth eLearning outsourcing journey.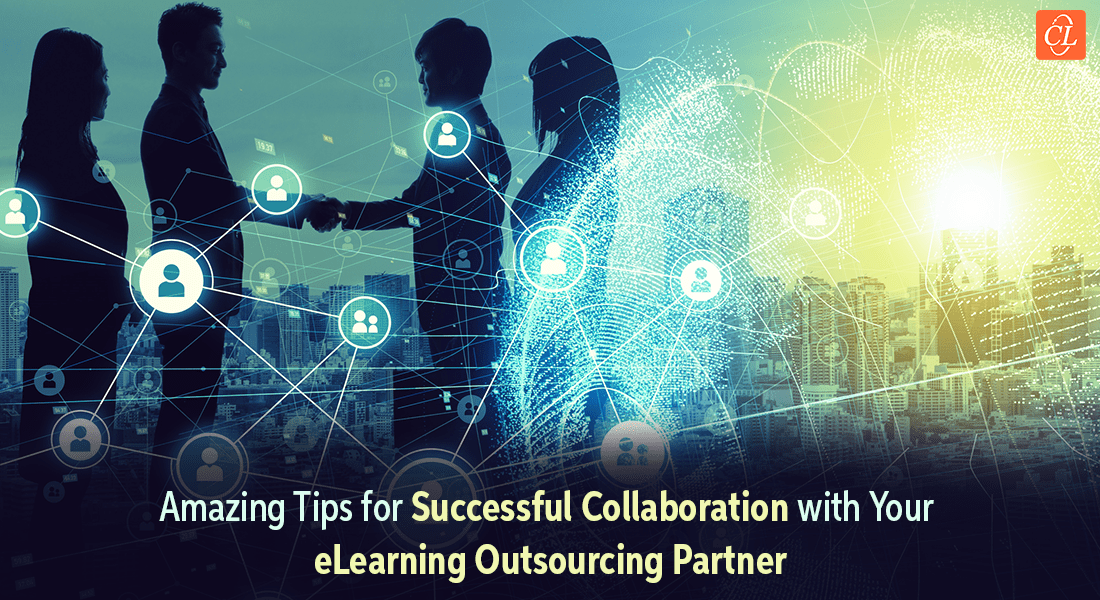 Elearning outsourcing is the solution to all your difficulties, whether you have tight budgets, tight schedules for training, a lack of in-house eLearning development and design competence, or a workforce that is overburdened with work. You can outsource your eLearning and get a one-stop destination for all your training needs. However, despite all these obvious advantages, many businesses are hesitant to outsource. So, here are some potential obstacles and their fixes.
Wondering How to Collaborate with Your eLearning Outsourcing Partner?
Here are a Few Tips That Can Help You:
Develop Strong Project Management Plans
Establish a Single Point of Contact
Maintain Persistent Communication with the Partner
Hold Closure Meetings Following Sign-off for Protracted Collaboration
Potential Obstacles in eLearning Outsourcing and How to Mitigate Them
Barriers to communication: Establish a single point of contact and arrange frequent meetings to get project updates
Barriers to confidentiality: Have written non-disclosure agreements
Prolonged procedures: Ensure that the eLearning provider employs agile project management techniques
Quality problems: Leverage effective quality assurance checklists and Subject Matter Experts (SMEs) for help
Now that we have allayed your concerns, you need to choose a reliable eLearning outsourcing partner who can fulfill all your training needs. Additionally, you must contribute to the success of the eLearning outsourcing project by supporting your provider. However, effective eLearning outsourcing goes beyond merely handing off the creation process to a third-party team. You will learn how to assist your eLearning outsourcing partner and ensure a smooth and effective outsourcing process in this post.
Top 4 Tips to Support Your eLearning Outsourcing Vendor
1. Develop Strong Project Management Plans
An eLearning outsourcing project's success, just like any other projects, is primarily dependent on project management. A strong project management strategy must be created, one with a distinct start, mid, and finish, to ensure the project is completed in accordance with expectations and to facilitate communication between both your point(s) of contact and vendor.
A strategic project plan may, but need not, contain the following:
Establishing the project's scope
calculating project work estimates
Choosing the necessary resources
Establishing a timetable with release schedule
Procedures for evaluation and quality control
Risk analysis
Techniques for eliminating development constraints
It should be obvious mentioning that for the eLearning outsourcing project to be successful, the project proposal must be authorized by all parties involved, including the subject matter experts, development teams and project managers.
2. Establish a Single Point of Contact
A "single point of contact" basically implies that all stakeholders, regardless of where they are based, interact with one committed individual. Prior to being sent to the vendor, this helps compile all their feedback and comments, sort out discrepancies, and increase both transparency and clarity.
Designate a single point of contact to communicate with the vendor if there are several SMEs and stakeholders.
The contact person would oversee:
Eliminating input that is inconsistent internally
Compiling and forwarding feedback to the vendor
Even though SMEs' understanding of the topic makes their engagement in the production of eLearning essential, it must be recognized that busy SMEs might not have enough time to be active throughout the process. Therefore, it is advised to include them early on to reduce their participation later.
3. Maintain Persistent Communication with the Partner
Expecting your vendor to also serve as your management can only cause delays and poor production at the project's conclusion.
eLearning outsourcing is not a "signed and sealed" process. To communicate with the suppliers, you will still want a committed team or at the very minimum a single point of contact. It's crucial to be in constant contact with the vendor to provide progress updates and answer any questions they may have. Fewer confusion will occur because of a well-maintained and established communication channel, which will also assist both parties in pro-actively addressing concerns before they become crises.
Keep the following in mind when speaking with the vendor:
Time zone differences
Cultural distinctions
Demand written correspondence.
Ensure interaction via calls and reports every week.
4. Hold Closure Meetings Following Sign-off for Protracted Collaboration
An eLearning outsourcing planning process must have a distinct start, mid, and finish, as we've already established. In this regard, it's crucial to organize a formal project closing meeting to confirm that all the previously defined outsourcing requirements are satisfied.
At the conclusion of the project, closing meetings—instead of paper-based feedback—build positive connections with the vendor for both the current project and any upcoming ones. Take advantage of the chance to provide and receive feedback from the provider.
Hold closing sessions to receive thorough and targeted feedback on:
What worked well
What might have been done more effectively
Apply these lessons to future initiatives to increase involvement and efficiency
Parting Thoughts
Third-party vendors and suppliers are some of the most crucial partnerships you'll have in your organization. As a multinational business organization seeking to provide the finest training to its employees, you may occasionally to depend on external specialists.
Outsourcing eLearning development may alleviate the pains of in-house development, save costs and time to market, and harness knowledge that is not accessible in-house.
Checkout our free eBook on eLearning outsourcing to discover more about typical pitfalls to avoid and what you anticipate from the vendor.