Pre-Work to Save Time when Outsourcing eLearning [Infographic]
Planning for outsourcing eLearning? This infographic will help you save time in outsourcing eLearning, with 3 easy prep steps!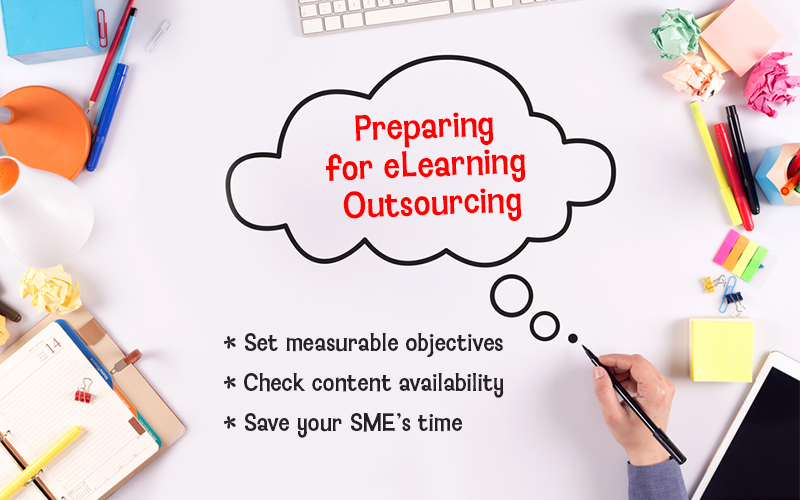 Let us reflect on this question – Are you new to outsourcing? Yes? You are in the right place! No? You are still in the right place because this infographic will give you some tips on saving time involved in eLearning outsourcing.
Outsourcing eLearning design and development is a complex process involving many people from your side, as well as your vendor. We're talking about subject matter experts, instructional designers, authoring tool experts, and project managers. Even with so many people involved with great experience backing them, eLearning development is a task that takes time and precision. While precision depends on the people involved, cutting down the development time depends on you – at least in the initial stages!
Yes, cutting down eLearning development time is in your hands to a certain extent, even if you are outsourcing your L&D requirements to a competent eLearning vendor. And we are here to help you do just that! What you can do is ensure you do the pre-work before outsourcing your eLearning. But before that, if you are uncertain about outsourcing your training requirements, let's recap what you stand to gain by doing so:
Access to expertise
Enhance the output of your in-house team
Reduces cost
Save time
Quick turnaround
eLearning outsourcing will ensure your training proceed smoothly. So now that you are on the right path, you should be taking your next step. What is the next action? Tick the three tasks listed in the infographic.