6 Steps to Support Your eLearning Outsourcing Partner [Infographic]
Outsourcing eLearning isn't an easy task, but it's not difficult either. We have a few tips on helping your eLearning outsourcing partner.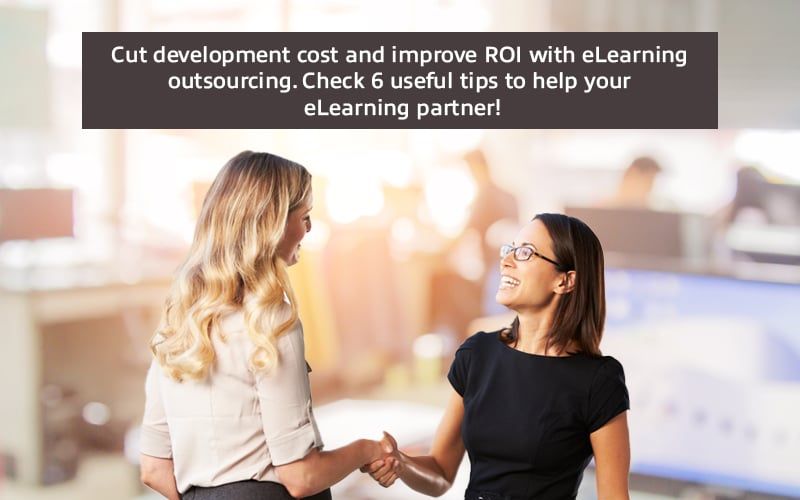 Outsourcing your Learning and Development (L&D) requirements might not seem novel to you. You've already done it once (or probably more) to ensure your corporate learners get the best out of their training. So why are you reading another blog on outsourcing eLearning? That's because no matter how many times you've done it before, you might have missed a few points/tips on how you can make the whole process simpler and smoother. I am here to give you those pointers in the form of an infographic.
Outsourcing is the in thing, (or should I say) it has been in vogue for a long time and continues to do so. It offers you many benefits that you can't say no to. You get a quick turnaround time, optimal learning design solutions, and experienced resources to get the best quality training – within your timelines. So even if you think developing eLearning in-house is cost-effective, you should outsource your training requirements because it's a cost-effective method that increases your return-on-investment (ROI).
But let us first delve into the ocean of outsourcing eLearning design and development. Do you have answers to all the questions you used to have on outsourcing? About choosing the right outsourcing vendor, the different parts of eLearning design and development that you can outsource, if not the whole process, and creating an outsourcing budget. If you do not, here's all the information you need on outsourcing your training requirements.
Let's address the elephant in the room now – making the process of outsourcing eLearning development smooth – for your partner. There are some measures you can take, some ways you can practice that will help your vendor. Helping your vendor gives them more insights and clarity to develop an effective training solution for your learners. And I am here to deliver you those pointers, so here's the infographic I promised you!