4 Crucial Factors to Consider Before Saying Yes to eLearning Outsourcing
Creating eLearning courses requires a lot of expertise and experience, so it's not everyone's cup of tea. Therefore, eLearning outsourcing is a comprehensive solution to get started with eLearning, discover 4 important factors to consider before getting into eLearning outsourcing.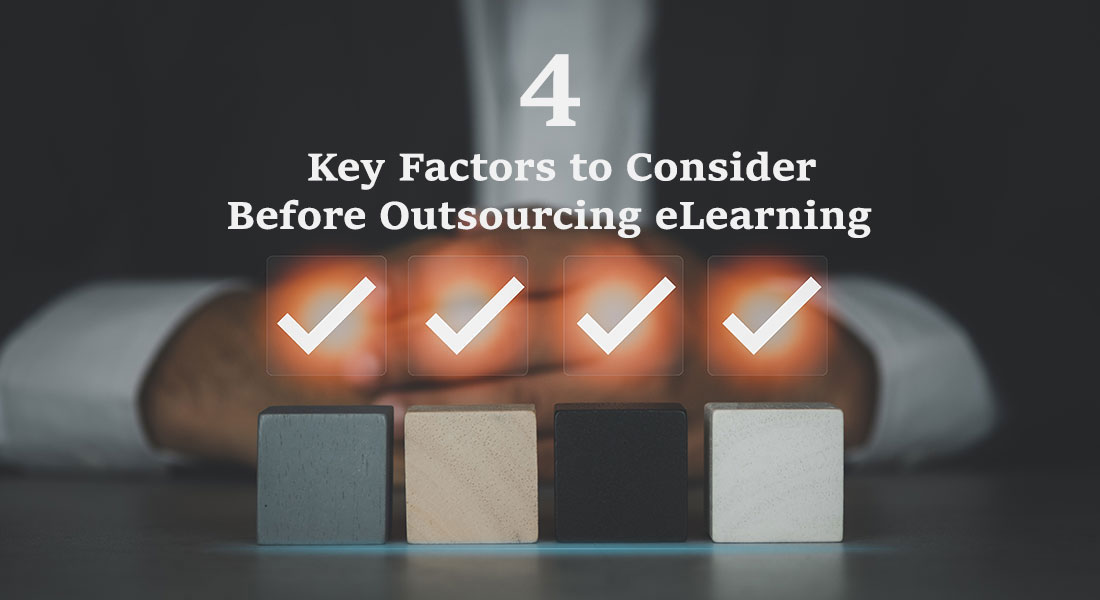 Ever since eLearning has gained traction in the corporate L&D space, organizations want to incorporate eLearning in their training frameworks. However, maintaining an in-house eLearning design and development team full of talent and versatility is a challenge. But to overcome this stumbling block, eLearning outsourcing is here to save your day!
Planning to Try eLearning Outsourcing?
Here are 4 things to do:
State Learning Objectives
Evaluate Outsourcing Vendors
Verify Content Availability
Evaluate eLearning Development Budget and Timelines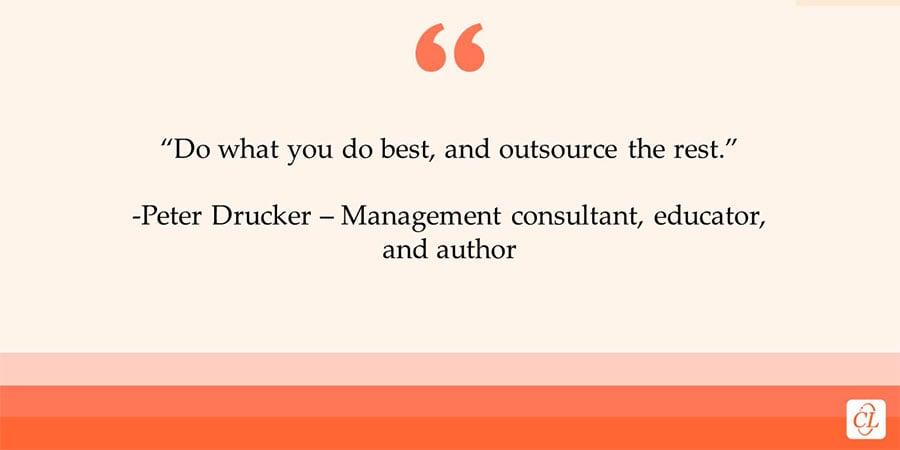 Why go for eLearning Outsourcing?
Let's begin with a quick question- Do you want to create high-quality learner-centric eLearning courses and at the same time, save on the hiring and training expenses of the in-house team? If you're nodding in agreement, then eLearning outsourcing is all you need.
The reasons to choose eLearning outsourcing are numerous. Let's take a quick look at some
Gives you the chance to benefit from an outsourcing vendor's experience in creating and designing eLearning courses.
Brings creative enhancements to eLearning courses with gamification, AR/VR technology and mobile learning that help learners stay up to date with trends and changes.
Gives your internal team the freedom to carry out their regular tasks without feeling any additional pressure because the responsibility of creating good eLearning courses is with the outsourcing vendor.
Prevents a real drain on your finances by avoiding the costs of hiring an internal team for eLearning design and development.
4 Crucial Factors to Consider Before Outsourcing eLearning
1. State Learning Objectives
Learning objectives play a key role in describing what the learners will learn by the end of the course. So, it's crucial to set performance-based learning objectives which are aligned with adult learning principles as learning objectives form the basis for deciding:
Scope of content
Choice of instructional design
Assessment method
Duration and cost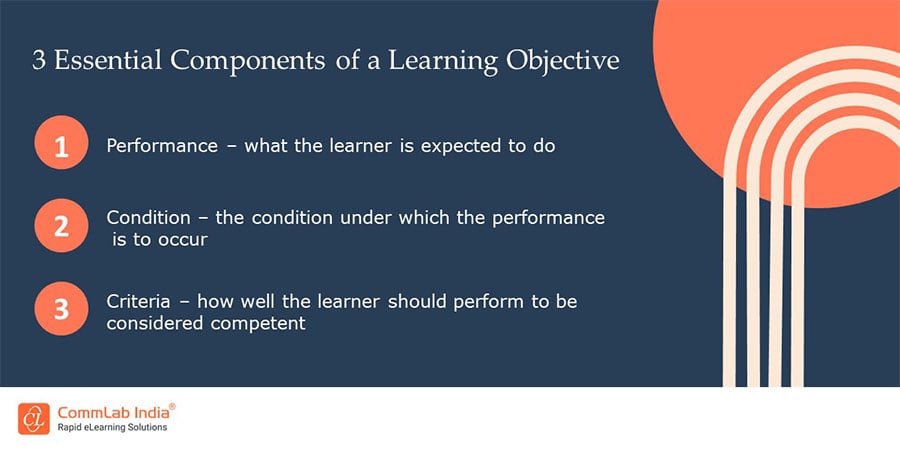 Ensure that the learning objectives are precisely defined so that the learners are aware of the eLearning course's vision and mission.
The learning objectives are about what you want to achieve from the eLearning course. In other words, the objectives explain the expected outcomes from the learners (the defined KPIs) after the creation of the eLearning course.
By clearly stating learning objectives before outsourcing eLearning, you get a clearer picture of
What is to be expected from the eLearning course?
Who the audience for the course is?
What are the specific skills that learners will acquire?
2. Evaluate Outsourcing Vendors
Extensive research about the eLearning vendor is an important factor to consider to understand their work and position in the industry. When selecting an outsourcing partner for rapid eLearning, it is crucial to take some time to go through their testimonials, talk to their existing and former clients to get a clear picture of their ability to work across time zones, deal with cultural differences, handle large projects, and other aspects. Additionally, it's important to take into account their track record of completing projects on time and within budget, the data security procedures they adhere to, and the simplicity of working with the eLearning outsourcing vendor.
Search for eLearning vendors who
Create engaging courses utilizing effective instructional design principles.
Keep the spirit of the classroom alive in eLearning
Utilize the latest tools and technologies
Work closely with you without regard to time or cultural constraints
3. Verify Content Availability
Diving deep into the available content in the form of PDFs, PPTs, guides or whitepapers is crucial. Identifying and filling content gaps with the help of Subject Matter Experts (SMEs) and then updating the obsolete parts of content, makes it ready to be sent to the outsourcing vendor. Another important factor to consider when dealing with available content is to check its relevance. It's crucial to critically analyze content because it is a high determining factor for the success of any eLearning but if done incorrectly it can be a bottleneck in the process of outsourcing.
It's important to strike a balance for the right content because too much content is a problem and too little of relevant content is also an issue.
Make the content ideal for outsourcing by-
Filtering content using defined learning objectives.
Eliminating content that is not aligned with learning objectives.
Identifying and addressing content gaps.
4. Evaluate eLearning Development Budget and Timelines
The amount of time it takes to create and deliver eLearning modules is also crucial, especially in contemporary work settings where ongoing learning is required! Rapid eLearning development and delivery are therefore essential. No matter what the format of eLearning is it is important to consider the timeline of the course development where the course is developed in a stipulated timeframe without compromising on the quality of the eLearning course.
Another factor to be closely considered in addition to timelines is budget. Here it's important to consider both – the cost of the eLearning development and the cost for distributing it to the learners which includes the platform to deliver training such as a Learning Management System (LMS).
Although outsourcing is typically less expensive than employing an in-house team, it is crucial to monitor how much is to be spent on it. Considering this, you need to come up with a budget and then consider if outsourcing fits in your budget.
What Next?
Choosing eLearning outsourcing is a solution to challenges related to resources, experience, and expertise while developing an eLearning course. The above-discussed factors are sure to provide you with initial guidance to start eLearning outsourcing. And if you are looking for more tips and best practices, dig deep into eLearning outsourcing and gain insights with our eBook. Download it right away!