Top 5 Factors to Consider While Outsourcing eLearning Development
Do you lack an in-house team to create engaging and interactive eLearning courses? Don't worry, outsourcing is the solution. Read on our blog to learn what parts of eLearning you can outsource and how to choose an ideal eLearning vendor.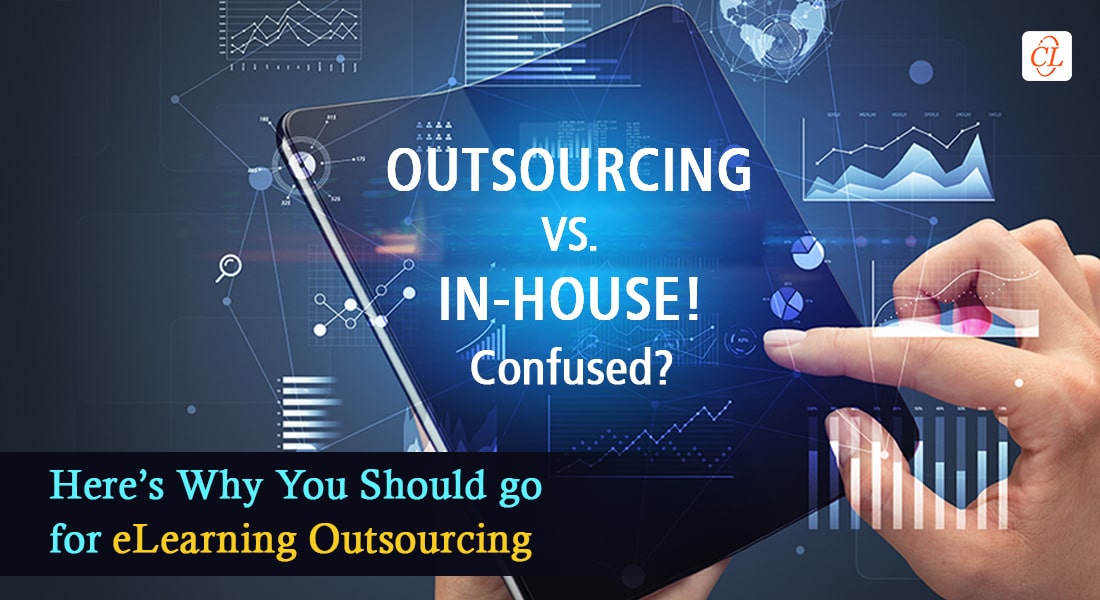 An effective eLearning course should be interactive, with relevant content, multimedia elements, and engaging learning techniques, all packed into a comprehensive eLearning course. In addition, an eLearning course should be customized for the learners and aligned with learning objectives. All this demands expertise in instructional design, video design, multimedia, and other areas. This requires the establishment of an expert and diverse in-house team but maintaining an in-house team can be a difficult task. To avoid this problem organizations can outsource eLearning.
Outsourcing eLearning can be very beneficial to organizations as the experienced vendors will take care of the eLearning course end to end which includes analysis, design, implementation and course roll out.
Are You Planning to Outsource Your eLearning Development?
Here are 5 Factors to Consider:
Look For eLearning Developers Who Work Full Time
Examine eLearning Vendor's Previous Work
Ask For a Demo
Check The Process Flow
Discuss The Price
If Not the Entire Course, Can we Outsource Just Parts of eLearning Development?
The answer to this is a yes!
You can either outsource just parts of eLearning or the entire course. For instance, your – in-house team can create the storyboard and the development part could be outsourced.
Here are a few parts of eLearning that can be outsourced.
1. Instructional Design and Course Development
Rapid eLearning is designing and developing an eLearning course in a short period of time, say 2-3 weeks. If your in-house team has great Subject Matter Experts (SMEs) with excellent domain knowledge but doesn't have the desired expertise of rapid eLearning design and development, then in this case you can outsource it to an expert.
You can outsource rapid eLearning design and development when you have training content in the form of Instructor Led Training (ILT) material, videos, presentations, or even word documents. With the help of rapid authoring tools such as Articulate Storyline, Adobe Captivate, Lectora Inspire or iSpring Suite an element of instructional design can be added to the content, and it can be repurposed into an eLearning course. Rapid authoring tools are ideal to develop rapid eLearning courses as they do not require any programming knowledge to be operated.
The eLearning outsourcing vendor can design interactive learner-centric eLearning courses for you that will help you meet your leaners' needs and achieve training goals.
2. Legacy to HTML5 Conversion
One of the primary reasons for converting legacy courses to HTML is that they are obsolete and incompatible with mobile devices. Before converting, categorize the conversions based on training requirements, interactivity level, and authoring tools used. You can then outsource the conversion of legacy courses to HTML5 and revamp your outdated eLearning course library. Since the new courses are mobile compatible, they enhance the utility of the courses.
3. eLearning Translations
If your organization has a globally dispersed workforce, it's better if eLearning courses are available in multiple languages apart from English to maximize impact If you are a global organization, it may be difficult for your in-house team to develop numerous translated versions of eLearning courses as it can be time consuming and even expensive to hire translators with perfect understanding of native and foreign languages; in this case, you can outsource eLearning translations to the eLearning vendors. These vendors will have a streamlined process with expertise in multiple languages to deliver high-quality eLearning translations. This ensures that your eLearning courses are handled by a competent network of expert translators.
How to Select the Ideal eLearning Vendor for Outsourcing?
Choosing the right eLearning vendor is critical because the organization will rely on them to develop eLearning courses. As a result, this decision should be made with caution and after careful consideration. Here are 5 necessary factors to consider while outsourcing eLearning vendors.
1. Look For eLearning Developers Who Work Full Time
Many vendors develop eLearning courses only part-time. Because they work part-time, they cannot devote their full attention to the eLearning course as they may also provide other services as part of their business. For this reason, they cannot deliver the best eLearning courses, and outsourcing them should be avoided. As an organization, you need high-quality eLearning courses and you should select vendors who can give their full-time assistance and expertise. A good grounding in learning and development will be advantageous, which only a full-time eLearning developer will offer.
2. Examine eLearning Vendor's Previous Work
When working with someone new, looking through their previous work can give us an idea of their working style. The same applies while selecting an eLearning vendor, examine their previous works. By examining their past works you can decide whether or not to outsource them. Look for elements such as learning objectives, good graphics and audio, microlearning, and gamification in their developed eLearning courses. This will allow you to assess their skills in creating the eLearning course. Also, figure out if they are the right fit for your industry.
3. Ask For a Demo
Even if the vendor is experienced and has expertise in eLearning and the right knowledge on using authoring tools, it is necessary for him to fulfill all your eLearning course requirements. To evaluate him on this basis, request a demo based on your specifications. This fully functional demo will give you a clear idea of whether or not the vendor will provide you with a training solution. You can evaluate the sample mainly based on instructional design skills and project management skills. Remember that your vendor is obliged to provide you with a sample at no cost, but you won't be obliged to outsource eLearning to them just because they provided you with a demo.
4. Check The Process Flow
Creating an eLearning course needs an agile project management to produce high-quality courses flexibly. Choose vendors with smoother development strategies, excellent communication and solid project management skills. Before finalizing the finished version of the eLearning course, have extensive discussions, reviews and revisions with the vendor. Their working style will give you an idea of their timelines and processes.
5. Discuss The Price
Different vendors will have different costs so discuss and finalize the costs in earlier meetings. All the elements that you require in your eLearning course should be clearly stated to avoid any last-minute additions. The cost of eLearning courses depends on the course duration, interactivity level, translations, and activities. Moreover, if you want to host the eLearning course on Learning Management System (LMS) inform the vendor to develop the course accordingly. All these factors affect the cost of the course. The more elements the course has, the higher will be its cost.
To Wrap Up!
When you get an idea of what to outsource and how to select the ideal eLearning vendor, outsourcing can be a massive benefit for you to develop high-quality, learner-centric courses all within your preferred timeframe and budget. Outsourcing then will be a game changer for your organization.
Looking for efficient ways to begin and practice outsourcing? Dive deep into and get useful insights all about eLearning outsourcing with our eBook. Download your copy now!