Microlearning: How It Can Aid in Effective Corporate Training?
Can microlearning make your corporate training sessions more engaging? Is it an effective tool to beat the forgetting curve and boost learner retention? If these are the questions that regularly pop up in your mind, then read on to find the answers.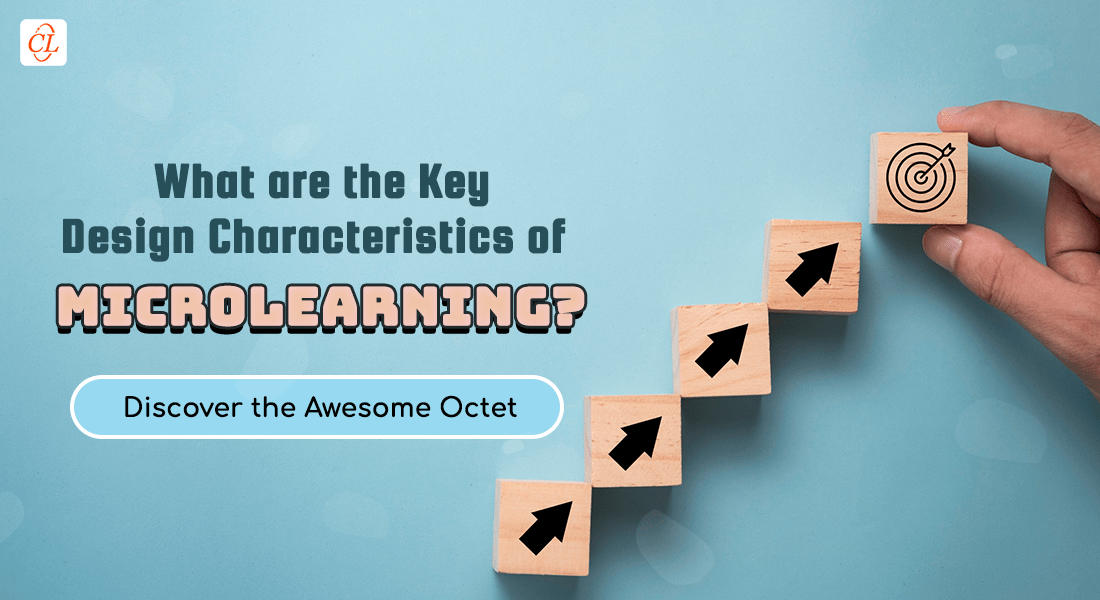 Brevity is beautiful! Isn't it so? Especially, in these present times when the average attention span of us humans is a mere 8 seconds. In fact, to cater to the learning preferences of the Gen Z and Millennial dominant workforce in most organizations, training managers are looking for effective ways to enhance learner engagement. Microlearning has proved to be a great approach to foster learning. According to a survey conducted by Software Advice, 58% of employees were more likely to learn on their company's online training tool where the courses were short.
Key characteristics of microlearning modules
Based on a single, clear, performance-based learning objective
Aligned with desired organizational results
Short, focused and relevant
Creative and intriguing
Designed for both push and pull learning
Answers the 'What's in it for me' question
Tied to the overall learning strategy
Easily accessible
What is Microlearning? (And what it is not?)
Just like its name, Microlearning is a form of training that enhances learning by delivering content in small, bite-sized chunks, with each chunk addressing a single and specific learning objective. It is a highly flexible learning strategy that can be used in many ways to enhance individual and organizational performance. It is a wonderful way to refresh and reinforce learning.
The concept of Microlearning is often misunderstood. To clarify, let's define what Microlearning IS NOT:
Chopping the core content into smaller courses
Just one format, e.g., videos
For a specified or limited time
A single "one-dose" solution or a replacement for elaborate eLearning courses
Appropriate for every situation or task
To be clubbed with performance support
For Microlearning modules to be effective, it is extremely important that its assets adhere to certain design characteristics. Let us check them out!
8 Critical Design Characteristics of Microlearning
Microlearning modules should be:
Appropriate to the objective and intended performance and aligned with desired organizational results: Your microlearning assets should be aligned with the predetermined learning objectives and desired outcomes of the course. So, you need to ensure that your microlearning modules aid in boosting employee and organizational performance
Based on a single, clear performance-based learning objective: Since microlearning is aimed at enabling quick learning, each session should be designed to cater to one specific learning objective
Short, focused, and relevant: Your microlearning assets should be micro in size, focused on a set learning objective and aid your employees in day-to-day problem solving
Creative, intriguing, and inspirational: It is important that your microlearning assets have the creative power to intrigue your learners to take up the course
Designed for both push or pull learning: You should check that your microlearning assets enable both push or directed learning as well as pull or 'just in time' learning
Able to provide clarity on the what and the how of value-added learning: Your microlearning modules should answer the 'What's in it for me' question that learners' may have
Tied to overall performance: It is important to be cohesive and facilitate learners to connect with the content. This is why you need to take into account the overarching performance-based learning strategies when designing your modules
Easily accessible: Availability and accessibility of information play a key role in successful learning. To enhance the utility of your training, you should aim to design microlearning modules that are multi-device and are compatible on multiple platforms
Key Benefits of Microlearning in Corporate Training
Microlearning offers a range of benefits for learners as well as organizations.
Key benefits for learners:
It is learner-centric and provides immediate, relevant value
It is targeted, concise and saves time
It is engaging, easily accessible and offers variety
It fosters knowledge acquisition, retention, and application
It saves time
Key benefits for the Organization:
It accelerates time and enhances proficiency
It drives performance thereby enabling a quicker impact on desired results
It reduces delivery time and developmental cost
It can be easily updated, reused, and remodeled
It minimizes the SME's (Subject matter expert's) time spent
Popular Microlearning Formats
We can create Microlearning assets in a variety of formats. Listed below are a few popular formats:
Videos
Animations
GIFs
Infographics
Simulations
eBooks
Quizzes
Games
Digital Flashcards
Concept and Process Maps
Use Microlearning when
Though Microlearning offers a wide range of benefits to your organization and helps boost your employees' productivity and performance, it cannot be used in every situation. Here are 4 key parameters to help you decide on the type of Microlearning content to deliver.
4 key parameters to consider are:
Frequency: Identifying how often each task is performed on the job (daily, weekly, or monthly)
Importance: Describing the importance of each task and the role it plays in the overall effectiveness of performing the job
Difficulty: Identifying difficulties in learning each task
Risk: Defining the risk involved in performing each task erroneously
The categorization of tasks based on the above parameters helps you understand the necessity of each task.
To Implement Microlearning
Frequency could be high or low
You will agree to this. Sales representatives need to explain their product's features to customers very often. In such high frequency situations, Microlearning assets in the form of quick reference guides can be very handy, as they would ensure the detailed communication of product features and also help in closing sales. Conversely, updating the PMS (Performance Management System) is usually a biannual affair. A short video on PMS guidelines can impart the necessary guidelines to the new employees.
Importance could be high or low
To avoid any workplace related accidents, employees need accurate training and hands-on experience when operating a machine. Simulations can help workers gain the necessary knowledge as well as the practice required to perform their tasks efficiently.
In lower priority cases, nice-to-know content such as additional information on safety parameters can be provided in the form of infographics or flashcards.
Learning should be easy
You can use Microlearning assets to train your employees on easy-to-learn tasks. For example, a detailed catalogue of all the new products launched can be shared with on-the-go sales executives as a quick and ready reference guide.
The risk associated should be low
You should choose Microlearning when training your employees on low-risk tasks. For example, using an infographic to train your workers on the hazards of mishandling a machine is not the best idea. Scenario-based learning can better serve the purpose in such situations.
The Bottom Line
As Marcus Tullius Cicero said, "Brevity is a great charm of eloquence,". It is no wonder then that Microlearning is one of the fastest growing trends in in the Learning and Development space today. Its bite-sized, 'snackable' courses are easy to consume, help negate the forgetting curve, and enable rich learning experiences.
Unleash the power of Microlearning to boost your employees' and organization's performance. Are you wondering where Microlearning fits into your learning strategy? Gain more insights on the nuances of Microlearning by downloading this eBook now!