Custom eLearning and the Modern Workplace
How can you leverage custom eLearning in the modern workplace? Read this blog to gain insights on how emerging technologies impact custom eLearning.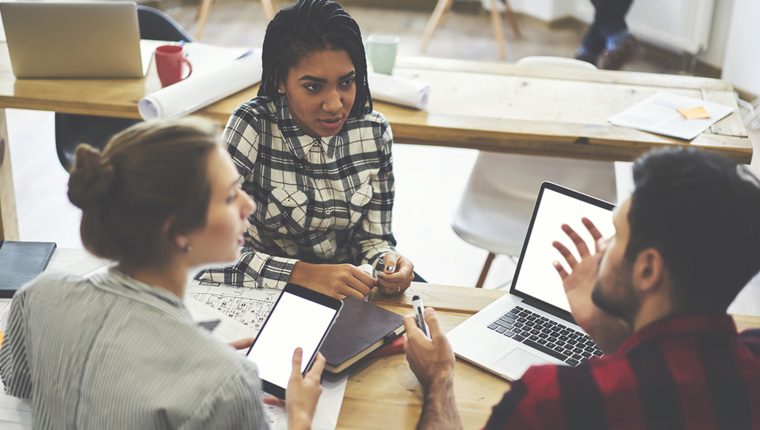 The Millennials make up the largest generation in the U.S labor workforce. The oldest members of the Gen Z are currently entering the work force. With the modern workforce entering the workplace, it is highly important you deliver training that interests them. What is different you ask? Here are a few revelations on the modern, multi-generational workforce from LinkedIn's Workplace Learning Report of 2018.
68% of employees prefer to learn at work
58% of employees prefer to learn at their own pace
49% of employees prefer to learn at the point of need
Delivering training through custom eLearning is one way to meet the training needs of your learners as custom eLearning is all about developing courses in which every single aspect of the course is customized according to your organization's goals and training needs.
What's the Impact of Emerging Technologies on Custom eLearning?
Caters to specific learning needs using Adaptive Learning
Speeds up development through Rapid eLearning
Identifies individual training needs using Artificial Intelligence
Takes training to the next level using AR/VR
Measures training impact using Learning Analytics
Enables better tracking using xAPI
The Benefits of Leveraging Emerging Technologies in Custom eLearning
1. Caters to Specific Learning Needs Using Adaptive Learning
Imagine a classroom where the instructor guides every learner to meet their personal style of learning, needs, and interests. Won't that lead to an effective learning experience? Well, this might be possible to a certain extent within a classroom setting but catering to the needs of every single learner is definitely not an easy task. But what if I say this is very much possible in custom eLearning? Well, it is! This is what adaptive learning is all about.
You might have noticed that most often the term 'personalized learning' is used synonymously with Adaptive learning. But in fact, both of them are different. While personalized learning is a broader term used for delivering content tailored according to learners' characteristics and interests, adaptive learning is about using technology to monitor learners' current progress and providing customized learning paths according to their need in real-time.
For example, based on the answers a learner gets wrong in the summative assessment, he/she will be assigned a course with basic information to help them perform better, or assimilate advanced information.
Here is an image to explain how adaptive learning works: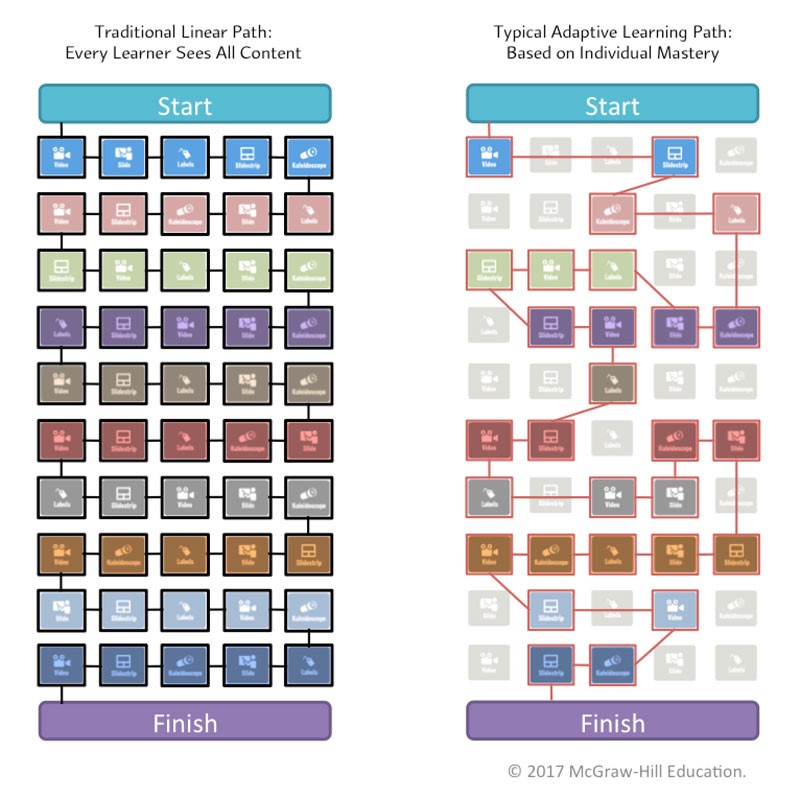 Source: www.mheducation.com
Unlike traditional learning where a standard linear path is provided to every single learner, in adaptive learning different paths are allotted to learners as per their performance.
According to ATD, 55% of the organizations are already using adaptive learning in some form or the other within their training framework. 20% of the respondents also predicted that in a time span of 2 years, a majority of their organization's learning offerings will incorporate adaptive technologies.
More and more organizations will definitely opt for adaptive learning in the coming future as this is something learners will embrace with ease – they get to learn exactly what they want to and get to access content that is personalized just for them.
2. Speeds Up Development through Rapid eLearning
Unlike off-the-shelf courses, developing custom eLearning takes time, since custom eLearning is all about developing courses according to specific organizational requirements. Are you thinking you would opt for a catalog course rather than wasting time developing custom eLearning courses? Well, let this not bother you anymore.
Rapid eLearning has evolved considering the fact that the one thing organizations cannot compromise in the current era is time. Rapid eLearning is all about developing custom eLearning courses, which might usually take months, in just weeks, by minimizing Instructional Design and using rapid authoring tools.
Well, the first question that might pop in your mind might be, "But doesn't that mean we compromise on the quality of the courses?" Not really. Rapid eLearning is all about:
Saying no to those fancy additions (unnecessary interactivities, animations, etc.,) in courses which serve no purpose but consume time and instead, designing courses that are learner-centric, aligned with the adult learning principles, incorporate performance-based learning objectives, and assure assessments are aligned with these learning objectives
Using authoring tools which offer of a lot of inbuilt features that facilitate the rapid development of eLearning courses such as Articulate Storyline, Lectora Inspire, and Adobe Captivate.
Following an Agile project management process, i.e., making the entire process iterative, enabling the identification of challenges in the early stages of development, to avoid further confusions and delays.
Thus, rapid eLearning is the perfect solution to develop custom eLearning courses for your modern workforce – cut down on cost and time of development with zero compromise on quality and learner engagement.
3. Identifies Individual Training Needs Using Artificial Intelligence
The main aim of developing custom eLearning courses is to develop and deliver courses that can meet the needs of your learners. It is about identifying the performance gaps within your organization and filling up those gaps by providing the necessary training. This is usually done by conducting a Training Needs Analysis (TNA).
However, every learner might not process content the same way. "Everyone processes content in different ways and at different speeds. The pace or style that works well for one student might very well be too fast, slow, or confusing for another," states an article by Forbes.
What if I say an Artificial Intelligence system could identify your learner-specific training needs for you? Artificial Intelligence is a machine that possesses the ability to perform tasks that are only capable of being done by humans, with the help of the human brain. Custom eLearning equipped with artificial intelligence is bound to make wonders happen in the world of eLearning. It can facilitate real-time questioning, improve accessibility of learners with disabilities, foster natural language processing, and the best of all: recognize the way a learner understands a concept and offer customized learning paths for them.
Artificial Intelligence algorithms can track the performance of an individual learner and alter their learning material to deliver the training they require. They can also analyze the performance of a set of learners and cluster learners based on their abilities and provide the content they require.
Let us say you have been training your employees on the advance functions in a particular software. A few of your learners have been found to spend extra time on some slides and yet could not score well even in the formative assessments which prove they might be lacking the basic foundation. The AI integrated within your eLearning course can easily sense this and thus identify what exactly they require and suggest new learning content to be provided to them. Thus, the need for manually identifying training needs can be eradicated in time.
4. Takes Training to The Next Level Using AR/VR
The best thing about custom eLearning is the fact that it allows the incorporation of a variety of strategies within the course that cater to a learner's engagement. Constant developments in technologies have also given a wider access to incorporate them in eLearning. Two such technologies are Augmented Reality (AR) and Virtual Reality (VR)
Virtual Reality is all about replacing actual reality with a virtual, computer-generated environment, allowing the individual to immerse themselves in a whole new world by donning a VR headset; while Augmented Reality is about enhancing the real world by adding virtual details such as digital elements or imageries.
Let's first talk about using Virtual Reality in custom eLearning. Imagine your learners being able to actually be in an operation theatre performing a surgery right in the training stage itself. This is what Virtual reality offers. An immersive reality that provides better learning experiences. Then what has stopped organizations from embracing this amazing technology?
Initially the prices of VR headsets were soaring high. Facebook's Oculus Rift Dk1 headset cost around $399 which indeed made us believe that integrating VR in eLearning is far away from a possibility. But presently VR headsets such as Google Cardboard are available for a less as $15. Nintendo is planning to introduce the Nintendo labo VR kit at just $39 and $79. With such affordable headsets in the VR world right now, integrating VR in custom eLearning does not seem far from reality, does it?
In fact organizations such as Kentucky Fried Chicken and UPS have already begun embracing virtual reality technology to train their employees. VR will help you provide a safe platform to perform tasks that cannot be performed without implied risks in the real world. It will also cater to the different learning styles of your learners – be it visual, auditory, or kinesthetic – thus increasing motivation and engagement. Also, the entire process of information processing will require lesser cognitive load by the learners.
The list of practical applications of Augmented reality is way more than VR. For example, imagine your salesperson being able to talk face-to-face with a client with all the information they require floating right in front of their eye by donning wearable technology such as Goggle glass, or your employee assembling parts of a machine with the magnified view of the parts being showcased right in front of them. Wouldn't that be amazing?
Thus, Virtual Reality and Augmented Reality are all set to take your training to a higher level, promising to provide an amazing learning experience and also offer better learning.
5. Measures Training Impact Using Learning Analytics
Let me ask you a question before beginning to talk about this. What is the primary reason you chose custom eLearning to deliver training to your employees? I am sure it's because you wanted to enhance and improve their learning experiences, thus helping them to perform better and gain an overall improvement in the organizational performance. Right?
But could you really identify if training is taking you nearer to your defined organizational goals? Could you really analyze to what degree a learning program can improve the business outcome you require? Well, this is what Learning Analytics will aid you in.
Learning Analytics is all about collecting data about the learning experiences of learners. It gathers data such as:
How learners score in assessments
Participation in discussion boards
The number of times learners log into the learning portal/LMS
Number of learners taking each course, specific to the location
The devices each learner is using
This data collected from an LMS will help your organization understand the effectiveness of your training programs, thus helping them alter training as required in the future to improve learning outcomes. Reviewing the previous performance of your learners will also help you understand why a particular thing has happened. For example, you identify most of your learners just skimmed through the slides in a course but still managed to clear the final assessment with a good score. By this you can understand that those learners were aware of most of the information in that particular course.
6. Enables Better Tracking Using xAPI
As training managers, most of you might have heard about SCORM which is a standard specification for publishing and tracking eLearning. But in the recent times, SCORM has been unable to handle most non-traditional learning activities such as social and mobile learning as SCORM relies on JavaScript. SCORM is also restricted to tracking very specific factors such as the test scores, completion of modules, etc. Hence the need for an updated standard that caters to the needs of the modern workforce was bought up.
On April 26, 2013, Rustici Software released 'Tin Can' a new eLearning standard, called the Experience API or xAPI. xAPI.com defines xAPI as "an eLearning specification that makes it possible to collect data about the wide range of experiences a person has within online and offline training activities."
The primary difference between SCORM and xAPI is the fact that the latter is not just restricted to eLearning courses or learning management systems but works with any software that is xAPI-enabled or can generate xAPI data. It is all about tracking the experiences of learners and not just learning activities. xAPI facilitates tracking all sorts of learner data by receiving, storing, and returning xAPI data through a Learning Record Store (LRS) no matter where the learning happens or what the activity exactly is.
Here is an example of a xAPI report of a learner who took up driving simulator training, taken from the official website of xAPI. Before Mark gets on to the real road, he needs to master a certain number of hours in this simulated environment (shared by other students as well).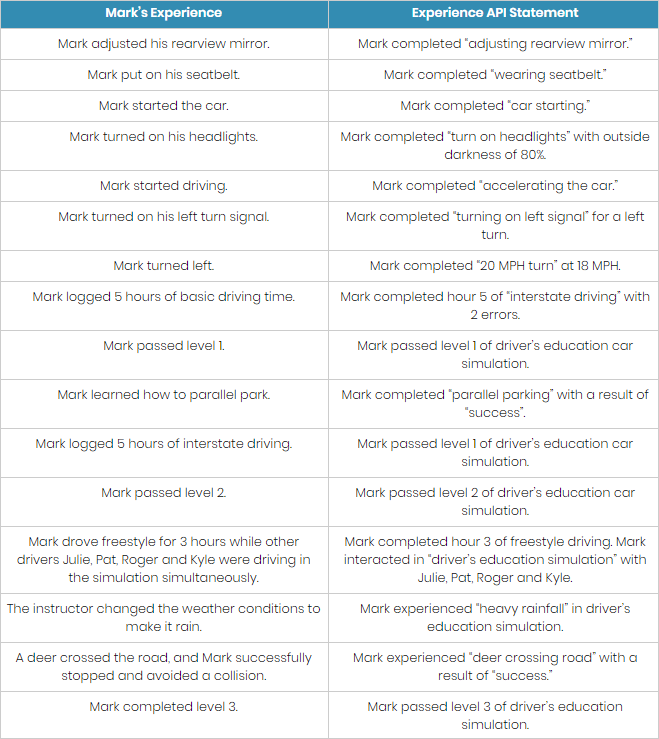 You can notice that it's not just the learning activities that are tracked but also every single experience of Mark in the simulated environment. Now, don't you think this will enable you to better understand your learners?
Additionally, tracking learners' data is no more restricted to just online learning. Even when a learner accesses the course offline, xAPI statements are stored in the device the learner is taking the course in and transferred to an LRS when the Internet connection is back.
Evaluating the analytics of your eLearning courses will not just aid you in understanding your learners better and consecutively updating your courses depending on their needs. It also helps you understand what kind of learning is actually happening in your organization and the impact it is having on your business, thus helping you deliver training better aligned to your business objectives.
Custom eLearning is indeed a boon in the world of eLearning. As technology rises, so will the various possibilities that can be integrated within an eLearning course. As a training manager, you need to keep an eye on all such trends to assure you never fall behind in the race of providing the best learning experience to your learners. Download this free eBook to know about all the trends of 2019.