4 Aspects of Custom eLearning Development That You Can Outsource
A custom eLearning course development includes various processes and each of them can be outsourced separately if in-house teams fall short of expertise in any of those specific aspects. This blog discusses 4 major aspects that can be outsourced.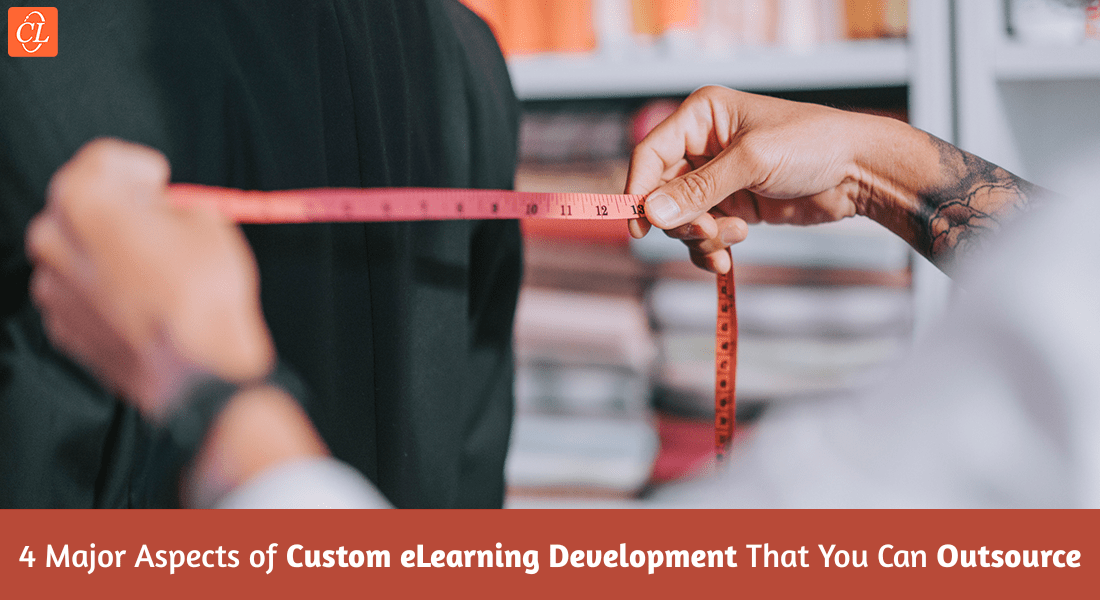 As a training manager, you must have been confused at times about whether you should develop your eLearning courses in-house or outsource the development. Well, both sides of this road might have their distinct hurdles. When you develop courses in-house, it's challenging to manage the time and resources needed for development. But, when you decide to outsource the development, you have to work with an external team, which might turn out to be a whole different sort of struggle. So, what do you do now? You can outsource different parts and develop other sections in-house as per your comfort and expertise.
Are You Planning to Outsource Your Custom eLearning Development?
Here are 4 crucial aspects you can outsource separately:
Instructional Design & Core Development Processes
Multimedia Components
Performance Support Based Digital Assets
Translation
Read on to gain detailed insights about each of these aspects.
4 Major Aspects of Custom eLearning Development That can be Outsourced
1. Instructional Design & Core Development Process
You can choose to outsource the instructional design of your course if you lack learning design expertise but are proficient in other aspects. It might be possible that you have strong expertise in terms of subject matter like domain knowledge but the external team you decided to collaborate with can help you in:
Choosing the correct instructional design strategy
Designing performance-based learning objectives that are relevant to your eLearning course
Creating post-course and mid-course assessments
Categorizing all the raw learning assets and converting them into a fully functional course fall under the core development process. Again, vendors with strong expertise in authoring tools can be extremely helpful here. Authoring tools can do most of the development processes but it requires a bit of advanced knowledge of these tools to achieve the mark. The external vendors might have a better shot at the development process rather than you hitting and trying different options yourself.
To ensure the development process is on the right track, deliver these assets to the external vendor:
Final storyboards with specified notes for structured development.
Image library access in case your courses require exclusive trademarked images.
Templates and your specific style guide, if there are any.
2. Multimedia Components
Let's consider your in-house team can manage instructional design but you might struggle with the variety of multimedia components you decided to include in the course. Multimedia components can be something specific like short videos, high poly animations, activities in between the courses, or simple graphical illustrations. The external teams or the vendors who hold the expertise in these specific areas can help you big time. There are vendors who might have a strong hold on authoring tools and can make the development of these multimedia components relatively easier.
Apart from saving time, outsourcing multimedia development can be cost-effective as well. It's always a good choice to outsource multimedia development if you lack the required capabilities to design them yourself. Appealing graphics and interactive short videos affect a learner's engagement to a great extent, you might not want to compromise your flawless instructional design with loosely designed videos or graphics.
3. Performance Support Based Digital Assets
Your employees might be experienced, but the world changes at a relatively faster pace than how it used to be, there is always a need for refresher courses. While the organizations focus on core course development, performance support job-aids development can be outsourced. The external vendor would use several assets like how-to videos or interactive slides rather than traditional manuals. The purpose of refresher course assets is to be quickly accessible and improve the performance of employees making sure they keep up with the global requirements.
4. Translation
Are you a global organization with your workforce spread across different countries, translating the eLearning courses might have been a hassle, isn't it? Outsourcing these services should be one of the primary approaches as it would save your time and be cost efficient as well. Loosely translated insensible content might cause the learners to lose engagement. So, crisp and to-the-point translation services are required to maximize the impact of courses and maintain cross-cultural desires.
Your outsourcing vendor needs to take care of some things such as:
Make sure to follow streamlined processes.
Ensure the translators and narrators associated with their team have expertise in multiple languages and domains(so that you don't have to collaborate with multiple vendors).
Verify the sensitive barriers of various natives aren't crossed and that the accuracy of translations is not compromised.
To Wrap It Up!
After you have decided to outsource a part of your assets or your complete course development process, things don't stop there. Finding the correct vendor as per your needs is a completely different hurdle on its own. Every vendor has its own considerations, limitations, and USPs(unique selling points). This free eBook can help you choose the correct vendor and assist your overall outsourcing journey.