Authoring Tools and Instructional Design Strategies – An Unlikely Duo that Works!
In this blog, we'll look at popular instructional design strategies you can employ when developing eLearning courses. We will also explore how authoring tools make it easy to implement these strategies through built-in templates, characters, and avatars.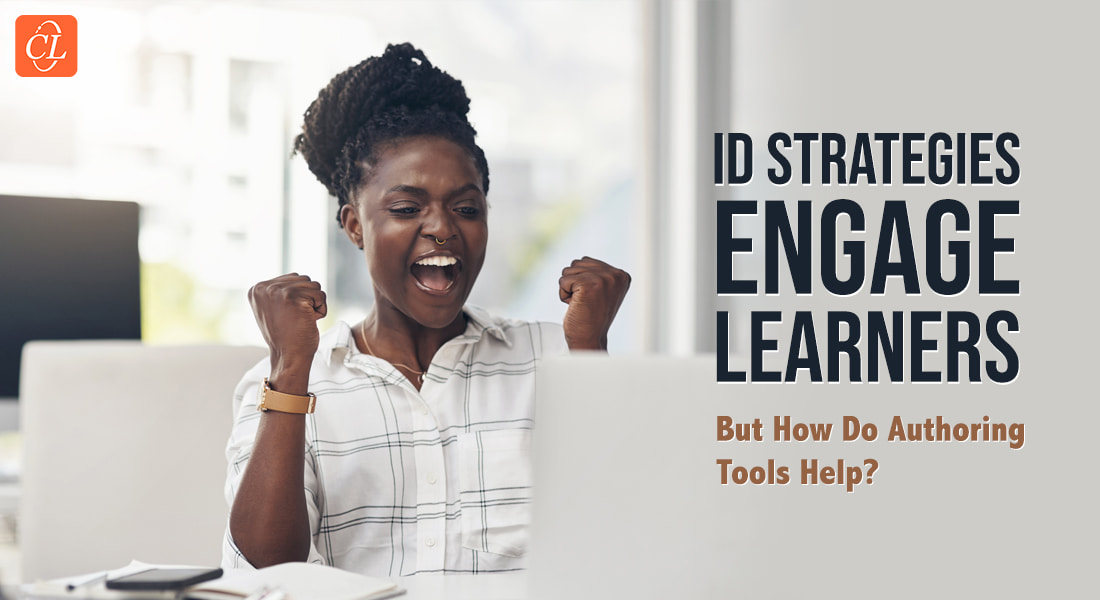 Have you ever spent weeks or even months developing an eLearning course? Have you ever witnessed learners drop out of an online course because it was too difficult for them? As a training manager it is critical for you to stay up to date with the latest trends on a regular basis. However, in today's competitive world, you want to offer engaging eLearning courses in the shortest possible time. Is this feasible you might ask? This blog takes you through the different authoring tools that help in implementing instructional design strategies with speed. Instead of taking months you can instantly design an engaging eLearning course from the ground up.
How do authoring tools support instructional design strategies?
Rapid eLearning course development made possible by built-in features such as:
Characters
Layouts
Backgrounds
Implementing Instructional Design Strategies Made Easy with Authoring Tools
1. Scenario-based Learning
Scenario-based learning is an instructional design strategy that facilitates learners through simulated real-life experiences. Learners are placed in situations that mimic their work environment where they are expected to make decisions and face the consequences of their actions in a safe, risk-free virtual environment. This kind of experiential learning helps learners retain information for extended periods of time.
Authoring tools such as Articulate Storyline 360, Adobe Captivate, Lectora Online, Gomo, Elucidat, iSpring, and dominKnow provide a variety of built-in templates. They include a combination of characters and layouts in various locations and designs.
Built-in templates also provide a fast, efficient, and consistent way to create eLearning courses. They are a valuable resource for shortening the learning curve associated with building courses from scratch. These templates can be customizedto meet your specific needs. Here are a few screenshots of template libraries from different authoring tools to give you a view from the inside.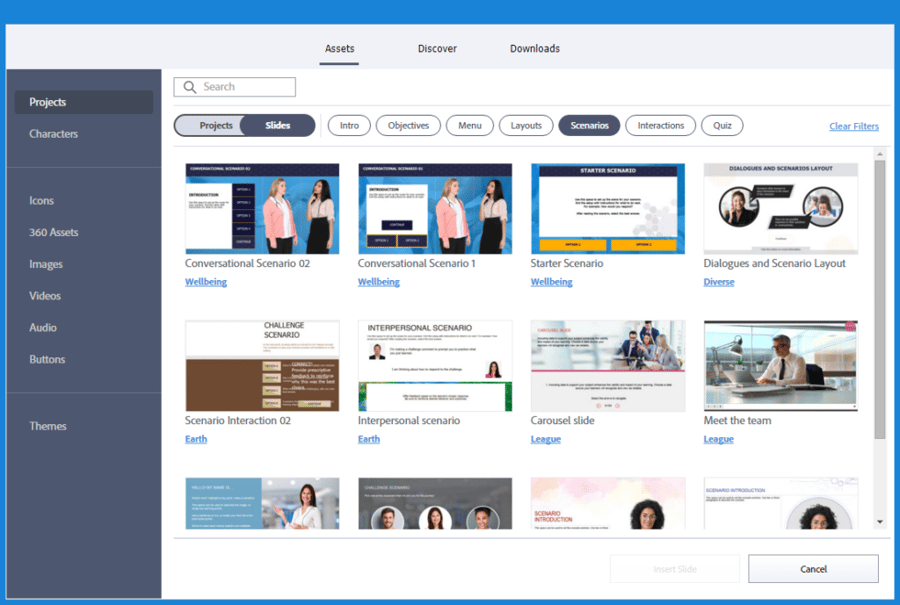 2. Guided Learning
A guided learning strategy is one where a character or an avatar helps learners navigate through eLearning courses. The human element, provided by a character or an avatar effectively enhances learner engagement and interaction.
These characters and avatars increase learners' connection to the course, as the more real the character is, the easier it will be for learners to relate to and identify with it. Incorporating industry-specific characters and props in your courses will make them more relatable and engaging.
An avatar is a graphical representation of a person in the virtual world. Avatars can be used to give learners a familiar feeling and help them connect with the eLearning course. Learners can relate to avatars better than they can to other graphical representations.
The positions of eLearning characters can express culturally relevant, emotional states. For example, if your avatar is designed with their thumbs up, then they are expressing happiness. If the avatar is crossing their arms and frowning, then they are exhibiting unhappiness. You need to use a range of meaningful positions of your characters and avatars to enhance engagement.
There are many authoring tools in the market such as iSpring Suite, Adobe Captivate, Articulate Storyline 360, Lectora, dominKnow, and Easygenerator that provide a wide range of character archetypes, positions, and expressions.
These characters can be imported directly into your eLearning courses for an interactive learning experience. Here are a few screenshots from different authoring tools for a precise look.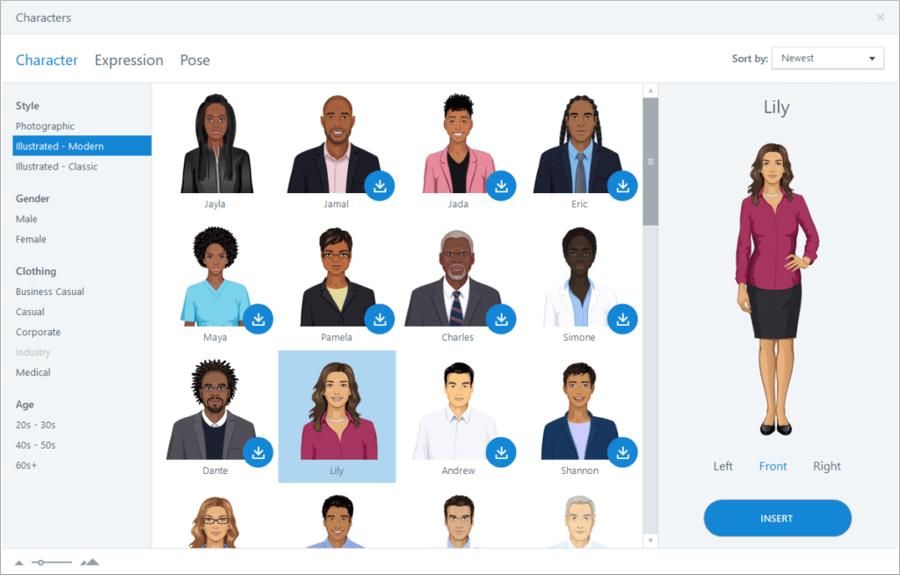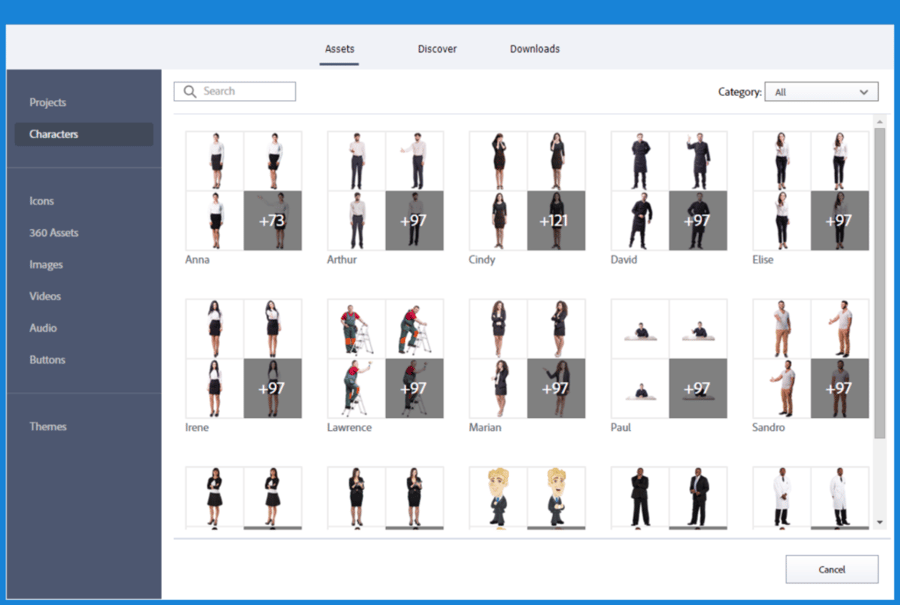 3. Videos
Videos are a powerful way to learn that is faster, fun, and true-to-life. With the use of videos, visual effects, and graphics, it becomes easier for learners to grasp information quickly, retain it for longer time periods and recall it when needed. Videos enable learners to learn at their own pace from anywhere using multiple devices such as smartphones, tablets, laptops, and desktops. This helps learners develop skill sets faster and more efficiently.
The flexible and immersive nature of videos allow learners to retain the maximum amount of information, even when the content is complex. Video-based learning is more effective when compared to other types of eLearning such as text-based online learning.
According to invideo, roughly 78% of people watch online videos every week, and 55% view online videos every day. Furthermore, learners retain 95% of a message when they watch a video, compared to 10% when reading plain text.
Outlined below are a few styles of videos that can help improve learner engagement of your eLearning courses.
A. Explainer Videos Using Vyond
An explainer video is a short video that presents a company's product, service, or business idea in a captivating and efficient manner. These videos often use graphics, different fonts or typography, and audio effects to create an engaging learning experience. Often, an explainer video uses animations to enhance the visuals. A few of the popular animated styles include:
Infographics
Whiteboard animations
Characters and Avatars
. Vyond, a cloud-based animation tool, has a vast range of pre-designed characters and templates to help you create an explainer video easily and quickly. Its content library contains many charts, concepts, and templates relating to the education, finance, government, human resource, and healthcare industries. You can also tailor these templates and characters to match your organization's brand – colors and logos.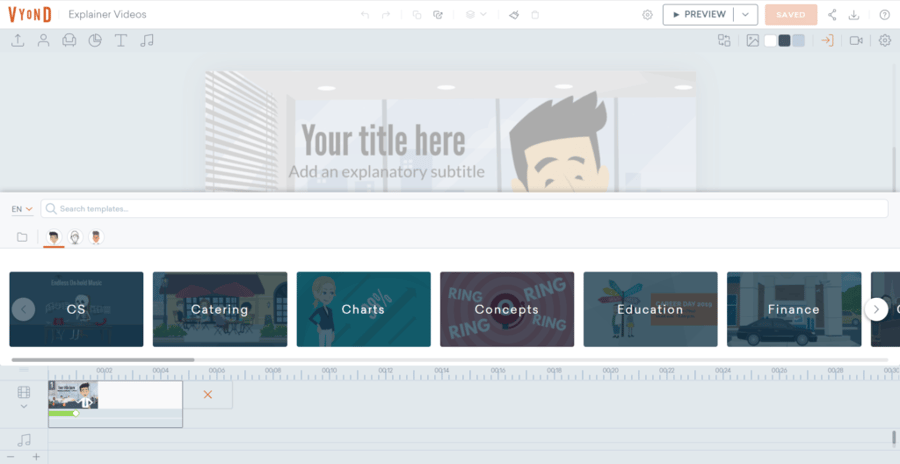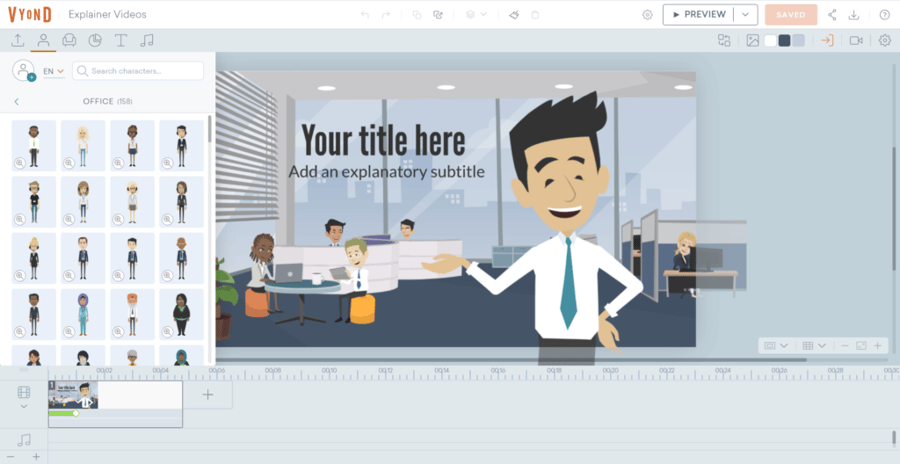 B. Interactive Videos Using Camtasia
Interactive videos are a relatively new form of eLearning that simultaneously delivers content to and receives feedback from learners. You can add interactive elements to your videos such as multiple-choice questions and hotspots using Camtasia.
Camtasia comes with several pre-designed templates as well as premium templates available on payment if you want better options that match your content. These built-in templates can be easily restructured, with a single click. You can add standard interactive elements such as a table of contents, quizzes, and hotspots to your videos using Camtasia.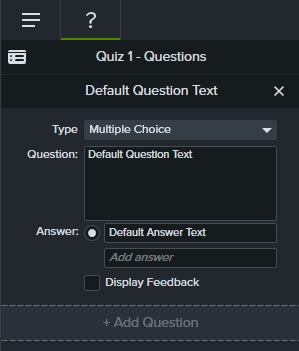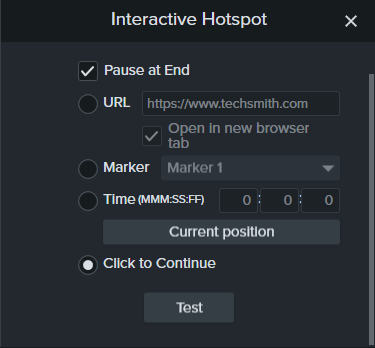 C. Whiteboard Animations Using Vyond
Whiteboard animation is the latest format of illustrated cartoon videos that bring stories and ideas to life. It's a remarkably simple and engaging way to define a concept, product, or service. This kind of animation consists of an illustrated scene that is drawn on a whiteboard, or a similar object by the animator's hand.
Vyond provides several pre-designed templates, props, and characters that allow you to quickly create whiteboard animation videos. A few template types available in Vyond are offices, pirates, screens, shopping, space, sports, superheroes, and technology. You can also customize these templates and characters as per your specific training needs.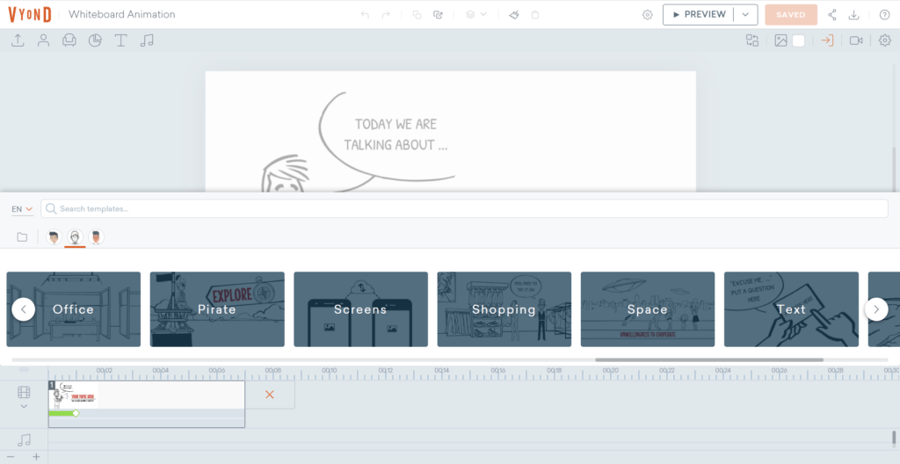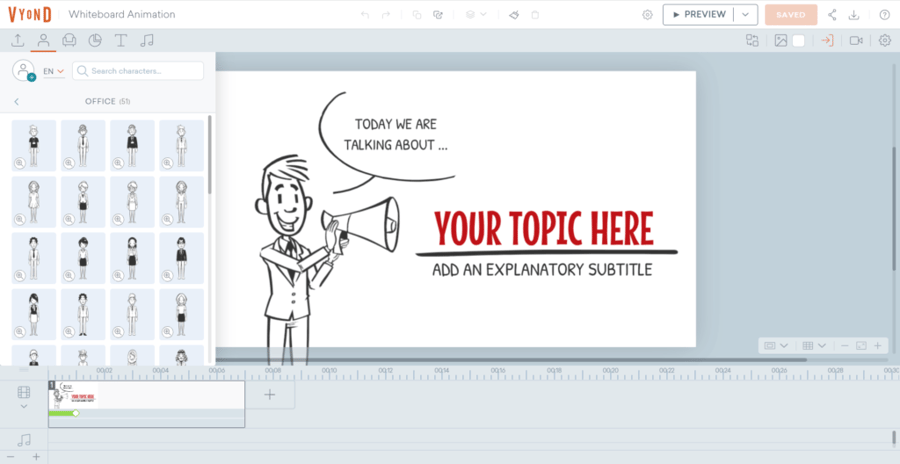 To Conclude
The instructional design strategy and authoring tool you use depend on your target audience and learning environment. You also need to consider factors such as the time, money, and resources available to you. As a training manager, you may have many questions regarding the technique that would be most effective when developing eLearning courses. Do you want to find out how you can rollout eLearning courses with speed? Here's a handy guide for you – Rapid eLearning Design for Quick Rollout. Download this free eBook now!
This blog is co-authored by Pratyusha Marreddy.