Top 5 Ways How Corporate Training Benefits Your Organization
Employees are the greatest assets of an organization. Period. Investing in their training and development is one of the ways to nurture them. It also leads to sustained business growth. Read on to discover the benefits.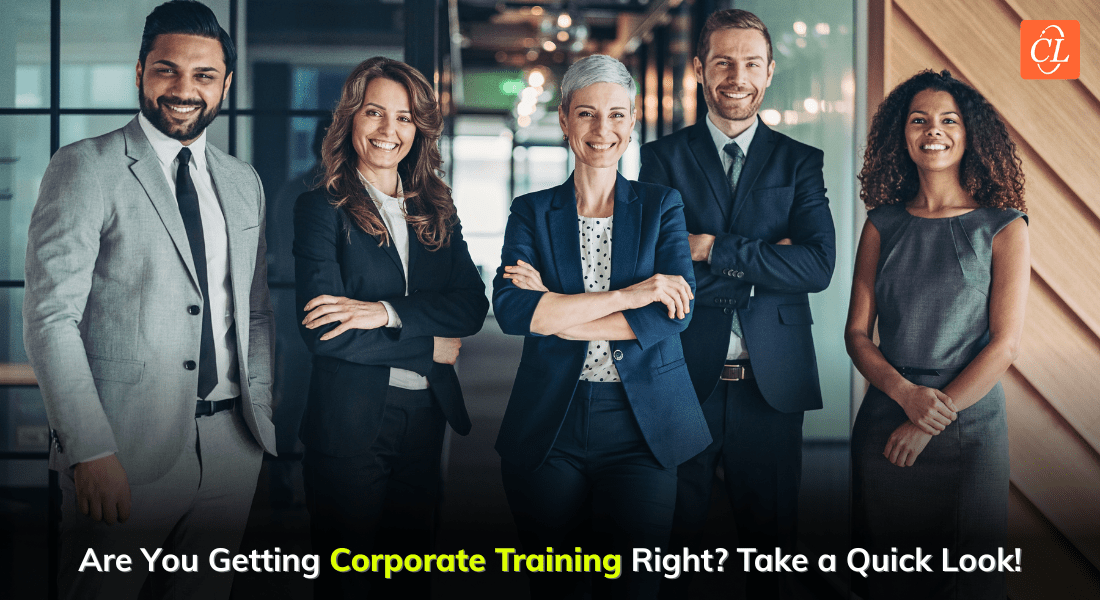 Employees are key value assets of an organization. Understanding this, organizations are focusing more on nurturing their people assets. Among the many people-focused assets are employee Learning & Development (L&D) initiatives.
Companies that invest in employee training and development, have higher rates of employee retention. Further, higher employee retention is key for the sustained growth of the organization. At the same time, retaining old employees is much more cost-efficient as compared to hiring new employees. Considering these reasons, global organizations are emphasizing Corporate Training to provide Learning & Development opportunities to their employees.
Wondering How Corporate Training Benefits Your Organization?
Here are the top 5 benefits:
Lowers Employee Turnover
Promotes Skill and Knowledge Maintenance
Helps Gain Competitive Advantage
Boosts the Ability to Keep Pace With the Advancements in the Industry
Increases Employee Morale
To help understand better, this article discusses in detail corporate training and development and how it benefits organizations.
What is Corporate Training and Development?
Corporate Training or Employee training and development is also known as Learning and Development (L&D). it is an umbrella term used to refer to the set of activities that help employees overcome performance gaps and do better at their jobs. The training and development activities also provide employees with opportunities to advance their career prospects. Ultimately, they help both the organization as well as the employees be more productive, and this also helps them earn an edge over the competitors.
Different types of Corporate Training Activities
Organizations offer different types of training and development activities based on the –
The needs of the organization
The skill or the knowledge that the employees wish to gain
The target audience (teams) for the learning initiative
The most common types include:
Technical Training
This is the most common type of training activity, especially at organizations offering a technical product or technical service. Technical training helps employees gain mastery over specific technical aspects. For this, technical training is customized to help the employees perform a specific task related to the organization – the training usually is job-specific. For instance, a software development company may train its development team employees in learning advanced software language. Similarly, a financial services provider may train its employees in cybersecurity to ensure data safety.
Irrespective of what it is used for, technical training is complex, and holding the learner's attention can be difficult.
Management Training
This type of training focuses on training managerial employees on how to perform their job and oversee a team effectively. The management training and development activities include different topics such as communication, time management, accountability, performance evaluation, etc. training managers on these topics help to develop their knowledge and skills so they can perform their job with greater efficiency.
Customer Education Training
This type of training is one of the most important types of training that every employee should undergo so that they are aware of how they impact the end-users. This training helps the employees understand who the target audience is, their needs and desires, and their pain points. The expected outcome from the training is to help employees become more customer-centric and take better decisions to attain the organization's goals.
Customer Service Training
This type of training involves educating the employees about the importance of providing positive customer service. The training helps employees gain the necessary knowledge and skills to deliver top-notch customer service. Some of the important topics discussed during the training include essential behaviors for the employees, best Customer Service strategies and practices, and service systems.
There are several other types of training such as compliance training, leadership development training, product training, employee onboarding, etc. Organizations should conduct a need analysis, identify knowledge gaps and then choose what type of training and development activities they need.
Let us now discuss the top benefits offered by corporate training:
Top 5 Benefits of Corporate Training
1. Lowers Employee Turnover
This is one of the main benefits of employee training. Employees who are provided with the opportunity to advance their knowledge and abilities tend to be more satisfied (and happy) with their jobs. This further results in decreased employee turnover. Ultimately, continuous and consistent investment in employee training and development is a cost-efficient investment, which helps organizations save thousands of dollars.
2. Promotes Skill and Knowledge Maintenance
Even a highly skilled employee could lose his/her mastery over a skill if it is not practiced regularly. So, training the employees from time to time is a good way for the employees to practice their skills and revive their knowledge. At the same time, regular employee training also helps them gain and master new skills.
3. Helps Gain Competitive Advantage
The current day business environments are overcrowded. In this scenario, businesses that are high in terms of innovation, and can leverage technology and industry trends have an edge over the others. Continuous employee training and development activities focused on knowledge and skill development help employees advance their abilities. This further turns employees into irreplaceable knowledge assets which will further help the organization gain an edge over the competitors.
4. Boosts The Ability to Keep Pace With The Advancements in The Industry
Today, industry trends, business environments, innovations, and technologies change at a rapid pace. In this scenario, employee training serves as an excellent way for the whole organization to keep pace with the advancements in the industry.
5. Increases Employee Morale
Employee training helps employees advance their career prospects. By investing in employee training and development, an organization shows its commitment to its workers' futures. This boosts employees morale.
Summing Up
Corporate training and development activities are key for high-performing organizations and the benefits help you understand why. Now that you have a fair idea, make sure that you implement and enhance your employee training.
Are you looking for impactful ways to offer corporate training? Try eLearning. eLearning for employee training improves employee engagement, boosts retention rates, and the courses can be customized according to the needs and preferences. But developing an impactful eLearning solution requires you to have the right expertise. Outsourcing eLearning Development is an ideal option in case you don't have in-house expertise.
This eBook will guide you in choosing the right vendor to outsource your eLearning solution