Training Hybrid Workforce: How L&D Can Help to Get it Right
Hybrid work model is becoming the new norm. Your L&D team has a crucial part to play when it comes to ensuring uninterrupted training for your hybrid employees. Read on to explore how L&D helps to ensure training consistency for the hybrid workforce.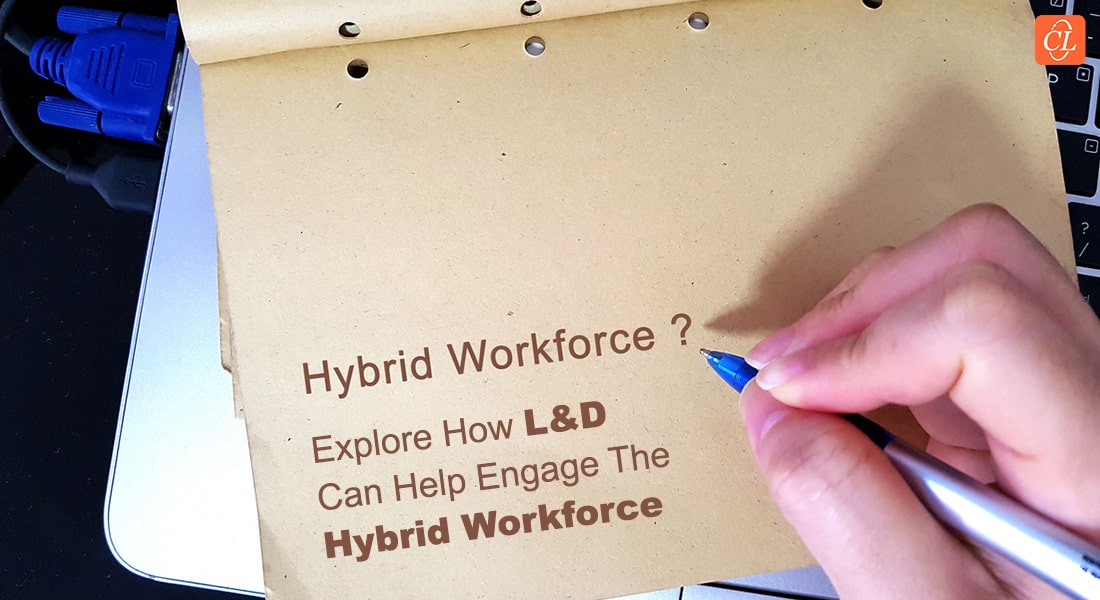 In the previous year, the working methods of practically every organization have altered substantially, with a big move to remote work. The epidemic transformed the way we see work and the environment, driving the transition towards a hybrid workforce. As businesses shift gears, heading back into planning ahead and away from emergency mode, many have responded to growing business demands with a protracted remote or hybrid workforce.
Wondering How L&D can Help a Hybrid Workforce?
Here are the Top 5 Ways it Does:
Adding Learning to the Work Process
Using Several Methods to Engage Learners
Promoting Learning Through Gamification
Placing Learners Behind the Wheel
Customizing the Learning Process
According to worldwide knowledge, hiring managers see maturing existing talents as a critical strategy for addressing the skills shortages that three-quarters of IT decision-makers confront, notwithstanding the pressure from the "Great Resignation" and the ongoing skills crisis. Additionally, data from Skillsoft shows that 88% of firms prioritize developing their employees' skills and competencies, highlighting the value of learning and development (L&D).
Smart firms have understood that allowing people to develop their skills and abilities in a meaningful manner, with a visible career trajectory, will deliver the greatest advantages to both the company and the individual. Ensuring reskilling and upskilling are readily available to everybody is a strategic objective for corporate leaders.
Developing an L&D Strategy That Is Future-Proof for the Hybrid Workforce
With the aid of Microsoft Teams or Cisco Webex training sessions, remote conferences, and virtual whiteboards, we are transitioning from entirely remote work to a hybrid setting post-pandemic, and there is a discussion of redesigning L&D techniques to accommodate the new hybrid workplace. Hybrid and online learning are already quite effective in academic institutions, but since the lockdowns, they have grown significantly in the business world.
Even before the COVID crisis forced a change to remote working, employees were already collaborating using technology and digital tools. The challenges come from creating a plan for the workplace of the future when corporate demands are changing more quickly, and employee dynamics are shifting all the time.
Businesses that have never had to cope with keeping workers in tune with each other will need to quickly reskill and upskill their personnel to accommodate the limited availability of synchronous interactions. Developing a workforce that is future-ready and capable of adapting to change will remain mostly dependent on learning.
Businesses need a plan that not only provides the competencies that their company now requires but also has the flexibility to alter and adjust to provide future abilities that haven't yet been recognized. The personnel, procedures, and technology used to offer to learn will need to be flexible to do this.
Learning leaders will need to adjust to how people work much more.
Your L&D strategy must now consider various factors and no longer be a one-size-fits-all solution. Microlearning may be advantageous for workers who must fit learning into their flexible work schedules. Professionals that are constantly on the go, however, often choose audible presentations over printed ones. So basically, your L&D programs need to be as diverse as your workforce.
When implementing an L&D plan that supports employees in both a physical and remote location, keep the following four points in mind:
Training in Hybrid Environments: How to Do It Right?
1. Provide Both Online and In-Person Training
An uninterrupted internet connection cannot always be a given for people who operate in the field. Finding time for consistent learning might thus be challenging. Your workers will have more freedom and therefore can learn from any location if you put in an offline learning platform, regardless of whether they're at work, residence, or out on the road.
2. Promote Collaboration and Social Learning
For employees transitioning into new remote positions, sensations of loneliness may become a problem. Training could appear more challenging and pointless if you're not in a tightly knit corporate atmosphere. If you aren't able to discuss something that you've both just acquired with colleagues, you won't have the opportunity to exchange ideas and learn from other's viewpoints.
To avoid that, you must provide your personnel with communication channels that allow them to evaluate their development against that of other learners, including milestones or virtual role-playing. This should prevent training from getting monotonous and give your employees a chance to engage with one another.
3. Prepare Your Managers
Inspire your management to keep checking in with their remote-based and hybrid workforce since they can feel as if they are missing the feeling of community which your workplace employees experience. Frequent one-on-ones provide guidance, encouragement, and an opportunity to discuss any concerns or issues they might have had.
As an aspect of the one-to-one approach, ensure managers schedule time to address workers' L&D requirements. To guarantee that they have undergone training that is pertinent to their requirements and will assist them in the long run, it is crucial to consider where they desire to go in their profession and the abilities they would like to master.
4. Be Flexible in Meeting Learners' Needs
The learning demands of your employees are varied, so your training system must be adaptive as well. Using a content production platform that offers you such versatility is a terrific approach to accomplish this. And it's even greater if your eLearning programs are based on the cloud. Cloud-based learning makes it easy to modify courses, distribute content, and collaborate. Regardless of where they are, your employees can immediately access the most recent material.
Top 5 Ways L&D Is Tackling Issues in Hybrid Workplaces
1. Adding Learning to the Work Process
Since learners who work remotely must balance their professional and personal lives, L&D is getting the best outcomes possible in this manner. Learning becomes approachable and incorporated into work via entertaining bite-sized microlearning pieces. In order to improve learning retention and consistency, this takes the shape of brief sessions spaced across many days.
2. Using Several Methods to Engage Learners
Learner engagement is a crucial area of concentration among all the outside distractions. Providing a wide range of compelling learning technologies via live, interactive activities combined with pre-recorded sessions, in-classroom instruction combined with remote training, quizzes, group assignments, presentations, live lectures, etc., L&D teams are putting their best effort forward.
3. Promoting Learning Through Gamification
Gamification integration into learning and development (L&D) courses is an intriguing strategy for improving learner retention and engagement. Employees will certainly feel inspired if they get success certificates and badges that can be posted on websites like LinkedIn.
4. Placing Learners Behind the Wheel
Learning and development teams have long acknowledged the effectiveness of empowering learners to direct their learning. Using artificial intelligence (AI) to evaluate learners' personalities and desire to learn paths is a good way to empower them. During this process, the AI-powered Learning Management System (LMS) has been shown to be a useful tool.
5. Customizing the Learning Process
Additionally, L&D teams have been able to provide learners with a tailored learning experience with the use of machine learning methods and technologies. At an age when everything around them offers individualized outcomes, from shopping to film suggestions to meal recommendations, this has become the necessity of the hour.
Parting Thoughts
As we move towards the hybrid workplace, L&D professionals have to solve all of the aforementioned obstacles in such a manner that they fit into the requirements and desires of the organization and its team of employees. It is apparent that workers enjoy the freedom of a hybrid workplace and have a desire to develop and grow simultaneously. As we begin the new post-pandemic era, this is the next horizon for L&D initiatives.
With the growing demand for flexibility, coupled with the requirement to upskill and reskill personnel and future-proof them for the digital age, solid L&D and effective training projects are more crucial than ever. Rapid eLearning is crucial for providing continuous training to the hybrid workforce. It is now vital that you learn the "4Rs of Rapid eLearning" and apply them to your training endeavors. Checkout this free webinar recording.