Why is Microlearning Becoming the New Standard for Sales Training?
Discover why microlearning is important for sales training and how it fares to traditional methods in our insightful blog!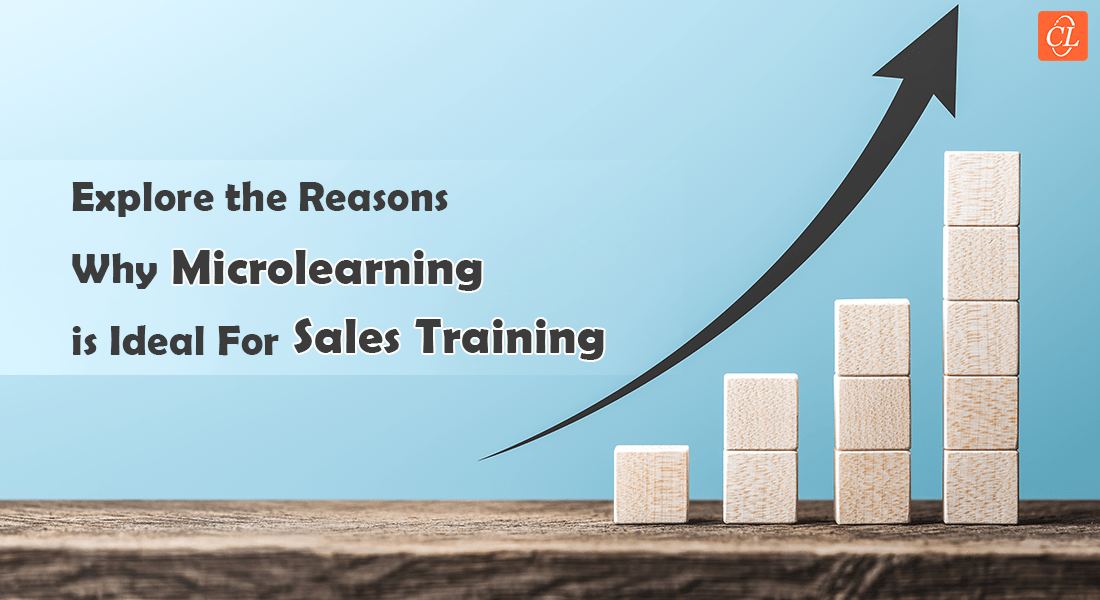 Any business that wants to grow and create new chances needs a competent sales force. But how can a sales team develop the strength to do that? Through efficient sales training. What kind of training is most effective for your sales teams who are always on their toes? Microlearning is an obvious choice of course because of the reasons which we will further explore in this blog.
Every manager who conducts sales training wants his team members to take what they learned to heart and put it into practice to improve sales and attract more clients, which will have a beneficial effect on the company's bottom line. However, the sad truth is that most salesmen cannot possibly recall and put what they learned in training into practice with the heavy overload of information available. Therefore, Sales instructors seek strategies that help learners retain new information and put it to use later.
Short learning units are delivered via microlearning, a targeted and skill-based method of training. Each condensed, brief microlearning module addresses only one learning objective, providing learners with a defined path and expectations for their achievement.
Wondering How Microlearning Helps in Sales Training?
Here are the top 6 Ways it Helps:
Follows Learner-Focused Strategy
Enables Just-In-Time Accessibility
Saves Time
Aids in Cross-Selling
Increases Memory Acuity
Offers a Virtual Hands-On Experience
The Reason Why Microlearning is Important for Sales Training
In every company, sales managers have the busiest schedules. They should be aware of all market developments since they are the ones who must be. They must react and reply swiftly while maintaining their attention. By offering pertinent, relevant, and interesting information and knowledge in a small amount of time, microlearning satisfies all these objectives.
The main goal of corporations is to keep consumers satisfied, especially with salespeople who deal directly with clients. Consequently, they must be knowledgeable, skilled, and endowed with the most current trends; they also need to be aware of any recent upgrades or modifications to goods or services. Your sales representatives need the following skills to provide an excellent client experience:
Thorough knowledge of the product
Problem-solving Capabilities
Spontaneous
Sales and negotiating expertise
Microlearning is important currently. By incorporating microlearning into any sales training program, trainees will be able to understand these criteria and apply all they learn on the job. There has been a paradigm change, for instance. Microlearning modules significantly enhance your sales training programs if you look attentively.
The time-saving courses offered by Microlearning have been particularly helpful since most sales executives hardly have time for training.
Microlearning modules are gaining ground as traditional classroom training fades away. Traditional training has several glaring shortcomings that don't mesh well with sales training methodologies. Let's investigate them!
Sales Training: Problems with Other Traditional Learning Models
Cumbersome
Traditional learning paradigms call for prolonged sitting periods as the learner takes in the material. But in the realm of sales, each second matters. Spending an hour on conventional training implies passing up business prospects. And that's not right. and it is well known how difficult and cumbersome it is to bring on field employees to the classroom And run a successful training.
Lack of Access
Who has the energy or the time to tote heavy books around? Nobody! Training in a classroom is difficult.
Massive Chunks
It makes one sleepy to read lengthy texts and go through protracted in-person meetings.
Low retention of knowledge
Information is difficult to retain the larger the chunks are. Training apathetic and uninterested workers would be pointless.
Would you prefer to take little sips of water to be hydrated as opposed to gulping down a large amount that hurts your throat and doesn't satisfy your thirst? The majority will choose the second option. You can now understand why microlearning is a superior option in reference to the example stated above,
Let's look at how microlearning facilitates learning and assists with sales training.
How Can Microlearning Help?
1. Learner-Focused Training
The learner must be a priority in microlearning courses. To improve the learning process, Microlearning heavily relies on brain research. The usage of microlearning modules helps learners concentrate and retain more information.
Microlearning's goal is to provide knowledge at the appropriate moment. The development and design process seeks to satisfy the requirements and provide just-in-time learning. It divides material into manageable, bite-sized portions, with each module focusing on a different learning goal. Each training module may be finished in 5 to 10 minutes.
For example: Instead of being forced to consume an excessive quantity of knowledge all at once, sales teams, who are often highly busy and stressed for time, may complete the microlearning course at their own speed.
2. Just-In-Time Accessibility
With its mobile-first ethos, microlearning makes learning very practical. The time when learning new skills required bulky books and computers is long gone.
Your sales team may access material at everyone's convenience thanks to microlearning. Therefore, via microlearning modules, each learner gains ideas on how to handle circumstances as they arise rather than just remembering data.
For example: In the case of a new product launch, an infographic can be accessed at the time of need so that the salesforce gets just-in-time support at the time of need.
3. Saves Time
Microlearning modules are succinct, exact, and direct. They make it possible for learners to get the knowledge quickly and directly they want. Due to their travel schedules and preparing for sales presentations, sales professionals have a lot of work to do. Hence, having something that is easier accessible and necessitates less time is the real thing.
To save time, you may teach your workforce utilizing microlearning modules rather than having everyone sit still for hours.
For instance, microlearning is relatively brief and may be completed by learners while they are on the go or have some leisure in only a few minutes. Employee time would be saved in this manner, enhancing their motivation to participate.
4. Aids in Cross-Selling
The ideal approach to encourage cross-selling is via microlearning, which features succinct, interesting courses and videos. Salespeople will dislike having to spend time learning about items that are not their own since they are under so many time constraints.
Offering micro modules for the whole production line has the power to alter this situation. Salespeople will take advantage of the courses' short duration and flexibility to study at their speed.
The secret to doing this is to make the modules as succinct as possible, focusing solely on the most crucial aspects of each product's functionality.
For example, even if his own firm sells printers and scanners, a laptop salesperson might not be curious to learn about such items. He could thus be unable to respond to his client's questions about a printer in a satisfactory manner.
Here, microlearning may be useful. Each salesperson will have a fundamental understanding of every product in the company's portfolio by enrolling in micro modules that give key information about each one. This will assist them in successfully responding to clients and transferring promising leads to their appropriate sales representatives.
5. Increases Memory Acuity
Would you like to discover why microlearning, particularly in a business as rapid-paced as sales, is the pinnacle of information retention?
Microlearning modules are made by eLearning developers utilizing neuroscientific concepts to improve learners' memory. They don't saturate the brain with an excessive amount of difficult-to-process data. Rather, they offer learners quick, digestible bite-sized chunks of information to think about.
Information revision is done via microlearning resources. As well as reading and listening to resources like micro podcasts, and flashcards they support learners. Microlearning resources also improve the application of mobile learning. When faced with a difficult circumstance at work, sales professionals may quickly pull up these bite-sized modules.
Microlearning, for instance, could be used to offer follow-up tasks so that learners maintain their knowledge and abilities up to date. These bite-sized courses include learning that spans the learners' years of employment, memory retrieval and just-in-time learning,
6. Offers a Virtual Hands-On Experience
The sales crew may benefit greatly from the virtual hands-on experience provided by microlearning through watching videos. With the help of these clips, learners may review and solidify their understanding of challenging activities such as product showcases, assembly and teardown, quality checks, etc. Because of this, they are well-equipped to handle similar duties in the real world.
For instance, if someone from the sales team hasn't had much experience with a new product, a salesperson who was just assigned to it isn't particularly confident in how it's put together. On a somewhat dull day at work, he can watch a 2-minute assembly process demonstration video, which greatly helps to allay his concerns.
Parting Thoughts
Microlearning is the ideal way for the L&D of any professional workforce due to the phenomenal expansion of smart devices and the emergence of millennials inside the workforce. And for that reason, I referred to it as a perfect match! Microlearning is the answer if your business is seeking a flexible and powerful tool for sales training—or, indeed, any training. Would you want to learn further about Microlearning for Sales Training? Check out this free eBook!