Online Training vs. Classroom Training – Which is Better and Why?
Online Training vs. Classroom Training! Both have their pros and cons. Depending on your training needs and learner preferences you can decide which one suits your learners best. Let us give you a few differences between the two and help you decide.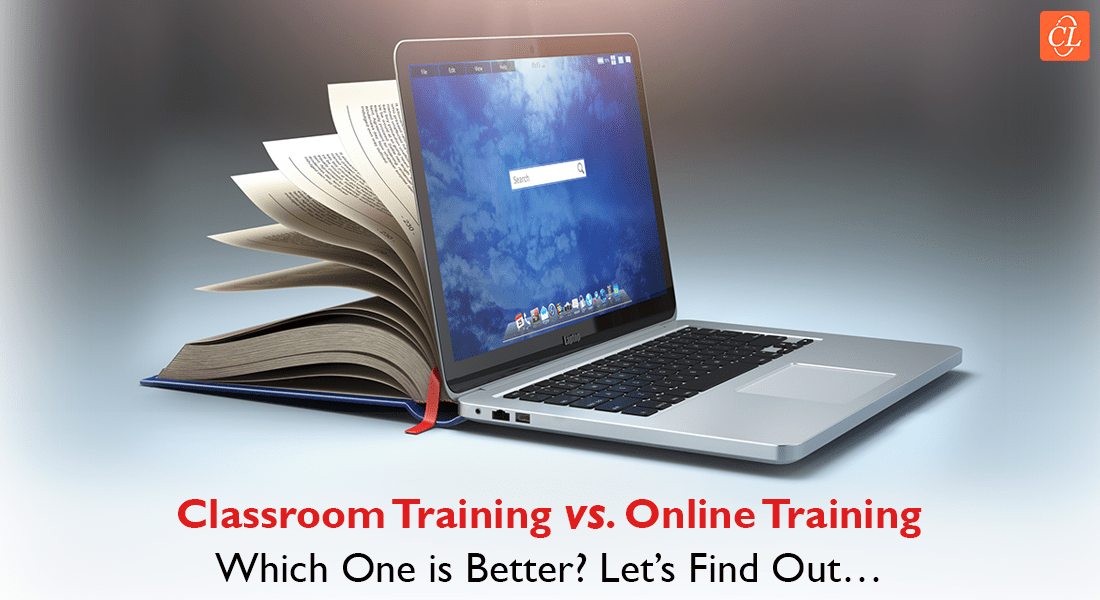 Well! This debate has been going on forever. I like a few things about traditional methods of training but I also love many things about online training. Are you as confused as I am? Both classroom training and online training have their pros and cons. It is difficult to decide exactly which of them is the real winner, it depends on the kinds of learners, type of training, type of organization, etc. I will list 4 common differences between the two and let you decide what suits you the best.
Which is Better? Classroom Training or Online Training?
A Few Points of Difference Between the Two:
Time and Cost Investment
The Human Touch
Consistency and Effectiveness
Convenience and Flexibility
Online Training vs. Classroom Training
1. Time and Cost Investment
Online Training:
The cost of online training is comparatively less. There is no requirement of setting up a venue, classroom, or travel. Also, courses are predesigned and saved and can be accessed many times without incurring any extra cost. Also, the time invested for course creation and course completion is less in online training. The formats like Rapid eLearning, Microlearning, VILT, etc. help in saving cost and time.
Classroom Training:
The time and cost invested in classroom training are comparatively high. It includes the venue's cost, classroom setting, Instructor's time, course development, preparation time, learner's time, and other logistics. Also, the same cost and time will incur in the next training and so on. Setting up classroom training is an expensive affair that requires more effort, time, and cost.
2. Interaction with the Instructor
Online Training:
Online training is technology based and many formats do not require a trainer, and the formats that require a trainer lack physical interaction as compared to classroom training. In formats of online training like Virtual Instructor Led Training (VILT), learners do interact with the trainer but the level of interaction is less than what they get in classroom training. Learners during online training are more independent and have more flexibility.
Classroom Training:
Classroom training requires a trainer and involves a lot of interaction and communication between the trainer and trainees. It promotes live group interactions, mentoring, collaboration, etc. also letting the learners share their experiences face-to-face. All of this leads to building personal relationships and networking.
3. Consistency and Effectiveness
Online Training:
Online learning provides consistency in content delivery and format. It provides consistent training to all learners throughout the organization. As the courses are predesigned, everyone taking a course gets similar content and formats. Consistency in learning also proves to be effective as everyone learns the same content in the same way.
Classroom Training:
Classroom training happens with a trainer and as it is not possible to train all the employees together, it happens in batches. Different batches may have different trainers and at different times the trainer's mood, delivery method, and training environment could be different in each session. This leads to inconsistency and ineffectiveness in content delivery and formats.
4. Convenience and Flexibility
Online Training:
Online training provides convenience and flexibility like no other. It is available on demand, even in very remote locations. Online training is self-directed and self-paced, learners have the flexibility to complete courses at their speed and convenience. Learners have the flexibility to revisit the courses and refresh their existing knowledge, they can learn at their preferred time and speed according to their commitments and schedule.
Classroom Training:
Classroom training lacks flexibility and convenience as online training. Classroom training leads to rigid schedules and timetables. The training goes on at the same pace for all the learners, without taking into account their learning styles and learning speed.
Still, Confused? Let me help you a little more…
Classroom Training
Classroom training might not be effective if you have a globally spread workforce.
Classroom training has trainers and subject matter experts available to answer learners' doubts and questions instantly.
Provides learners with hands-on experience and on-the-job training.
Gives them an option to learn from the trainer and each other as well.
Online Training
Online training has proven to be a boon for the global and remote workforce.
Works for all types of learners (visual, auditory, and kinesthetic)
Easy to update courses. Material is up to date with the current trends.
Works well for multi-cultural and multi-lingual learners.
Ready to Decide the Winner?
This is just the tip of an iceberg of the differences between classroom training and online training, the debate can go on. However, to answer this question I leave it to you, now that I have given you the major differences between the two. If you do plan to shift from classroom to online training, here is our eBook that will offer a few tips to generate excitement and motivation in the virtual classroom.