4 Principles for Online Course Development
Wondering how to go about developing online courses for your modern workforce? Take a look at the four most powerful principles of online course development in this blog!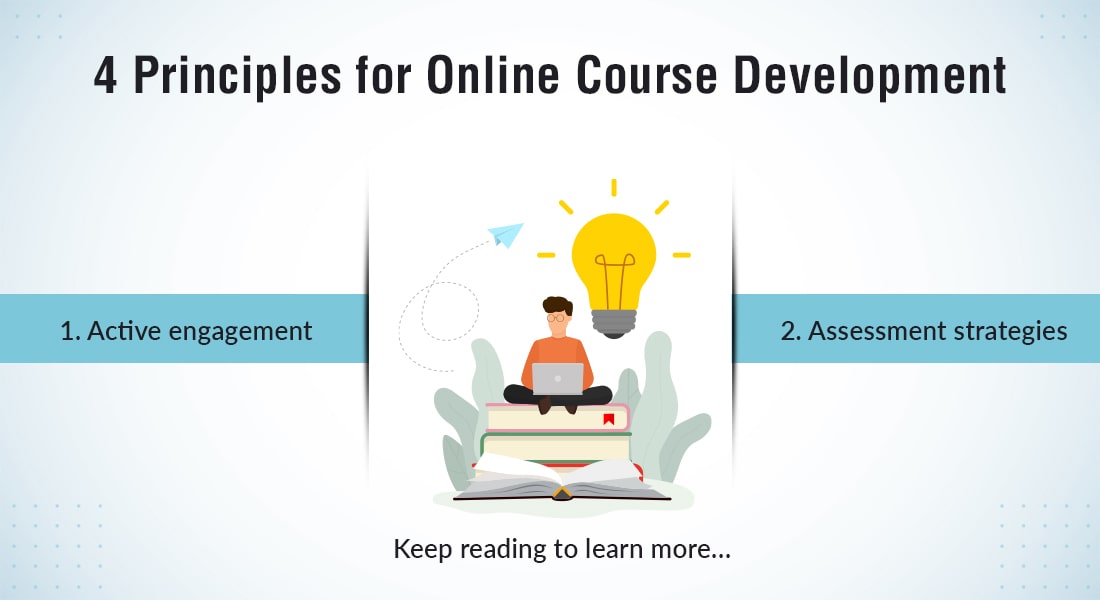 Online learning for corporate training is growing exponentially, especially after COVID-19 turned the whole world upside down. More than ever before, organizations are now in need of online learning and virtual training for their remote workers. Online courses must be created learner-centric and engaging – using short videos, infographics, quizzes, simulations, scenarios, etc. Courses can also be customized based on learners' needs.
4 Powerful Principles to Succeed at Online Course Development
Encourage active engagement
Build assessment strategies
Leverage the power of microlearning
Provide reinforcement
The question that comes to mind is, "What are the principles for online course development? What happens if we follow them?"
Online Training and the Science of Adult Learning – Why Is it Such a Big Deal?
There is a world of difference between online training and face-to-face training. Training adult learners is a completely different ball game. That is very important to remember when developing online courses. One needs to ensure that the course is informative and, at the same time, engaging for the learners.
You may be surprised to know that there is a whole science dedicated to understanding what goes into developing an effective online course. It is called 'Andragogy' or the science of adult learning. Understanding adult learners and what motivates them to learn is a very important prerequisite to creating effective and engaging courses for your modern workforce. We must keep in mind that adult learners are independent as well as self-directed. Unlike children whose minds are like empty slates, adults learn and grow from previous experiences, will want to learn only when they think it will be useful for them, and are more interested in learning that will help them solve problems in real life.
Now that we have an idea of how the adult learner learns, let's take a look at the principles that need to be kept in mind while developing courses for them.
4 Powerful Principles to Guide Online Course Development
1. Encourage Active Engagement
Any online course, whether real-time or self-paced, needs to be engaging for the learner – with the learner interacting with the course. So, the first and foremost principle in online course development is to actively engage the learner. There are a number of ways in which you can do that:
Add the right kind of interactivities – scenarios, hotspots, click to reveal interactivities, etc.
Use gamification to make the course a fun-filled experience (use digital badges, medals, and certificates to motivate the learner).
Give the learners time to practice the skill they just learned.
Provide them constructive feedback.
Make way for discussion-based activities.
Create a platform where learners can enquire about the course material.
Present scenarios where the learner has to engage in 'problem solving'.
Use modeling and role-play to show learners how to respond in specific situations.
Encourage self-reflection to help learners understand themselves and their growth.
2. Build Assessment Strategies
Assessments are a great way to measure learning. Here are a few pointers for creating assessments in online courses:
Use Pre-Tests
Adult learners, as we already saw, come with a lot of knowledge from previous experiences. Hence, pre-tests are a good way to assess how much the learner already knows about that topic and identify areas where they have gaps in knowledge. The results of the pre-tests can be compared with those after the course completion to assess how much they have learned from the course. Pre-tests can take the form of questionnaires, quizzes, multiple choice questions, etc., depending on the requirement and the subject.
Design Formative Assessments
In eLearning courses, formative assessments appear after each topic. The main aim of a formative assessment is to reinforce learning and focus on continuous improvement. Here are a few tips for formative assessments:
Provide immediate and constructive feedback to reinforce learning and to minimize the chances of learning something incorrect.
Add questions at varying intervals within the course to keep learners engaged and ready to respond. This is a very useful formative assessment strategy that will keep their minds occupied and throw boredom out the door!
Keep it interesting by using different types of questions – Fill in the blanks, drag and drop, selecting from a drop down, multiple choice questions, etc.
Provide a Summative Assessment
Summative assessments are conducted at the end of the course. Their aim is to evaluate the learners' overall understanding after completing the course. It indicates the learner's final achievement. Points to note about summative assessments:
The questions in the final assessment should be aligned with the set performance-based learning objectives.
Use single select multiple choice questions in the final assessment as they can be scored easily.
Decide on the number of tries for the learner to attempt the quiz.
Collect data and learning analytics to understand the impact of the training on learners. You can use this data to improve upcoming courses.
You can also use other types such as reflective questions to help learners think, self-assess their knowledge and skills, and work on improving them.
3. Leverage the Power of Microlearning
Microlearning refers to the process of creating small bursts or small nuggets of learning, each focusing on a single learning objective. It is a very popular learning strategy with the millennials, with their short attention spans and highly developed multi-tasking skills.
Microlearning is usually not more than 15 minutes in duration. These small modules are easy to understand and help the learner retain information for longer periods. Microlearning may be designed in different formats including games, videos, Infographics, or quizzes.
However, you can't use microlearning for all types of online courses. It works well:
When the course has to focus on a single objective in a topic
As basic introductory material before the main training, either eLearning or classroom
To update/make changes in an already existing course
4. Provide Reinforcement
Reinforcement, or revision, as it is called informally, can work wonders in helping learners retain what they have learned. You can use a number of strategies to help learners retain what they learned:
Provide 'learning at spaced intervals'. This refers to constant reinforcement of learning, with sufficient gaps between learning sessions. You can give the learner a simple quiz right after the course to check what they've learned. Perhaps a week later, you can reinforce learning by sending an infographic on the same topic. Then you can give them multiple choice questions for the final round of reinforcement. This will help learners fight the forgetting curve and strengthen their knowledge.
Provide performance support tools which will help learners at their point of need while performing job tasks. These performance support tools can be in the form of 'how-to guides' and videos that can be shared with the learners as and when required.
Summing it Up!
Online course development requires a detailed understanding of the learners as well as the objectives of the course. Once that is done, you can implement these strategies to develop effective online courses. These are only a few ways of improving your courses. You can incorporate storytelling to engage learners and let them make an emotional connect with the course. You can provide real-life examples in your courses for learners to quickly understand real-life problems and find solutions. Group learning activities can be added to increase collaboration. All these strategies can help you design an effective online course that will keep your learners engaged and improve your training ROI.
Download our eBook to learn 'How to Manage E-learning Projects Effectively and Efficiently'.