Why Microlearning is an Evolving Trend in the Modern Corporate L&D Space?
Microlearning is the new cool in the corporate learning and development sphere. Wondering why? Well, it is easy to design and deliver and drives the desired results. This is not all. Read the blog to find out why microlearning is becoming an evolving trend.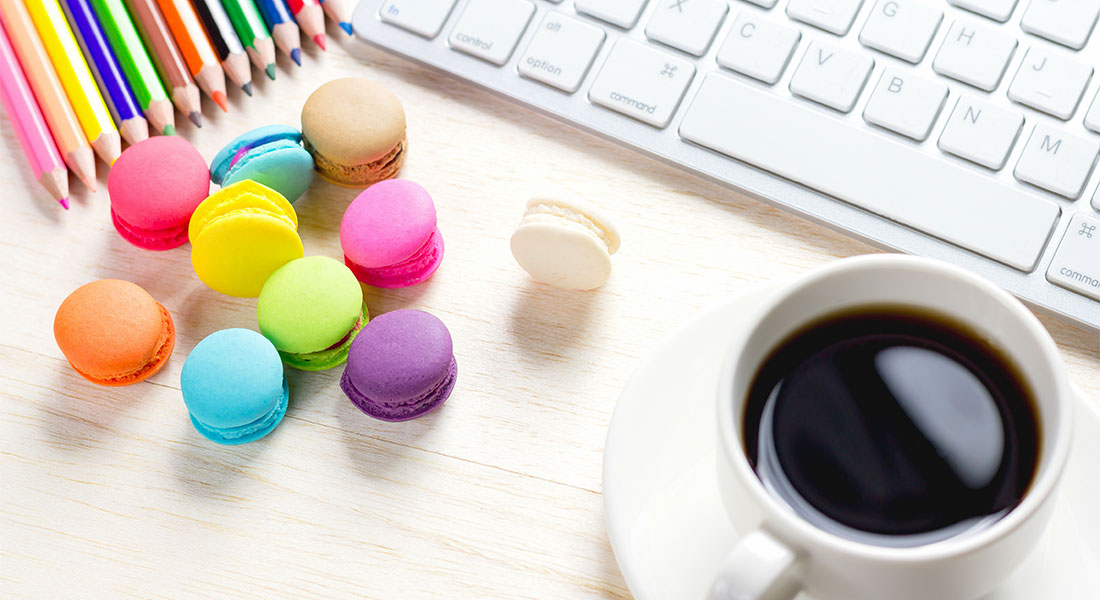 "Brevity is a great charm of eloquence", says Marcus Tullius Cicero. The quote emphasizes keeping things short, sweet, and to the point. In this fast-paced world with busy schedules and dwindling attention spans, we want everything quick and handy. Perhaps, that's the reason why all that's micro is grabbing attention and no wonder pocket-sized gadgets and Instagram reels are becoming a sensation. Things are no different when it comes to corporate training. Lengthy training programs are losing charm and training in the form of short learning modules is in. Microlearning is becoming the new buzzword in the corporate training arena. Read this blog to find out why microlearning is an evolving trend in the modern corporate L&D space.
Microlearning is the New Buzzword in the Corporate Training Space
Here are 5 reasons why it is garnering attention:
Modern learner preferences
Mobile-friendly responsive design
Easy accessibility and flexibility
Can be used pre, during, and post training
Suitable for various training programs
What's All the Buzz About Microlearning?
Microlearning is a form of training in which the content is delivered in small, bite-sized nuggets to enhance learning. Each microlearning module targets a single and specific learning objective. This dynamic learning strategy can be used in various ways to address the training needs of the learners throughout the learning journey. The tiny, powerpack learning nuggets drive learner engagement and offer immersive learning experiences to learners. The short learning bytes are a wonderful way to refresh and reinforce learning and thereby boost performance and enhance productivity.
There are a lot of misconceptions about microlearning. Chunking a lengthy course into short modules is not microlearning. A lot goes into it. Let's see WHAT IS NOT microlearning.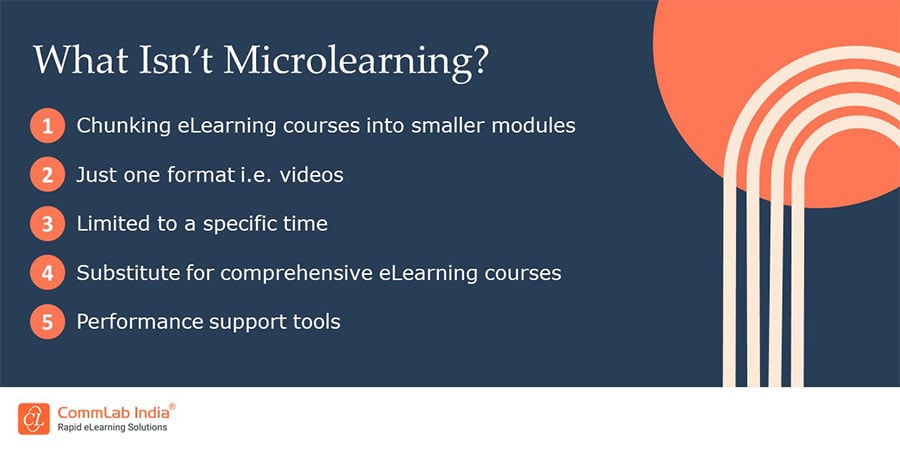 Well, microlearning isn't:
Mere chunking the core content or a lengthy eLearning course into smaller modules
Just videos. There are many other microlearning formats used to deliver training
Limited to a specified time. The courses may span from 2 to 15 minutes
A substitute for elaborate eLearning courses
To be clubbed with performance support tools
Popular Microlearning Formats
Microlearning is winning all hearts due to the versatility that it offers. You can design microlearning assets in various formats that attract learners' attention. The variety offered by microlearning courses makes training interesting and boosts learner engagement. This eventually helps with better learner retention and enhanced employee performance.
Here are a few popular formats you can use to design engaging microlearning courses for your learners:
Videos
Animations
eBooks
Podcasts
Interactive PDFs
Quizzes
Games
Digital Flashcards
Why Microlearning is an Evolving Trend?
The world is going digital, and the corporate L&D space is embracing digitalization with open arms. Conventional classroom training is gradually taking a backseat and digital learning is coming to the forefront. Organizations want employees to learn quickly and apply their learnings to their day-to-day jobs. Microlearning is a digital learning format that's taking the corporate training world by storm. It's easy and cost-effective to design these courses due to their short modules. Not only this, microlearning comes with a bunch of benefits for the evolving corporate training needs.
Here are a few reasons why corporates are implementing microlearning into their learning strategy:
Modern Learner Preferences
The present global workforce is dominated by millennials and GenZs. The new-age learners have modern learning preferences. They prefer information at their fingertips and microlearning just caters to that — short and quick learning nuggets available at a tap.
Mobile-friendly Responsive Design
Can you imagine a day without your mobile phone? I can hear a resounding NO! Well, that's the fact. Microlearning courses have a responsive design that ensures your learners can access them on their mobile phones.
Easy Accessibility and Flexibility
Microlearning modules are short and are accessible on multiple devices like laptops, tablets, and smartphones due to their responsive design. So, the learners can access the courses at their convenience, be it in the workplace, on the go, or from the comfort of their homes. Self-paced learning leads to more learners taking up the course and higher course completion rates.
Microlearning for Pre, During, and Post Training
Microlearning is a flexible learning strategy that can be used for all the stages of training, be it pre, post, or during the sessions. For instance, you can use microlearning videos to acquaint the learners with the topics to be covered during the training. Microlearning quizzes can be used to assess the learners at the end of the course and when it comes to delivering the core content, you have the freedom to use multiple formats like videos, interactive PDFs, podcasts, and more to make the course content highly engaging.
Wish to design microlearning courses that awe your learners throughout their learning journey? Watch this video for winning tips!
Suitable for Various Training Programs
Considering the versatility and flexibility that it offers, microlearning can be used in multiple training programs. For instance, sales training and training of new hires. You can use microlearning to train your on-the-go sales employees. Provide them with digital flashcards that entail attractive product features for quick reference before a client meeting. Quick microlearning videos are also useful for them to take a glance while commuting.
Microlearning can make onboarding experiences memorable. You can use microlearning videos to provide an overview of the company culture to the new hires. They can be provided with podcasts by department heads to understand how each department functions.
Popular Microlearning Trends 2023
By now you know that microlearning offers a wide range of formats to choose from and you can play with all possible permutations and combinations to make your training fun and engaging. But let's see what's trending the most in 2023.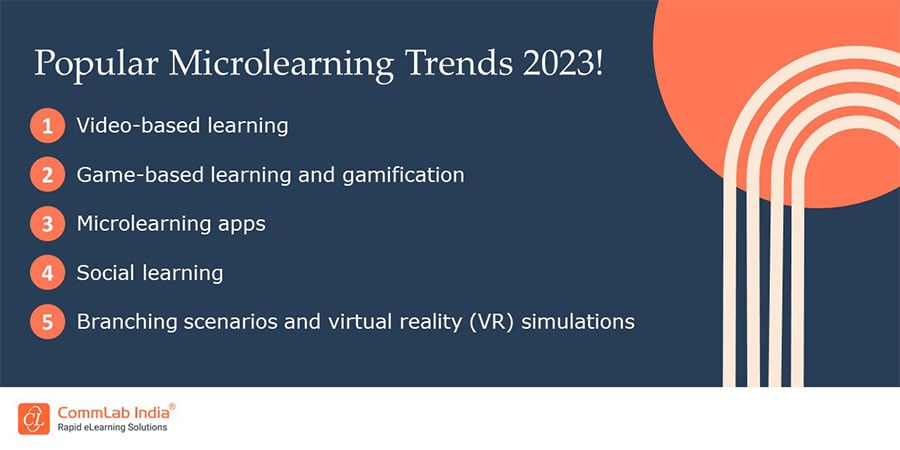 Video-based learning
Who doesn't love watching videos? It is popular among all age groups. Microlearning videos are engaging and help employees learn quickly. You can create different types of videos depending on the complexity of the topic. The videos can be used to teach new skills or talk about a product or service or can be a how-to-video. Visuals appeal to learners and hence this format is gaining much popularity.
Game-based learning and gamification
The present-day workforce that's mostly millennials and GenZs love games. You can design short educational quizzes and games to deliver content to your modern learners. Gamification is a trending instructional design strategy that's gained much attention in recent times. Gamification adds a fun factor to the courses as you can design engaging interactivities using gaming elements. So, are you ready to include elements like leaderboards, scores, levels, progress bars, and rewards in your microlearning courses and ensure engaging training?
Microlearning apps
Mobile phones have become an indispensable part of our lives. Every day, I see people leaning over their mobile screens while commuting. Learning on the go is trending in recent times as
organizations are looking forward to tapping this opportunity and delivering microlessons through microlearning apps. EdApp, QStream, EduMe, and Edgagement are a few apps that can help you deliver microlearning.
Social learning
Social learning is another microlearning strategy that is trending in the corporate training landscape. An online community platform that entails chat rooms, discussion forums, and virtual mentorship programs can help deliver microlessons and encourage peer-to-peer learning. Your learners can also subscribe to microblogging sites for bite-sized information on specific topics.
Branching scenarios and virtual reality (VR) simulations
Branching scenarios in online training are quite helpful when it comes to honing the critical decision-making skills of learners. You can design microlearning courses with specific branching scenarios to prepare learners for real-life work situations, say for dealing with customer queries or closing a sale deal.
VR simulations are becoming popular among new-age learners. You can design engaging simulation exercises using VR and deliver simulation-based microlearning courses for impactful training.
Wrapping it up!
In this fast-paced world, speed matters, and microlearning brings the best to your training needs in quick and easy nuggets. Make the most of this pocket-sized giant to offer your learners palatable content that makes training fun and engaging and ensures better learner retention and enhanced employee performance. Eager to delve deep into the intricacies of microlearning. Get this comprehensive eBook to to get started with microlearning.