Top 4 Strategies for Creating a Successful Learning Ecosystem for Corporate Training
Are you seeking for strategies to enhance the results of corporate training? A strong learning ecosystem can be beneficial. We describe what it is, why you require it, and how to build up your own learning environment in this blog post.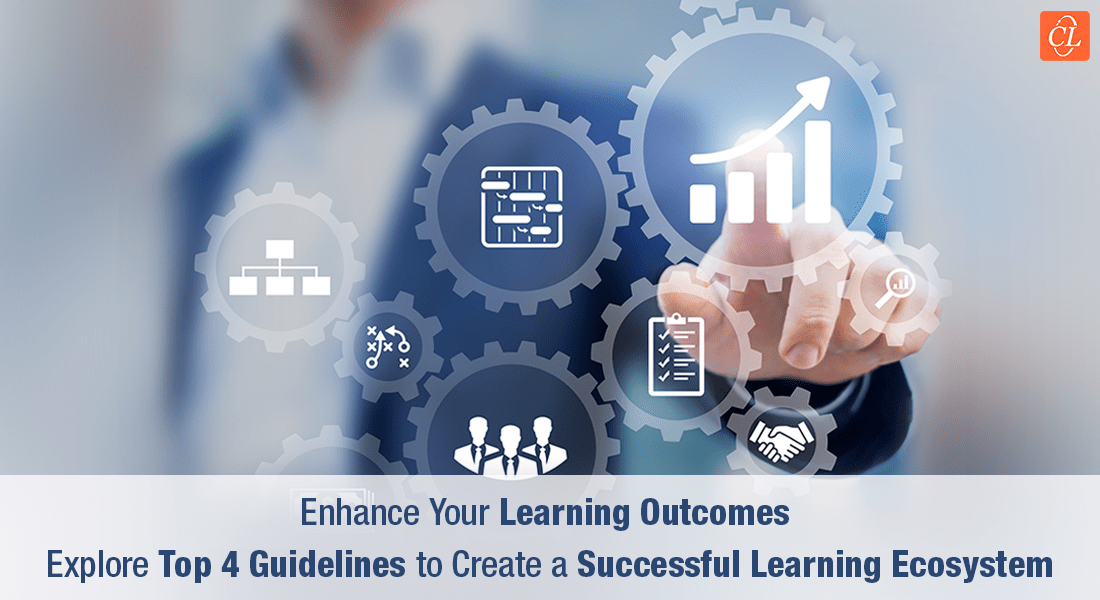 In the post-pandemic, globalized, hybrid corporate world of today, creating a strong learning ecosystem is essential. When we hear the phrase "ecosystem," we frequently picture a natural science poster that demonstrates how many components coexist in nearly perfect harmony. Like an ecosystem for learning, numerous components must work together and depend on one another. But organizational progress, not survival, is the aim. While technology has recently dominated trends and conversations in corporate learning, we need more than that to create a learning ecosystem.
So, if this thought-provoking idea interests you, continue reading. The learning ecosystem will be thoroughly covered, along with its significance and methods for enhancing its efficiency.
Wondering How to go About Creating a Successful Learning Ecosystem for Corporate Training?
Here are the Top 4 Strategies to Keep in Mind:
Get Ready Ahead of Time for Unexpected Challenges
Establish a Training Program That is Learner Centered
Allow for Learner Autonomy
Identify Skills and Knowledge Gaps Through Crowdsourcing
4. Identify Skills and Knowledge Gaps Through Crowdsourcing
What is a Learning Ecosystem?
Your workforce and other stakeholders, learning technology, organizational culture, business strategy and training content are all parts of a complex framework called a learning ecosystem. A learning ecosystem might be healthy or unhealthy, self-sustaining or in need of assistance like the natural world. You must comprehend the components of the learning ecosystem as well as the external and internal factors shaping it if you are to meet your corporate training objectives.
A learning ecosystem consists of several individuals and elements cooperating to promote and enhance learning, much like an ecosystem in the nature, which is made up of many plant and animal species interacting with one another to form a linked system.
Building a Learning Ecosystem for Corporate Training: A Vital Step
No matter how skilled or knowledgeable your workers are, if they are willing to learn and develop professionally, they will operate far more effectively. The more value their organization gains from their input, the greater at what they do they are. Since the COVID-19 epidemic broke out, businesses have been confronted with an unparalleled avalanche of difficulties that they must overcome to future-proof their operations and train their staff for upcoming possibilities and challenges.
People
The ecosystem is centered on people. Employees are learners, as well as instructional designers, coaches, instructors, external partners, SMEs, and more. Only a few of these are under the organization's control, provided they take place in a formal learning environment. Everyone participating with in training process must be considered, including:
L&D Specialists
Instructors
Team leaders and managers
Senior Administration
Third-Party SMEs, both internal and external
Online and Offline Learners Who Are Your Company's Targets
Family and friends
Support Personnel (IT/HR)
Technology
The use of technology is essential for a healthy learning ecosystem. No business can survive without a cutting-edge system that can provide essentials like course design, certification, and compliance in addition to more sophisticated features like tailored suggestions, real-time analytics, and a wide range of learning resources. To assist you in creating and delivering training, there are several tools and programs on the market today for corporate training, ranging from authoring tools like Articulate storyline, Elucidat to VILT software like Cisco Webex, Google Meet, Microsoft teams and Zoom.
Experts in L&D take advantage of the potential of these solutions to shorten the learning curve and allow blended learning strategies for better results. Because they enable businesses to measure the development of their workforce and the return on investment from training, these tools are essential for developing evaluations and assessments of training efficacy.
Content
Employees want relevant, high-quality material. In the last several years, there has been a noticeable trend in favor of microlearning and just-in-time training. Learners may progress significantly and feel more involved by logging in and learning for a little while each day. Additionally, you must recognize and consider the different ways that informal learning might occur, such as through social networking or casual chats. It entails L&D specialists creating a training plan that incorporates the following:
Content type (infographics, Courses and Videos)
Mode of delivery (LMS,live classroom, VILT)
Evaluation techniques (exams, simulations, scenarios, quizzes)
Corporate Strategy
Any learning environment is ultimately intended to assist your company's strategy. While it's essential for learning to be a part of it, it's equally as important for L&D to support business objectives and grasp the wider picture. The delivery and development of training are only one aspect of strategy. It also incorporates the administration's decision-making process, which sets strategic goals for their businesses based on their vision and purpose.
It's time to go into the core issues now that you are aware of the fundamentals and significance of a learning environment. Let's investigate top 4 ways to create a productive learning ecosystem. ;
4 Tips to Build an Effective Learning Ecosystem in Corporate Training
1. Get Ready Ahead of Time for Unexpected Challenges
The corporate world has seen an unparalleled amount of transformation because of the epidemic. Because of this, you must make sure that your workforce adjusts to new problems regardless of the business you work in. The most effective approach to do that is through growing more adaptable and actively planning for upcoming epidemics, closure, and unanticipated emergencies.
2. Establish a Training Program That is Learner Centered
Putting your learners first is a terrific strategy to develop an efficient learning ecosystem. Organizations hardly ever employed technology to assist training for a very long period. Today, technology is a crucial component of training courses. However, one solution or a single tool won't be sufficient to cover all of your training needs.
While some employees value self-directed learning, many personnel like in-classroom learning. Some people like to study in-person, whereas others prefer to have access to training materials whenever and whenever they desire. Develop a blended learning strategy that includes a variety of techniques, including microlearning, classroom session, VILT and mobile learning.
3. Allow for Learner Autonomy
Embracing various learning styles is a great strategy to create a productive learning ecosystem. For instance, user-generated information is growing in popularity these days as more and more workers take charge of their own learning. By promoting and facilitating learning autonomy, you may assist learners in learning in accordance with their requirements and your objectives.
To prevent it from becoming a problem in the future, you need the help of your learners.
4. Identify Skills and Knowledge Gaps Through Crowdsourcing
You need to be prepared to adapt and keep up with changes while you're managing a crisis. To overcome obstacles and effectively plan, you must ascertain the abilities your team requires.
If you don't have much time left, you can crowdsource your expertise and skill gaps to save time and money and safeguard your company from further harm.
Parting Thoughts
These are the fundamental ideas needed to create a successful learning ecosystem. Organizations must make sure they are prepared for developments in the corporate training industry since the business landscape is expanding quickly.
Modernizing your IT infrastructure or business strategy is useless if your team isn't prepared to adapt to change. The creation of an agile learning environment is necessary for transformation, and this is also how you can safeguard the future of your business.
Learning leaders could become eLearning champions by having a thorough understanding of the strategic goals, vision, and purpose of the organization as well as the abilities needed by employees to progress the firm.
If you want more clarity, check out this unique online event called "The eLearning Champion Workshop." It will include industry professionals who will give practical advice on determining training requirements and developing training programs that meet organizational objectives. To participate in and sign up for this special online event, click the link below.