6 Training Situations Where Blended Learning Is the Best Fit
Blended learning strikes the perfect balance between offline and online learning formats. However, there are a few situations where it's a godsend. Read on to understand when to serve blended learning for your corporate learners.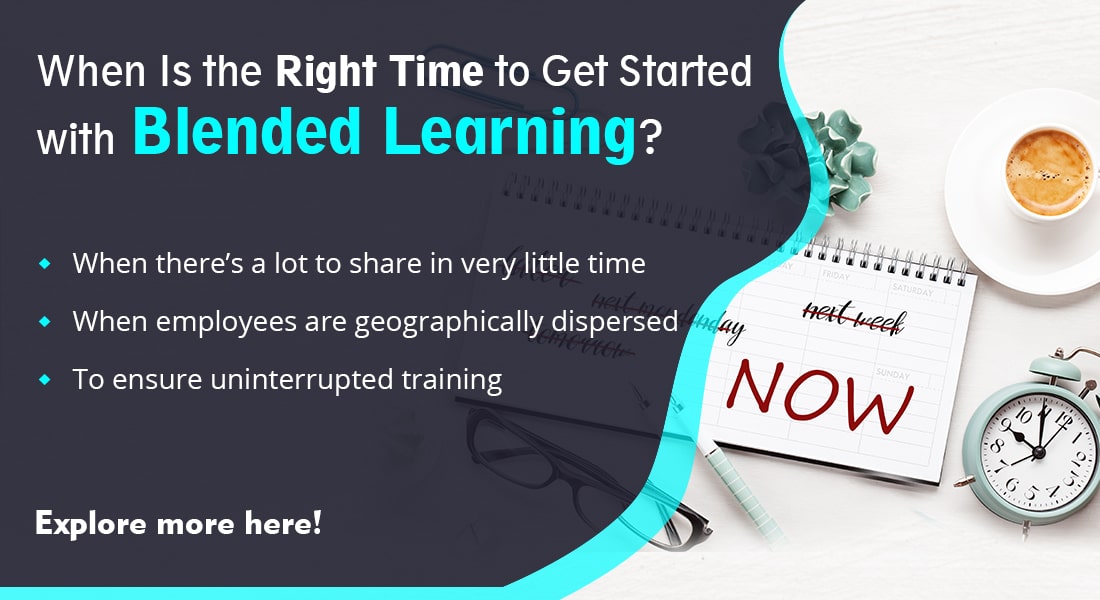 Blended learning uses both in-person classroom training and online learning experiences to help employees become proficient in their tasks. Employees might attend a classroom session and complete online components of the course, outside of the classroom. Alternately, they might go through the basics of a concept online and come to the virtual classroom for in-depth discussions. These are just some examples of blended learning in action.
When to Say YES to Blended Learning
When there is a lot to share and very little time
When you have geographically dispersed employees
To ensure uninterrupted training
Why Blended Learning?
Blended learning combines the indispensable human interaction with the convenience and flexibility of online learning. By using blended learning, organizations can create a holistic training experience for employees. In fact, according to the 2021 Workplace Learning Report by LinkedIn Learning, blended learning will remain the status quo – due to the pandemic – with learning experiences being a mix of virtual instructor-led training (VILT) and online learning.
Formats for Blended Learning
Blended learning allows you to pick the right delivery format for a learning situation, based on specific performance needs of learners. For example, if you need to train your sales reps on your new sales model, an eLearning on the process can be followed by a classroom (physical or virtual) on the sales techniques,, which can be followed by scenario-based modules pushed in spaced intervals to reinforce and offer practice exercises.
Some of the best instructional methods to create an effective blended solution are listed below.
Formal training
Instructor-led classroom training
VILT
eLearning curriculums
Self-directed learning
Microlearning modules
eLearning
Just-in-time training
Mobile learning
Digital resources
How-to guides/videos/job-aids
Social learning
Discussion boards
Online forums
These formats can be integrated seamlessly to provide a complete learning experience for your employees. However, let form follow function! Don't get carried away by the formats available. The choice of what should be covered online and in-person should be based on the topic and learner demographics.
Blended learning enhances knowledge retention, skills upgradation, and offers good returns on your training investment. It is beneficial for learners and cost-effective for organizations. Now this still leaves us with a lot of questions about how to design the optimal blended learning solution.
This involves a complete analysis of the tasks employees need to be trained on and the best instructional methods to provide them with. These questions are answered in this handy practical guide to blended learning. If you want to introduce this tried and tested corporate training strategy, this eBook is a good place to start!