7 Effective Tips to Migrate from Classroom Training to VILT
The recent pandemic has pushed the hybrid work model to be prioritized by companies and virtual instructor-led training (VILT) can be considered one of the best upgrades of classroom training. Let's explore 7 effective tips to get started with VILT.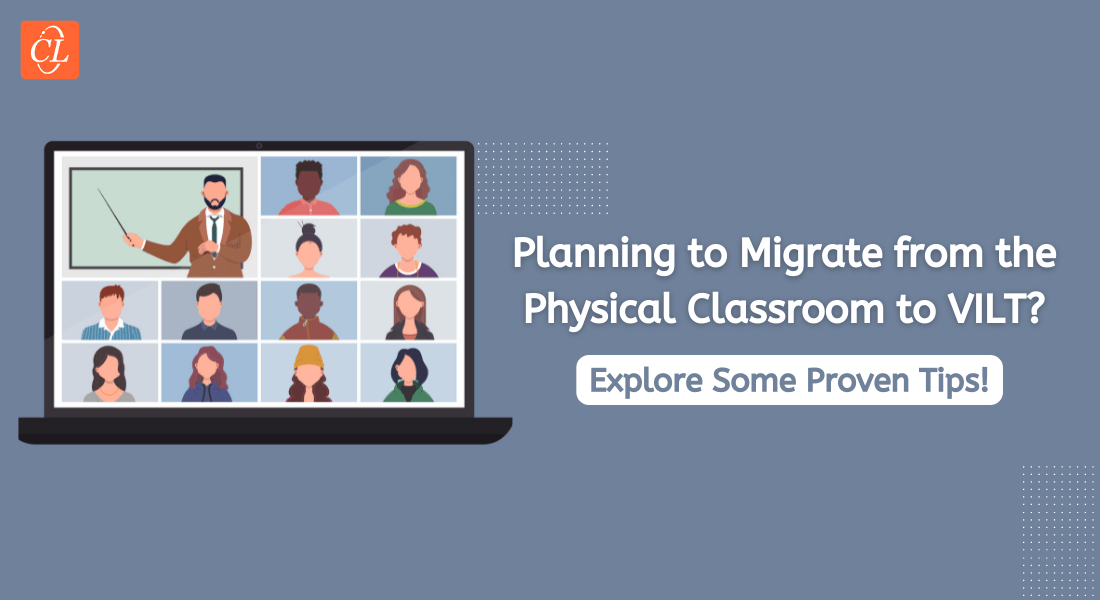 Classroom training sessions have been running smoothly until the world witnessed the COVID-19 pandemic almost 3 years ago. Since the pandemic, conventional instructor-led training (ILT) has been either stopped or left out of preference by the corporate industries. Now, to deliver the same sort of training, corporates had to find a digital solution, and that's when virtual instructor-led training (VILT) started becoming popular.
Are you Planning to Migrate from Classroom Training to VILT?
Here are a few tips to get started:
Optimize your training content
Manage infrastructure for training
Promote social learning
Enable feedback and reviews
Read on to explore more tips for seamless migration.
Some people often get confused between eLearning and VILT, so this blog helps you understand the differences between eLearning and VILT along with 6 noteworthy tips to successfully convert your ILT sessions into VILT.
Differences Between eLearning and VILT
| | |
| --- | --- |
| eLearning | VILT |
| Asynchronous | Synchronous |
| Learn at your own pace with the help of remotely available resources and modules. | Requires active participation of learners and instructors at the same time. |
| Includes digital elements such as quizzes, simulations, and video games. | Includes live classroom elements such as scenarios, role-plays, and group activities. |
| Facilitates individual learning through interaction with the training course. | Facilitates collaborative learning through interactions between peers. |
7 Tips to Successfully Convert ILT to VILT
1. Consider your workforce structure
Before the pandemic, you wouldn't have to worry about it, as it was either a fully remote workforce or a local workforce. But now, things have changed, and there are people who might work from home and then come back to the office after a while. Basically, a hybrid work model is the most popular work arrangement for companies and if you are planning to shift from ILT to VILT, you need to consider your workforce structure so that no one is left out of training, whether they are living in another street or another country.
2. Optimize your classroom training content
While migrating from classroom training to VILT, the pre-existing content that was used in classroom training, won't turn out much relevant virtually, it needs to be optimized. People have variable attention spans for different methods so they might get distracted real quick. To make sure your learners are engaged in your training sessions, make the sessions interactive and visually appealing with the help of quizzes and polls. The PPTs and PDFs that were used in your classroom training earlier can be displayed as content slides embedded in creative modern templates. Making your content learner-centric will help the employees stay engaged with the training sessions and eventually complete them, instead of dropping out midway.
3. Manage infrastructure for training
An organization should always ensure all the employees have the necessary materials and technical resources to get the best possible results out of their training sessions. Things such as workbooks, manuals, and training tools need to be relayed to everyone and their internet connectivity should be checked whether it's stable or not. Make sure their hardware whether it's a mobile phone or a laptop, supports the video conferencing platform used for virtual training. If any of these conditions are not met, it causes a significant mental distraction for the learners and they are not able to focus on training, so ensuring the technical requirements are met, should be a priority for the organization.
4. Break down the classroom sessions into smaller modules
As we have already discussed, the attention spans of modern learners are relatively low for the online formats of learning, so a session that runs for hours might not be able to produce acceptable results. If you are migrating to VILT, make sure the sessions are broken down into smaller yet context-specific microlearning modules so that learners retain the information they gain and will help the learners to make time for post-course assessments as well. A lot of learners are going to be a part of these sessions through their mobile phones and thus, having long sessions would rather be harmful to learners and their devices.
5. Promote social learning
The technologies are advanced enough to let the learners collaborate with each other and even with their instructors without direct face-to-face interaction. Modern video conferencing platforms such as teams, zoom, or skype have a lot of features to facilitate collaborative learning with the help of embedded polls, quizzes, chat boxes, and breakout rooms. Apart from the platforms, the sessions should also include group activities so that the learners get to know each other and learn together.
6. Don't compromise on quality
If you think your in-house development teams don't have the required capability to create seamless VILT training sessions, you shouldn't compromise on its quality with the minimal approach, try to outsource it instead. Outsourcing has several layers to it, whether you wish to go for specific outsourcing or complete outsourcing, it will help you deliver top-quality VILT training to your learners. Outsourcing can help you deal with problems such as a limited budget, training schedules, lack of infrastructure for design and development, or inexperienced trainers.
7. Enable feedback and reviews
When you are done with your design, development, and delivery part, make sure you ask the learners and the instructors about their experiences and reviews. You can also test the newly created program with a bunch of learners and make changes as per the feedback given by them. To ensure the training sessions are effective, you can add a rating option and a personalized feedback box after the session ends to allow the learners to have a seamless review process.
Parting Thoughts!
Virtual training has a lot of potential in the upcoming days due to the new technologies getting introduced in the industry on a regular basis. The classroom training needed a modern approach, and VILT happened to be the required upgrade that can facilitate most of the qualities of a conventional classroom or even optimize them for better results. If you are looking to get started with VILT, here's an eBook that will help you understand the basics of it, and help you replicate your real classroom efficiently.