Top 5 Convincing Reasons to Switch from Classroom Training to VILT [SlideShare]
With the outbreak of COVID -19. Corporate training, just like everything else has been affected drastically. Consequently, now the biggest question is "How to provide effective training virtually?" Read this blog to find answers.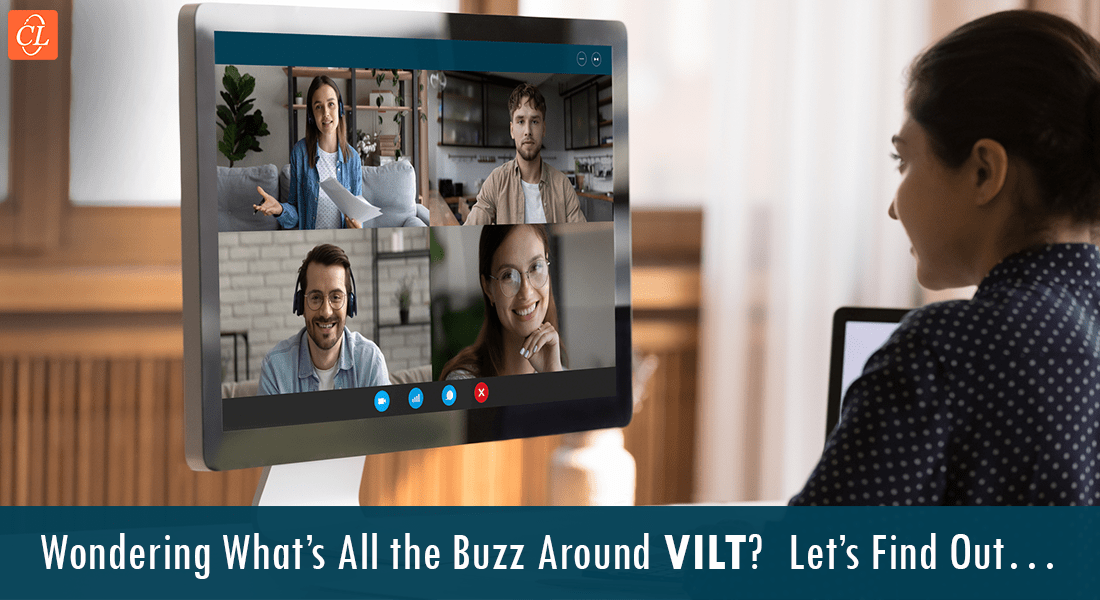 Virtual Instructor-led Training, better known as VILT is the immediate digital alternative to instructor-led training, in addition to being a synchronous online training format. Shifting from classroom training to VILT appears to be the only way for organizations to maintain their training programs afloat in this virtual world. It is one such learning approach that allows learners to interact with instructors on a real-time basis, ensuring that they do not miss out on the perks of traditional classroom training. It also allows your globally dispersed workforce to access and benefit from training. Furthermore, it is also cost-effective and time efficient.
Why Switch from Classroom Training to VILT?
1. To Avoid Travel Fuss
By the basic definition of classroom training, all learners and instructors need to be physically present at a particular place and at a fixed time for training. Furthermore, with globalization employees need to often travel to different locations for training purposes. This takes a significant amount of time and money because careful consideration must be given to the employee's travel, accommodation, and food among other things. So, organizing this can be quite a headache. However, with VILT organizations don't have to worry about any of this because it allows for learning from the convenience of home. This saves time, money, and energy for both employees and organizations.
2. To Maintain the "Classroom Vibe"
With the onset of COVID-19, the majority of activities have been transitioned to an online mode including training. In this scenario, the shift from classroom training to VILT has been beneficial. Although it is quite impossible to completely replace classroom training anytime in the near future but the basic idea behind VILT is to use in-person classroom training principles, but via online channels where the instructor and learners can join from various places. VILT makes every effort to replicate the classroom experience as accurately as possible. This is done to ensure maximum interaction and a genuine classroom experience. VILT also permits instructors and learners to virtually exchange remarks, hold discussions and pose questions which facilitates collaborative learning.
3. To Encourage Interactive Learning
Interactivities are a crucial part of any kind of learning to promote better retention of content knowledge. So, VILT is the better option for employee training because it allows for greater interactivity when compared to other online training formats. There are a few commonly used interactivities in VILT that improve learner engagement, such as whiteboards which allow learners to scribble down and make notes on key points in a virtual whiteboard format. Digital Worksheet Practices on various topics improve engagement and add an element of fun. Polls are an excellent way to assess learners' current knowledge, collect input and evaluate future learning. The chat feature is extremely beneficial for introverted learners who want to contribute their inputs in a text-based format. It also aids in giving and receiving feedback.
4. To Enable Social Learning and Collaborative Learning
Informal learning from one another is basically referred to as social learning. Its formats include social media discussion boards and regular conversations on numerous subjects, which benefit learners to gain knowledge and ideas. VILT provides opportunities for social learning with group activities, open forums, chats, etc.
Collaborative learning is more formal, it allows learners to work together in a group to strengthen skills by tackling problems and taking up responsibilities. It uses elements such as quizzes and polls to promote informative discussions for collaborative learning. Breakout rooms are also excellent to strengthen problem-solving skills and critical thinking skills. VILT allows learners to socialize, interact and collaborate with fellow learners and instructors.
5. To Offer an Excellent Training ROI
When an organization switches from classroom training to VILT, it proves to be cost-effective as the organization saves up on physical classroom setups, printing hard copies of training material, and other logistics needed for instructor-led training. Shorter learning session breaks between sessions and goal-oriented learning ensure greater interactivity and employee engagement, All of these lead to increased ROI.
Hence, switching training from physical to virtual space in the form of VILT is extremely beneficial to the learner as well as to the organization because it is one of the most effective training formats that combines the benefits of traditional classroom training with the benefits of online training. Check out this SlideShare for a few more useful insights on the shift of training from physical to virtual space.
Parting Words
VILT delivers an extensive and in-depth learning experience and when contrasted to instructor-led training, VILT can be a more effective and efficient method of learning. However, the success of VILT is largely decided by learners' knowledge retention.
Finding it difficult to adapt training to the digital environment? And looking for ways to enhance your virtual training and boost learner engagement? Access our webinar recording to learn how to successfully replicate the real classroom virtually.