5 Virtual Training Formats That Help in Engaging and Effective Training?
Days of chalk and duster are far behind us. Training has evolved and the bar keeps raising higher. In this blog, I will explain all about various virtual training formats that help in effective training.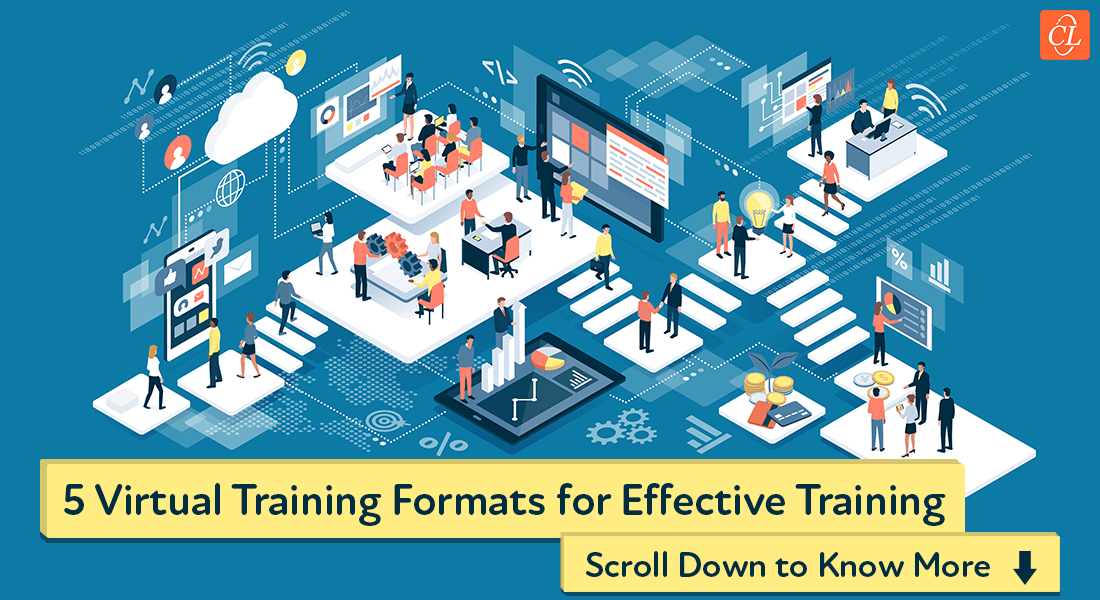 Tell me, and I forget, teach me, and I may remember, involve me, and I learn.
– Benjamin Franklin
Humans are very quick to adapt to anything that makes their life easier. Thanks to today's technology we have everything we need at our fingertips. But how does this relate to learning? All the current changes have trained us to find the fastest path to the answers we need. Training is also not untouched and L&D teams are continuously raising bars for training. And thanks to various virtual training formats, learning has become more effective and engaging.
Want to Explore the Best Ways to Involve Your Learners in Virtual Training?
Here Are 5 Virtual Training Formats for Effective Training:
eLearning
Microlearnoing
Virtual Instructor Led Training (VILT)
Mobile Learning
Videos
Let's find out How!
Virtual Training Formats for Engaging and Effective Training
Engaging eLearning
What we see these days is a hybrid workforce and many remote learners. Traditional methods of training might not be the solution to current changes happening around.
Enter eLearning!
eLearning has been one of the most trusted learning strategies by any organization. eLearning is a self-paced online learning strategy that focuses on performance-based learning objectives. eLearning is flexible and simpler than traditional methods of training. Offering efficiency and cost-effectiveness, it is a preferred option by many learning and development teams.
Want to become an eLearning champion? Here is how you can become one.
Motivating Microlearning
Today's learners usually do not have a lot of time in hand to spend on training. Focus, is a lost art these days. Going through lengthy courses is a task for them and forcing them to do so will not benefit any organization. The ideal choice is to change strategies according to modern learners learning needs and preferences. Bound by the habit of looking at short notifications to get updates about the world, long courses are a big no. Looking for a solution?
Enter Microlearning!
Microlearning is an asynchronous form of virtual training. Learners are offered information in bite-size nuggets that are easily digestible, each microlearning module focuses on a single learning objective. Microlearning is one of the most effective ways to engage modern learners, as it is short, crisp, and to the point. Learners now only get need-to-know information rather than nice-to-know information. The cherry on top is that learners have enough time in hand to focus on other tasks too as they don't have to spend a whole day or long hours on training.
Versatile Virtual Instructor Led Training (VILT)
Do some of your learners still prefer an instructor? Well, if this is the case, there is a solution to it.
Enter VILT!
Virtual Instructor Led Training (VILT). Get the best of both worlds. With no hassle of setting up a classroom, you still can get an instructor to train your employees. VILT is another virtual training strategy preferred by many. The training session is held on a virtual platform. Even if the learners and instructors are at different locations, learners get the instructor's guidance. A virtual training environment focuses to simulate classroom training and making the online learning experience effective and adaptable to learners. Even though it has been with us for decades, VILT's demand soared post-pandemic, when organizations realized and utilized its benefits. And of course, once you have experienced it, there is no going back. Virtual training was referred to as "An overnight success, 20 years in making." Which is quite true.
Magical Mobile Learning
Reaching out to the mobile phone is the first thing we do when we need almost anything these days. The love for mobile phones is undeniable. And why would it not be, who doesn't want the whole world in their palm? You are aware, updated, entertained, and connected, all thanks to your mobile phones. I think the learner in you will be very happy to know that you can learn on your phones too.
Enter Mobile Learning!
Mobile learning is an asynchronous form of virtual training. It provides flexibility to access courses on multiple devices. Mobile learning provides short-duration learning, with high retention and just-in-time availability. mLearning provides learners the freedom to learn at any time, from anywhere, and on any device. I think I have more than enough reasons to love mobile learning already.
Vibrant Videos
To be honest, when I am not doing anything, I am scrolling through short videos and I am not sure where the time goes by. They are so engaging and at the same time, I am learning a few things too. Talk about being seamless. Whose ever idea it was to combine training and videos! Take a bow!
Enter Videos!
Video-based training is a learning experience facilitated through video. Interesting right? Videos are a highly effective tool when it comes to virtual learning. Apart from reducing learners' cognitive load, they can easily grab learners' attention and enhance engagement through interactivity. Video-based learning improves knowledge retention and leads to motivated learners. Being easily accessible it enables on-demand learning. There is no denying that virtual training videos are a hard-to-say-no-to addition to today's remote learning environment.
Wait! There is More!
I am sure by now you would be deciding which format to use. Well, don't get confused. How about you get an option to blend it all? Amazing right? Yes, you can blend various formats of training and curate a learning journey according to the learner's preference and your training needs. Blended learning is a combination of various formats of training like classroom learning, self-paced learning, performance support, etc. It offers the best of both classroom and online training. Now using various methods, provide your learners with a personalized learning experience. Want to know more about blended learning? Grab our eBook to maximize training effectiveness with blended learning.