5 Reasons Why VILT Deserves to be a Part of Future Corporate Training
Is VILT the future of corporate training? Dive into our blog for exploring virtual training opportunities.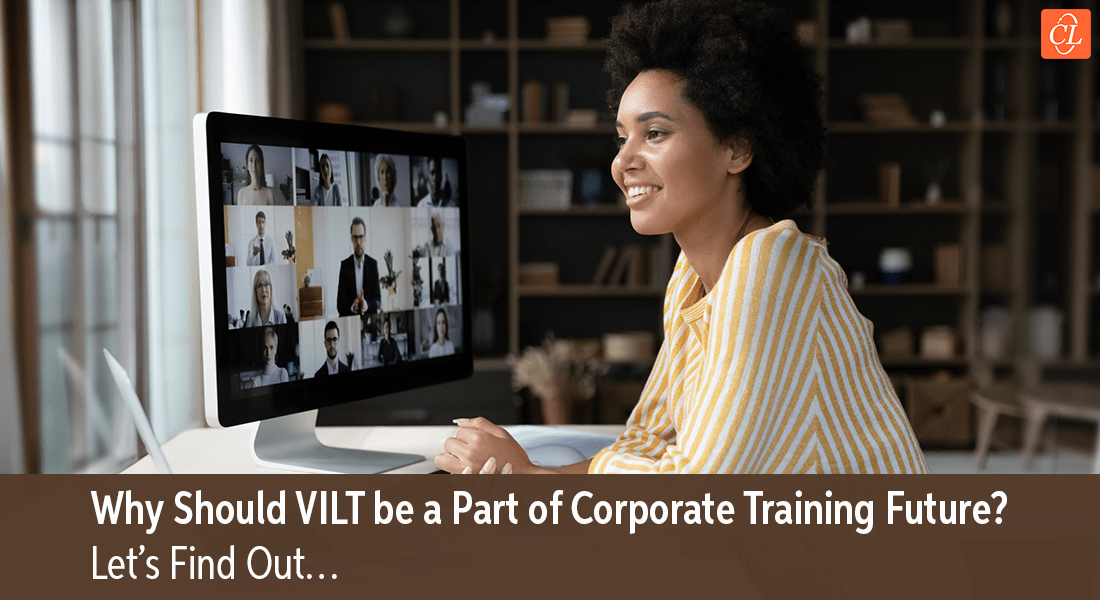 As more and more organizations are getting back to normal, many organizations are still trying to determine the future of learning and development for their employees. Unlike traditional methods of training that offered classroom training, modern learning offers many learning strategies. Modern learning formats like eLearning, VILT, Microlearning, etc. All learning strategies have their pros and cons. It all comes down to deciding what is best for your organization and learners.
Well, depending on an organization's training needs and preferences it can choose any learning strategy it finds best, it can also blend different learning strategies to curate a personalized learning journey. However, among all Virtual Instructor Led Training (VILT) continues to be a popular option. We are going to list a few reasons why VILT could be the future of corporate training.
VILT Offers Many Benefits to Learners as Well as Organizations.
Here is Why it Should be the Future of Corporate Training:
Entails a High Level of Interaction and Engagement
Facilitates Collaborative and Social Learning
Offers Learner-Centric Approach
Supports Continual Learning
Provides Scope for Instant Feedback and Evaluation
Why VILT is The Future of Corporate Training?
1. High Level of Interaction and Engagement
Virtual instructor-led training (VILT) is a training format offering interaction among learners and with the instructor. Learners actively participate and engage in VILT sessions, as it gives the feel of a real classroom and facilitates an immersive and productive learning environment.
With the growth in hybrid and remote workforce, involving employees while learning is something organizations are struggling with. VILT offers learners' involvement and helps to increase their participation. Few elements that can be used to make the VILT session more impactful and engaging are:
Ice Breakers – Icebreakers are highly engaging; learners can share their views on certain topics. It helps to break the monotony of the session.
Brainstorming Sessions – Brainstorming sessions helps learners to solve complicated problems by applying their existing knowledge and learning something new.
Q&A Sessions – It can be used to evaluate the outcome of the training and increase retention of knowledge.
2. Facilitates Collaborative and Social Learning
Social and collaborative learning is an effective learning strategy backed by many. Humans learn better when they learn in groups, they also retain information better. VILT is an ideal platform for social and collaborative learning. With the rise in the remote workforce, learners tend to feel isolated and lonely when learning from home alone.
VILT offers learners an option to connect and interact with one another, one of its features breakout rooms can make the interaction more effective. Being cost-effective and efficient it offers learning solutions to tackle some major gaps in learning. During these times when everything is changing in the learning and development environment, VILT offers a natural way to learn.
3. Offers Learner-Centric Approach
Modern learning needs are very different from earlier and also quite varying. Employees come with different skill sets and learning preferences. The modern workforce comes with a clear picture and knows what they want to achieve. What they need is to make sure that they are an important part of the organization. VILT can offer a learner-centric approach to modern-day learners. Depending on the kind of learners, instructors can include different learning formats throughout the learning journey. While using a virtual platform, instructors can also use microlearning assets such as videos, eBooks, interactive PDFs, gamification, and many more.
VILT offers the learners an opportunity to connect with the instructor and instructors can train the learners according to the learner's moods and learning styles. Unlike other learning strategies, the communication and interaction that VILT offers, make it one of the most preferred learning strategies for future corporate training.
4. Supports Learning After Training
VILT offers one such feature that many learning strategies may lack, post-training support. Learners can connect with instructors post-training and get their doubts and issues cleared. Many microlearning assets such as podcasts, infographics, videos, etc. can help with post-training learning and also help to engage in learning post-training that will help them to retain knowledge.
Instructors can also break an entire VILT session into smaller learning modules to make the required information available to learners whenever they need it.
Post training support provided by VILT:
Helps to measure the engagement levels of employees.
Helps to understand the effectiveness of a training session.
Helps in measuring training ROI.
Helps to connect a bond between trainer and trainees.
All these benefits help in improving the courses and also work on any existing learning gaps, making VILT the future of corporate training.
5. Instant Feedback and Evaluation
Through VILT, instructors can offer instant feedback and real-time performance tracking. As the instructors are involved throughout and are in constant touch with the learners, evaluation and providing real-time feedback are easier for them. It is also easy for instructors to assess and analyze learners' learning styles and their learning needs. Instant feedback and evaluation offer effectiveness in training. All of this makes VILT a good strategy to be a part of the future of corporate training.
Instant feedback and evaluation also offer:
Improved performance of learners at all levels.
Overall professional development learners.
Better employee engagement.
Delivering the best program and services.
Better results.
Summing it up!
To sum it up we can say VILT offers many such benefits that make it an important part of the future world of corporate training. However, organizations are free to choose whatever training strategy suits them best. Apart from these VILT also saves cost, time, and effort. It keeps the trainer and trainees connected and offers flexibility in a virtual space. Are you planning to make VILT a part of your training strategy? Grab our eBook and explore practical tips about VILT.