4 Effective Ways to Make Virtual Training Fun
Virtual training is the new normal for companies to train their employees. Check out our blog for 4 effective ways to keep employees engaged and excited.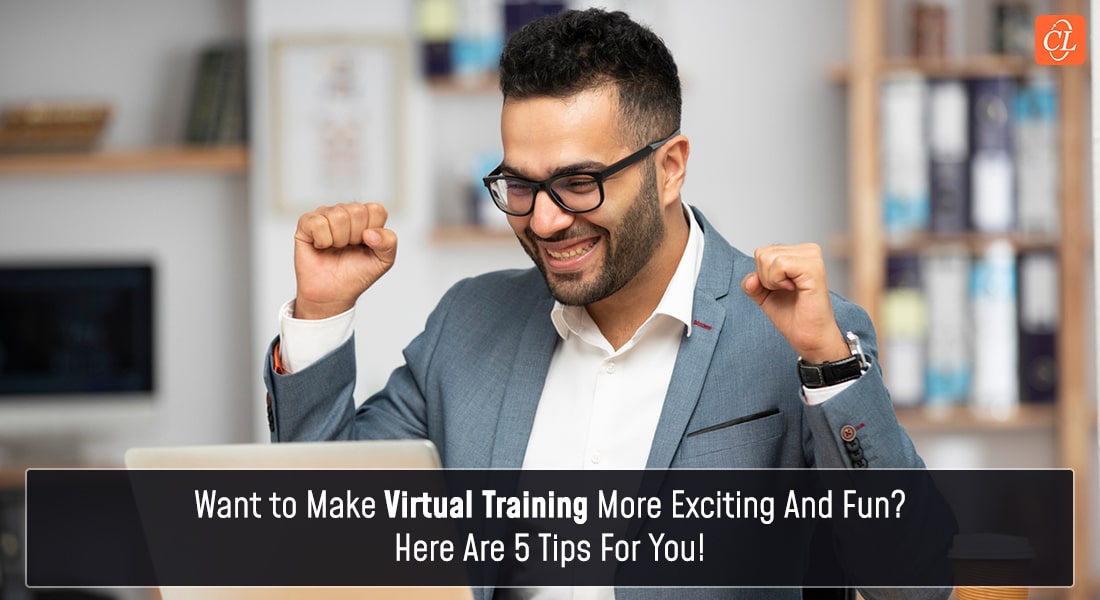 Virtual presence and engagement have taken over the real world like a sandstorm. The ongoing Covid pandemic has made virtual engagement even more relevant. Training or learning is one of the most crucial aspects of virtual engagement. Virtual training is the most preferred way to train employees in the corporate world. There are several tips and strategies that make virtual training an engaging, effective, and fun activity.
Are You Planning to opt for Virtual Training Within Your Organization?
If yes, these strategies can make virtual training more fun and exciting:
Gamification
Microlearning
Scenario-based learning
Blended Learning
Learn about each of these strategies in detail below.
Let's first understand how to implement virtual training in the workplace.
5-step Standard Procedure to Implement a Virtual Training Program
1. What's the basic goal to be achieved?
Understanding your goal as a company is the basic introductory step toward adding a training program for your employees. Some of the common reasons for any company to implement a virtual training program are when
Their employees lack productivity
Their business operations need to be changed
They are launching a new product
Once you are aware of the goal you want to achieve, carry on with the development of your virtual training program.
2. Understanding the needs of your employees
After you know your goal, the next thing is to understand what your employees need. Make sure the training program aligns properly with their type of work or their responsibilities at work. While some employees would prefer virtual instructor-led training (VILT), others might prefer interactive classroom experiences. To get along with their respective choices, a blended learning approach can be preferred.
3. Development of course materials
Working with certain experts and various tools can help you create a well-structured course. Slideshows, notes, infographics, videos, and other necessary materials should be mixed and matched according to the employees' needs.
4. Implementing the program
It is important for any course to be delivered in a professional and interactive way. Learning Management Systems (LMS) can help you with this overall process of assigning, delivering, and tracking the progress of your course. eLearning tools are used to create online training programs that can be accessed from anywhere at any given time.
5. Evaluating the progress of employees
You cannot just set up a course and leave it as it is, tracking and evaluating the progress of employees is an essential activity that needs to be taken care of. You can get feedback from each employee to understand how you can improve the course and conduct surveys to gain collective data analytics to make necessary adjustments.
Now that we have discussed how to implement a virtual training program, let's understand how we can make these training programs much more engaging and fun yet not fail to provide a significant value in return.
4 Efficient Ways to Make Virtual Training Programs Fun and Engaging
1. Gamification
Who doesn't like gaming? Isn't it better if you learn things in a similar way these games proceed? That's basically what gamification is, the process of adding game-based elements in a non-gaming environment like a training program to engage employees and make learning a fun activity. You add features such as levels, prizes, and leaderboards to implement a sense of gamification in your virtual training program.
2. Microlearning
The concept of microlearning is very simple to understand and implement. You just have to divide a topic into several sub-topics and create short videos, infographics, and audio clips as per the required subject. Providing each resource separately will help employees learn any specific thing without wasting time on something else they don't want to learn or something that is not relevant to their work expertise. Different types of formats can engage learners and a proper variety can make the overall virtual training sessions exciting.
3. Scenario-based learning
Scenario-based eLearning is another effective and engaging way to understand any subject or topic is to explain things with real-life examples. Let's explain this with an example, a sales employee needs to be trained regarding the different ways to deal with clients and customers. Just telling the ideal ways will not make them aware of the different types of clients they might have to face in the future. Instead, the employees can understand things better if they are asked to deal with a real-life scenario represented virtually, and their decisions will form the related outcomes. This process will help the learner gain in-depth knowledge of different scenarios they might have to tackle sooner or later.
4. Blended Learning
A virtual training program that follows the hybrid structure that focuses on both the traditional classroom approach and virtual instructor-led training (VILT) and combines them to provide an overall improved modern approach to learning is called blended learning. Activities such as group discussions, individual polls, virtual case studies, and a live showcase of relevant tools and practices altogether form a more engaging and fun approach to virtual training. Asking the employees to enable their face-cam during live online sessions will improve engagement much more efficiently.
Parting Thoughts!
Virtual training programs are the modern approach to make the employees get trained in a way that is most effective for their respective organizations. These programs save time and money for the company and help them retain its employees. As time passes by, these ways will keep getting modernized as per technological advancements.
For now, I have discussed quite enough about virtual training programs and if you are looking to switch from traditional classroom to virtual training, I would recommend you read this free eBook to understand the in-detail approach toward virtual instructor-led training (VILT).