Top 5 Ways Rapid eLearning Helps Improve Employee Onboarding Training
Employee onboarding training is a foundation of a new relationship between the company and employee. It is vital to make the best of it. In this blog, I've talked about 5 ways rapid eLearning helps you improve employee onboarding training experience.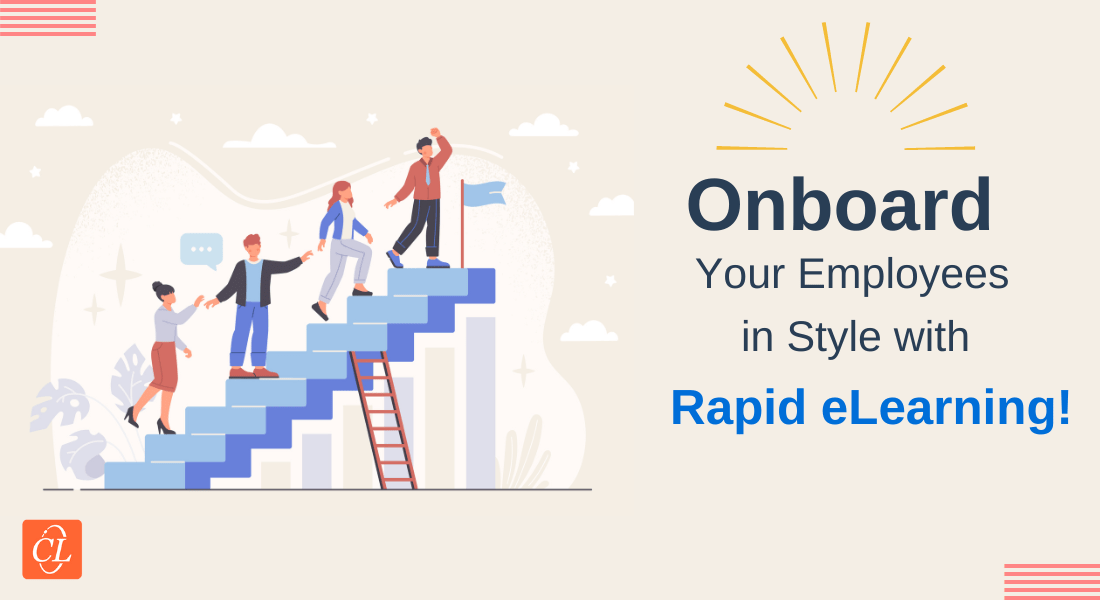 Hey! Are you worried that your new employees might get tired of spending hours reading through the orientation materials or sitting through long and dull training sessions? Well, worry no more! Because it's time to say goodbye to the boring traditional process of employee onboarding and say hello to the power of innovative rapid eLearning!
With this cutting-edge approach, you can offer an interactive, personalized, and more engaging onboarding experience to your employees that will help them hit the ground running in their new roles with zeal and confidence. From easy-to-digest modules to real-life scenarios, rapid eLearning enables you to make your onboarding journey not only efficient but also enjoyable. So buckle up and give your employees a chance to learn in a whole new way!
Onboard Your Employees in Style with Rapid eLearning!
Here are top 5 ways rapid eLearning can help:
Provides efficient delivery of information
Fosters interactive learning experience
Promotes anytime, anywhere accessibility
Ensure cost-efficiency
Facilitates Employee Progress Tracking and Measurement
So let's understand how you can leverage rapid eLearning to augment the employee onboarding experience.
Top 5 Ways Rapid eLearning Helps Improve Employee Onboarding Training
Provides Efficient Delivery of Information
Rapid eLearning is a highly efficient method of delivering information to employees during the onboarding process. By using technology, your organization can quickly create and distribute courses, modules, and assessments, which can be accessed by employees at any time and from any location. This eliminates the need for traditional classroom-based training or in-person sessions, which are often time-consuming as they take longer to be organized and delivered.
On the other hand, rapid eLearning facilitates a quick rollout of training material without compromising on the quality of the content. This allows you to provide new hires with the information they need more quickly in an engaging and learning-centric manner as rapid eLearning takes into account various instructional design strategies as well as the adult learning principles, which contribute to a better and more enriching onboarding experience. All these aspects help the employees to understand the concepts thoroughly and get up to speed more efficiently.
Fosters Interactive Learning Experience
If you were to listen to a monologue, how would you feel? Let me warn you, it ain't a famous one by Shakespeare. *Snooze* That's exactly the scenario with your new employees. The unidirectional nature of onboarding training can be quite a turnoff. To handle this problem efficiently, rapid eLearning is your go-to solution. It helps you provide your employees with a more interactive and engaging learning experience compared to traditional methods. Employees can participate in activities, simulations, and quizzes that help them participate and interact with the training material, thereby making it easy for them to implement and reinforce the information that they have acquired. This element makes their learning experience more immersive and memorable.
You can easily promote such type of interactive learning by leveraging rapid eLearning as it deploys rapid authoring tools that allow you to design and develop engaging, immersive eLearning courses seamlessly. They contain a prebuilt asset library, design templates, and other interactivities. So increase your employees' understanding of the training material with rapid eLearning and help them retain the information more effectively, improving their overall onboarding experience.
Promotes Anytime, Anywhere Accessibility
Talent is not limited to a particular city, state, or country for that matter. If you've hired a remote workforce, you'd know the struggle of onboarding training, given you are still stuck on the conventional process of employee onboarding. To help you explore new possibilities and make the onboarding training an interesting one, rapid eLearning removes the traditional barriers of conducting training in a particular space and at a particular time. Rather, it promotes anytime, anywhere learning as the course content is readily accessible.
This makes it an ideal solution for remote employees or those in different locations. And especially in today's increasingly mobile and geographically dispersed workforce, rapid eLearning solutions are a blessing. Your employees can participate in the onboarding training process from their homes, on the go, or while traveling, without the need to be in the same physical location. This saves time and money while making the onboarding process more convenient and accessible.
Ensures Cost-efficiency
Onboarding training can often add to some additional unpredicted costs, which can, at times, disrupt the planned budget. Fret not! Rapid eLearning offers a cost-effective solution for your onboarding training needs. By using innovative and emerging technology, it designs engaging and interactive eLearning course content, which helps you eliminate your employees' need for travel, physical training materials, and other expenses associated with classroom training.
This results in significant cost savings for your organization, especially for those with large numbers of employees or remote workers. Even better, rapid eLearning can be easily updated and modified, which can save organizations time and money compared to traditional methods that may require more time-consuming and expensive updates.
Facilitates Employee Progress Tracking and Measurement
New company, new work culture, and new responsibilities. It's pretty easy for your employees to be a little lost and confused. But it's not necessarily true that they would reach out to someone or seek help. Rapid eLearning solves this problem in a jiffy. It provides you with data and analytics that enable you to track and measure employee progress during the onboarding training.
This helps you monitor and improve the effectiveness of their onboarding programs as you can gain insights into which courses and modules are most effective, what areas may need improvement, and which employees may need additional support. By tracking and measuring employee progress, you can continuously improve the onboarding training experience and ensure that the new hires are receiving the information and support they need to be successful in their roles.
Wrapping It Up!
So there you have it, my friend. The future of employee onboarding is here, and it's all thanks to rapid eLearning. With its ability to provide a dynamic, personalized, and engaging learning experience, you'll be able to onboard your employees faster, help them retain information better, and boost their confidence and knowledge in the desired new role. And let's not forget the cost and time savings for the company! So why not embrace this change and see for yourself the benefits that rapid eLearning can bring to employee onboarding training? Trust me, it's definitely worth a try!
Here's our valuable eBook to help you know more about rapid eLearning design for the quick and efficient rollout of courses. Check it out now!