5 Tips to Spice Up New Hire Onboarding Through eLearning
Onboarding training program is to educate and train the employees about the organization. Let's look at the advantages of implementing online onboarding training program in the organization.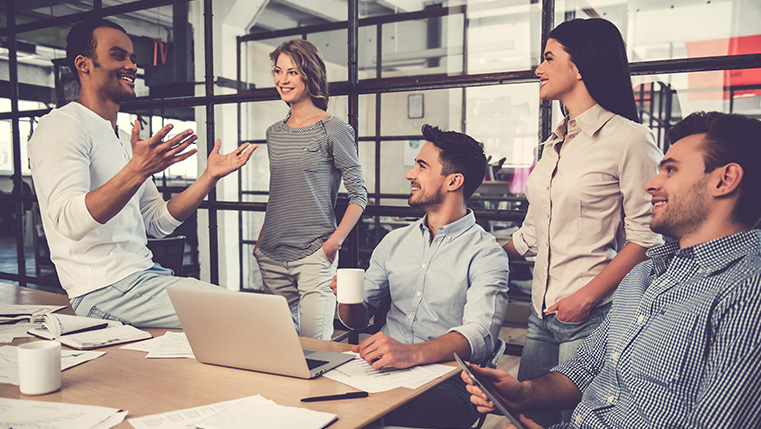 How does your new hire onboarding training program look? Do you greet new hires with a handshake, ask them to complete some boring paperwork, and put them on the job? Or, do you follow a streamlined onboarding process that ensures that new employees are really "on board"?
Many organizations across the globe realize that onboarding new hires is a process that they cannot afford to skip. An increasing number of them are turning to online onboarding programs as they offer flexibility and consistency in the information that's being delivered to new hires. However, simply moving the process of onboarding from a classroom to an online training program will not do. Your new hire onboarding program needs to be interesting and motivating enough to get new hires up to speed. One of our clients wanted an overhaul of their existing onboarding training that was conducted in the classroom. In this blog post, we'll share what worked for our client. These tips will help you spice up your online onboarding training program too.
1. Make a Good First Impression
In an online training program, the first interaction the learner has with the e-learning course is through the graphical user interface (GUI). The online new hire onboarding is your first chance to impress the new hires. So, why settle for an uninspiring GUI?
The new hire onboarding program that we designed had a customized GUI built using Articulate Storyline. Learners were able to virtually explore the different departments in the office. This was not a linear e-learning course that's normally associated with new hire training. The course followed a strategy of learning by exploration where new hires were asked to begin with a virtual exploration of building 1 followed by building 2. They had the option to explore the remaining buildings in any order they wanted to.
2. Make Learning Fun
New hire onboarding training has the reputation of being boring. That's because there is so much information new hires need to know, which is why it becomes very essential to have a proper training plan. However, that doesn't mean you bore them to death with a long list of instructions and endless presentations.
Our e-learning course for new hire onboarding included elements that made learning fun and engaging. Be it interesting infographics, the clickable icons and videos displayed on the virtual wall, or the interesting drag-and-drop interactions, every slide in the course ensured that the new hires were engaged in the learning process. New hires were also introduced to the different departments in the organization, but we ensured that this information was presented very concisely. The course also included a gamified summative assessment.
3. Nail the Small Details
New hires who understand the company's vision and values are inspired to contribute their best to the organization. In a classroom new hire orientation program, the instructor can take care of delivering this information. But in an online training program, how do you address these small details that make a big difference for a new hire?
Our strategies varied based on the content. We designed interesting videos to explain the origin of the company's name and logo. A thought-provoking activity ensured that new hires understood what each value meant. An interesting infographic was used to explain the company's culture. A photograph on the virtual wall turned into an interesting hook to introduce the leadership team.
4. Leverage the Power of Videos
The best part of online training is that it facilitates the use of digital assets. Video when combined with text, helps learners remember information effectively. We used videos in the online onboarding program to tell new hires how their presence matters, and how they can make an effective contribution to the organization. Videos also helped deliver information on the services offered by the company. Video snippets of the leadership team introducing new hires to a particular department made for engaging training.
5. Make the Most of Visuals
Visuals can dramatically enhance the learning experience. It's not enough if you include a picture or an image, it has to be the right one. We made effective use of images in the online new hire onboarding program. The information delivered through infographics complemented the visual strategy that we followed. Even something as small as a set of footprints that helped the learner navigate through the course was part of a well-thought-out visual strategy.
These were some of the tips that we followed. If you have an existing new hire onboarding program, don't forget to take feedback from new hires on its effectiveness. You do not want to leave new hires feeling unimpressed, confused, bored, or overwhelmed on their first day at work. What you need is excited, energetic individuals who can bring something to the table. If new hires are not impressed with the training programs that you have currently, then it's time to rethink your training strategy.