Top 6 Factors to Consider While Choosing the Right LMS
In a turnover-prone era, businesses seek talent retention. Use an LMS for employee upkeep. Consider key factors when choosing. Keep reading for insights.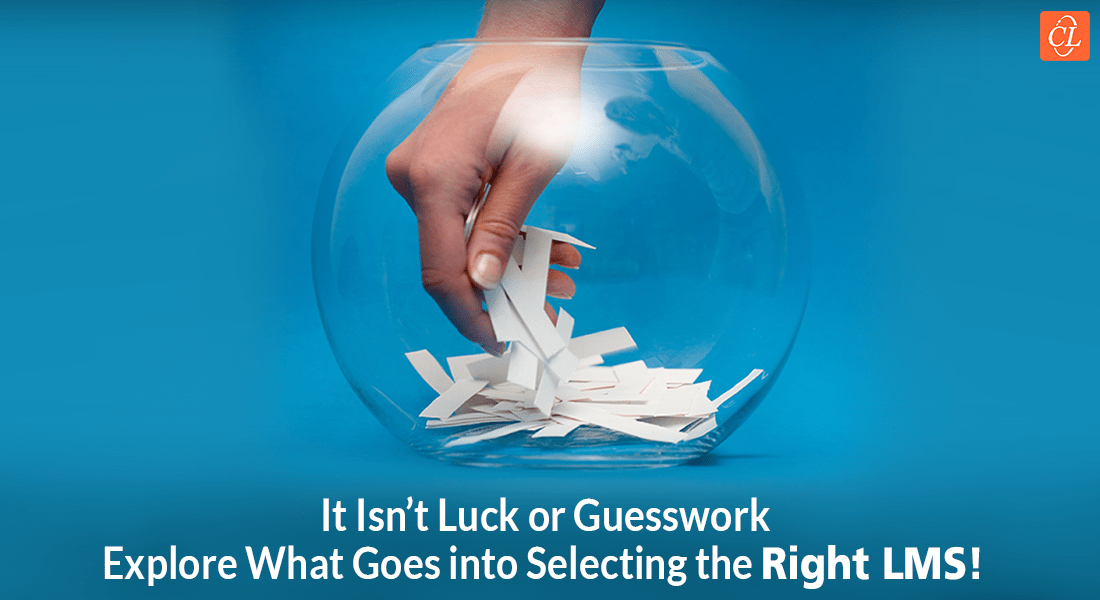 We understand. We do. We are aware that you aim to establish a continual learning culture inside your company to establish a fantastic online learning system. And we are aware that you are prepared to employ every stratagem to achieve your goal. But do you now put your courses online and learning materials on an LMS (Learning Management System)? You can stop reading if you already use an LMS and are completely pleased with it. However, if you do not have an LMS, you should read this blog.
Are you aware that a learning management system (LMS) may aid a business in maintaining its workforce? By including the workforce in a robust employee development program, using an LMS may enhance satisfaction among employees. Strong satisfaction is the outcome of high engagement, which lowers turnover and reduces expenses. Let's review some fundamentals.
Are You Unsure About How to Select the Right LMS?
Here Are the Top 6 Things to Consider Before Moving Forward:
Identify Your Needs
Take Your Financial Situation into Account
Establish the Suitability of the Content
Take Mobile-Friendly Design for Analytics Reporting into Account
Decide What Your LMS Must Do
Research the Market
What is an LMS?
A system which is used to manage and host an eLearning course is known as a learning management system (LMS). All your eLearning courses and learning materials may be hosted on the LMS, which serves as a single platform. Then, your personnel, clients, suppliers, etc., may access such courses and materials. All your training programs can be managed, delivered, and tracked more easily with an LMS. With LMS you can:
Consolidate all internal and external partners' learning resources
Create a repository for a variety of training resources (microlearning modules, PPT decks, eLearning courses, eBooks, simulations, videos, and so on)
Increase your training's ROI (while saving money and time)
What a Learning Management System Has to Offer for Corporate Training
An LMS offers many advantages that make implementing workforce development programs simple and ongoing. Here are some of its main components that support employee development.
1. It Allows for Flexibility in the Creation of Learning Modules
The LMS helps L&D teams by simplifying the process of developing and delivering learning courses.
Everyone participating in the creation of learning modules may access the same material at any time because of its uniform content structure. As an instance, imagine that you are developing a module for new employees at a food manufacturing plant that includes the standardized operating instructions for every machine. The same content must be used subsequently in refresher training for current personnel.
Because an LMS compiles and maintains the data in a database that is simple for the user to use at any time, using one can save money and time by eliminating the need for duplicate work.
2. A Range of Easily Accessible Solutions Are Offered for Learners
Whenever it comes to meeting your workers' demands for continuous learning, LMS's are becoming more and more competitive.
There are several LMS choices available in the market that offer a variety of programs to help those who have hearing, vision, cognition, and physical limitations.
The modern LMS is prepared to close gaps in workplace inclusion and diversity to establish a secure learning environment for everybody.
3. An Interactive System That Enables People to Express Their Preferences
Employees can retain continual involvement throughout the training session thanks to an LMS's dynamic design. The learners may study using a variety of modules, including VILT, one on one training sessions, and interactive eLearning, thanks to blended learning provided by an LMS. Determining the trainees' preferences fills the gap left by an instructor.
4. A Dashboard That Offers a 360 Degree View: Tasks, Registered Courses, and Progress of Learners
Easy activity tracking for employees is a notable advantage of an LMS for organizations. The training manager may monitor employee progress and enrol courses using a dashboard. With the help of this monitoring system, the manager can better comprehend the requirements of the workers and offer meaningful comments to accelerate their development.
5. Learning Analytics That Enables the Development of Learner-Centric Courses
An LMS system is a veritable great resource of information that enables L&D teams to comprehend which programs and features are successful throughout the business training program and which ones are not. An LMS may modify the courses to become more individualized and learner-centric by using learning analytics to understand this information.
Knowing how LMS supports workforce development initiatives means you should be prepared to use them. But how can you tell which LMS is right for you out there?
How to Select the Right LMS
1. Identify Your Needs
Consider your requirements and the requirements of your intended audience before selecting an LMS to determine which one will serve them best. For instance, you may choose an LMS with a straightforward design if your target audience lacks computer expertise. More learning possibilities and comprehensive functionality can increase engagement if your audience is primarily made up of millennials and members of Generation Z.
2. Take Your Financial Situation into Account
Depending on the technology and functionality, LMS prices change. Establish your L&D expenditure and select LMSs with essential features that are within your means. Several payment alternatives, including pay-per-subscription, pay-per-active user, and pay-per-learner, are available with some exclusive LMSs. Select an LMS that supports your needs while not breaking the bank.
3. Establish the Suitability of the Content
Before purchasing an LMS, create a plan and a vision for your course. Note the kind of content that is used in your course. Will your course, for instance, require a lot of instructional videos? Or will it be evaluated? Select an LMS system that can handle the type of content you intend to employ after making your decision.
4. Take Mobile-Friendly Design for Analytics Reporting into Account
The devices that your audience frequently uses throughout the training session must be supported by your LMS. Accessing training materials is a common practice worldwide using tablets and pads. Therefore, to provide a smooth staff development plan, look for mobile-friendly features.
5. Decide What Your LMS Must Do
List the characteristics that meet your needs once you have identified them. Several LMSs on the market offer social learning, improved grading systems for assessments, additional enrolment choices, and customization possibilities. You may also wish to think about if the LMS vendor offers prompt assistance when you run into technical difficulties.
6. Exhaustive Market Research
After completing the stages, select an LMS that best suits your requirements for a high-quality personnel development program plan to maintain your workers' interest in a culture of lifelong learning.
Parting Thoughts
Every business that wants seamless functioning and long-term personnel retention must prioritize employee development. To increase employee engagement and decrease turnover rates, 77% of businesses are improving the employee experience, according to the Global Talent Trends study for 2020. Personnel development does not, however, must be a difficult process. Using an LMS makes the process easier by offering a variety of tools to engage learners and give employees information about their learning.
Watch the recording of this webinar to find out how to make the most of your LMS and increase the return on your LMS investment.