Key L&D Strategies to Elevate Corporate Training and Employee Performance
The performance of an organization's employees on the job is a testament to the success of its corporate training programs. Learning and development teams must align corporate training strategies with the goals of their companies. Read this blog to learn different ways to enhance employee performance through training.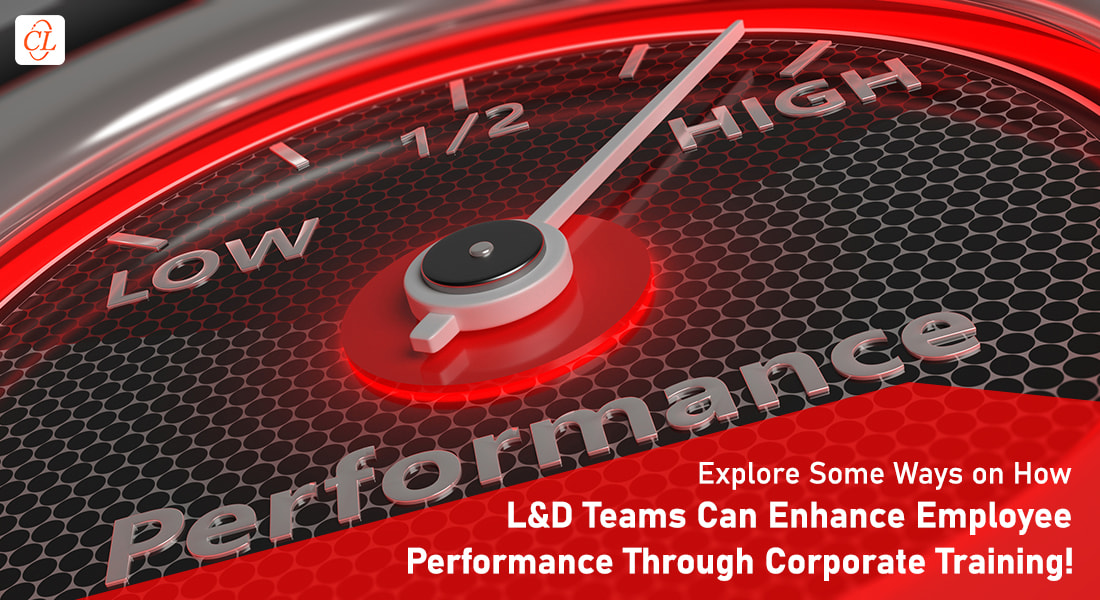 The graph of corporate training is often not parallel to employee performance on the job. L&D (learning and development) teams must arm themselves with emerging training methods that stay with the learners long after their training is over and result in better performance at work.
To Elevate Corporate Training and Enhance Employee Performance, L&D Teams Should:
Analyze the gaps between training and
Shift their focus from creating and imparting content to the application of
Create strategies for the process of knowledge intake, skill-refinement, and application.
Common Gaps Between Corporate Training and Performance on The Job
If you think the gap between training and performance is in the content of training modules, think again! Most L&D teams focus on the learning material when training new employees; however, one of the major paucities of training modules is the lack of opportunities.
A Chinese proverb tells us that the crux of learning lies in experience: "I hear, and I forget, I see, and I remember, I do, and I understand."
Decontextualized material is a major drawback of corporate training programs. Trainees consume content in a learning bubble, far from their dynamic corporate environment. However, this type of knowledge has a low shelf-life. Trainees must put their knowledge gains to good use.
It's expected that current training programs are consumed by every employee in a similar way. L&D teams need to include different learning styles and create memorable learning experiences, so their trainees remember what they learn. Unless they exercise, review, and iterate knowledge gains, trainees aren't likely to remember what they've learned at their time of need.
Strategies For L&D Teams to Sync Corporate Training and Performance
In today's competitive business environment, the employee with an urge to learn is an asset. If an employee can learn what's required of them at work, then they can do the job. However, L&D teams need to design training modules that prepare employees to tackle their job with the right knowledge.
After implementing traditional training modules it's clear that knowledge alone is not enough to equip employees to face challenges in the corporate world. L&D teams need to shift their focus, and instead of providing information, they must improve the employees' performance. The eLearning course must align with organizational goals and expectations, and they must be a combination of courses that are directly applicable to the work environment.
Effective corporate training is a continuous process where trainees learn, apply knowledge, receive feedback, and relearn.Research proves that lifelong learning creates motivation that factors into the trainees' happiness. L&D teams can adopt a Learning Management System (LMS) to foster a continual learning environment.
An LMS can help your organization at every step of training, making the management and delivery of online learning a piece of cake! It's easily accessible, and it allows you to track learners' progress and promote continual learning in your organization.
Each cycle of corporate training has three phases. They are knowledge intake, skill-refinement, and application on the job. These individual phases require powerful strategies to yield positive results.
1. Phase 1 of Corporate Training: Knowledge Intake
Guided learning is the first phase of corporate training. In this phase, L&D teams need to focus on easily digestible content. The training material should cater to different learning styles. It's an opportunity to create a standout learning experience that makes a memorable impression and leads to the long-term retention of information. There are those that learn better through in-person sessions, while others prefer to undertake virtual training. You need to use the following strategies to step up your employees' knowledge gains:
Cater to the needs of trainees: You must curate blended learning programs that provide both engagement and flexibility with state-of-art learning methods such as microlearning, virtual instructor-led training (VILT), and inventive eLearning courses. Blended learning courses are convenient and allow trainees to pace their learning.
Break down information: Microlearning is a strategy that allows you to split information and the employees' learning into smaller portions. It encourages progressive training and a one-step-at-a-time attitude.
On-demand learning: You need to use robust online resources to ensure your modules are available on-demand. Trainees should easily access these pockets of information through technologies, such as phones, tablets, and laptops whenever they need clarification.
2. Phase 2 of Corporate Training: Skill Refinement
They say that practice makes a man perfect. The second phase of corporate training is skill refinement, and it involves developing strategies for sharpening employee skills and knowledge retention. This phase prepares employees for tasks on-the-job. Here are a few strategies L&D teams can apply at this stage of corporate training:;
Gamification or Game-Based Learning: Who doesn't enjoy winning a game? You must engage your employees in a game where they need to use knowledge to earn points. Gamification is a reward-based method that motivates the learner to remember and apply their knowledge gains.
Simulations: The best way to prepare for a job is to allows your learners to apply their knowledge gains in an environment that simulates the real world. These techniques help learners prepare for real-life situations that can occur at work.
Scenario-Based Learning: If L&D teams can orchestrate stories that present a work-related situation, then they can create highly engaging learning content. In scenario-based learning, employees face challenges they need to solve. They need to learn to make decisions at this point, and take actions based on the knowledge gained in phase one.
Feedback Loop: Regular feedback is a must-have to achieve effective learning. Employees wouldn't know how to improve their skills without feedback. You need to use key performance indicators (KPI) and learning analytics to find out your learners' strengths and weaknesses. For holistic results in employee performance, you need to integrate feedback into the modules.
3. Phase 3 of Corporate Training: Application
The last phase of corporate training determines its success. Success in corporate training is not only limited to imparting knowledge. Employees must know how to use the information they've gained. However, after phase 2, L&D teams cannot expect their trainees to have perfect recall and not make mistakes. Learning is a continual process, and employees often need reminders and refreshers to stay competitive.
Target KPIs and Assessment Techniques: L&D teams can determine the scope of employee improvement by pinpointing KPIs and leveraging assessment techniques. You must consider setting up an automated system to draw your employees' attention to areas that require it. Also, you need to ensure learning resources are available at any point if your learners need a quick refresher.
Track Engagement of Employees: Engagement is the key to learning at every stage. L&D teams must ensure each trainee is engaged in the learning process and on the job. Lack of engagement can either mean that the employee doesn't find their work challenging, or they cannot keep up with their tasks. It can also mean a lack of motivation. You need to use a reward-based system to foster continual learning and self-development.
Observe Employee Performance and Customer Satisfaction: Customer satisfaction is the best proof of high-quality performance. A low level of customer satisfaction suggests that employees need help to navigate their jobs or struggle with the application of their knowledge gains.
Ask for Employee Feedback: The best way to develop effective training programs is to understand what works for employees and what doesn't. If L&D teams act on employee feedback, then it allows for the development of new courses or the modification of existing courses to bridge gaps in skills and knowledge. This makes employees feel included and boosts their engagement.
Conclusion
Companies across the world are progressively investing in corporate training programs to educate and upskill their employees. A survey reported by TimesNow determined that 40% of organizations expanded their L&D budgets in 2022. However, many times, training programs don't raise the levels of employee performance as expected. L&D teams must strategize beyond traditional learning modules to meet the learning styles of trainees and prepare them for their jobs. Methods of knowledge retention and application must be central to the training. Courses need to focus on the learner through each phase of corporate training.
Do you want to understand how training can change your business outcomes? Check out this free eBook on "Making a Business Case for eLearning" and grab the insights to ensure a smooth journey in adopting eLearning for your organization. Download now!