4 Mistakes to Avoid When Hosting a VILT Session for Corporate Training
Virtual instructor-led training sessions have become a popular alternative to in-person sessions. Here are four mistakes to avoid when hosting one for corporate training.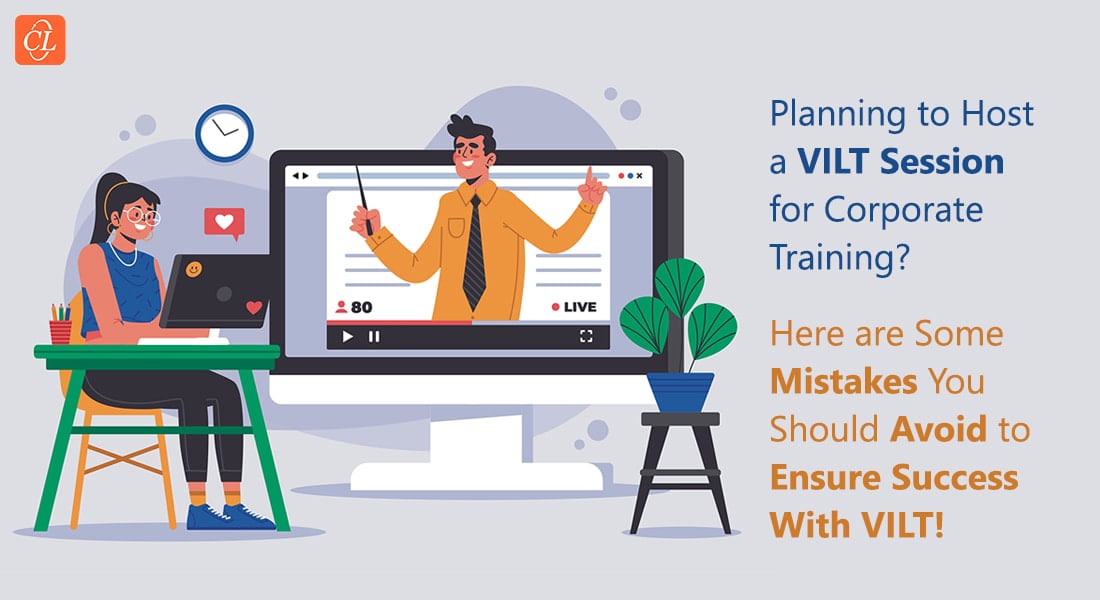 Virtual instructor-led training or VILT has emerged as a boon in the post-pandemic digital age. Today, thousands of businesses worldwide host online corporate training sessions using popular applications using popular software solutions, such as Zoom, Microsoft Teams, and Google Meet, among others. However, from an L&D perspective, hosting a VILT session is no piece of cake.
There are many things trainers have to organize and manage to ensure effective content delivery and maximize participation/engagement. After all, since it's aimed to replace in-classroom sessions, organizations expect their investments to pay off in terms of enhanced productivity or performance.
However, apart from carefully planning everything from pre, mid, and post-training content development to information delivery at every stage, you must also consider the things you must avoid to ensure success.
Are You Planning to Host a VILT Session For Your Corporate Training?
Here are 4 mistakes to avoid:
Not Planning Suitable VILT Session Times
Not Getting Organized and Planning Ahead
Not Choosing the Right Platform
Forgetting or Neglecting Assessments
Unfortunately, many L&D teams fail to consider the other side of the spectrum and only focus on the dos. Therefore, this post will focus on the don'ts by sharing four mistakes to avoid when hosting a VILT session.
However, before diving straight into it, we'll briefly talk about the rise of virtual training since the start of COVID-19 so others can get on board the change wagon and adopt this powerful training solution.
The Rise of Virtual Learning in Corporate Environments
Contrary to popular belief, virtual learning isn't a new concept or training method. It has been around for over a decade following enhanced telecommunication technologies and devices, such as smartphones, teleconferencing apps, and better internet bandwidths.
However, it wasn't until the COVID-induced lockdowns and business closures that virtual instructor-led training found its true calling. With limited foot traffic, increased paranoia due to strict SOPs, and looming uncertainty, VILT transformed from "a good to have" to a "must-have" solution overnight.
It quickly replaced classroom training sessions and became the closest thing to in-person interactions for over a year for many businesses. As a result, it has become one of the go-to solutions for workplace training and learning, along with eLearning courses. Now, many organizations are blending both methods to accelerate the learning curve and improve their training ROI.
Understanding How VILT Works
VILT is a technology-based solution that is easy to adopt, especially if your team is accustomed to remote operations and technologies. At its core, it involves investing in three components:
1. A Video-Enabled Platform
First and foremost, you need a videoconferencing platform to host a VILT session and create an interactive experience for your learners. Popular tools in the market include Zoom, Google Meet, Webex, Cisco Webex, Adobe Connect, etc. You can also try eLearning solutions, such as EdApp and WizIQ.
2. Content
Next, you need the right content to capture the interest of employees and upskill them with the knowledge they need to improve their performance. Due to its visual nature, the content is typically designed to be interactive and fluid in delivery.
3. Delivery
Finally, just as with in-person training sessions (ILT), you have virtual instructors or subject matter experts facilitating the delivery.
Why Use VILT for Corporate Training?
Here are some of the key benefits of VILT sessions for businesses and learners:
Reduced Travel and Arrangement Costs
Since VILT sessions are hosted online, learners can reduce or even eliminate commute or lodging costs associated with attending in-person sessions. Similarly, businesses can reduce their expenditure by limiting the need to spend money on arrangements and accommodation.
Multiple Sessions
With VILT, organizations can hold multiple training sessions for different departments on the same day. This way, more employees can participate in the training program.
Short and Concise
Unlike traditional classroom sessions, VILT sessions are shorter and designed to incorporate incremental modules with supporting content. This way, employees don't have to engage in long, often boring sessions and participate more actively.
Trackable Performance
With built-in analytics and assessment tools, trainers can easily track their learners' performance. For instance, they can check attendance and chats to monitor the level of interaction. Similarly, they can get real-time assessments by conducting scenario-based role plays, Q&A sessions, and polls.
4 Mistakes to Avoid When Hosting a VILT Session for Corporate Training
Now that you understand everything VILT entails, it's time to move on to the business end of the post. Here are four mistakes L&D teams need to avoid when hosting a VILT session for corporate training:
1. Not Planning Suitable VILT Session Times
With remote and hybrid sessions becoming a norm in the new normal, scheduling has become a major problem for organizations. To ensure maximum attendance and engagement, account for several factors, such as time, location, workload, training duration, etc.; this will ensure learners won't miss out or zone out. Ideally, you should keep your sessions around 20 minutes long.
If you have employees working in different time zones, you can offer multiple sessions or find a converging time where all teams work. Moreover, you should always set reminders in advance to ensure employees can plan their activities and tasks accordingly.
2. Not Getting Organized and Planning Ahead
On paper, this may seem like a basic idea. However, VILT sessions require proper planning in every aspect of the training development. If you go in unprepared, you will face several issues, such as poor engagement, inadequate training outcomes, and even a damaged reputation. Before hosting a VILT session, you must provide learners access to pre-training content.
This could be introductory topics or a full, detailed eLearning course. You can avoid hosting multiple sessions to explain the basics and speed up the training process by giving them sufficient time to go through it. You can share links, presentations, PDFs, or microlearning videos during the sessions to engage learners midway through the program.
3. Not Choosing the Right Platform
In the post-pandemic digital age, we have a diverse range of applications or platforms you can use to host VILT sessions. However, no solution is one-size-fits-all, meaning you must be careful not to choose the right one. Ideally, you should consider factors like ease of use, features, and your employees' digital literacy or tech experience. Opting for the wrong solution can lead to time and money wastage, which can be frustrating for both learners and trainers.
4. Forgetting or Neglecting Assessments
Learning assessment is a core component of corporate training, which you shouldn't neglect. Assessments can help you evaluate the effectiveness of your training program and make any necessary changes using their feedback for future improvements in terms of participation, outcomes, or both.
There are many ways to incorporate assessments into VILT sessions. Integrating a mandatory Q&A session to foster collaboration and generate greater interest is the easiest way. You can also integrate polls and surveys to encourage learners to share ideas and opinions about what they've learned or the problems they're facing.
Parting Thoughts
So, there you have it – 4 things you should avoid to ensure success with virtual instructor-led training. As you can see, organizations can easily avoid all these mistakes to reap the full benefits of VILT sessions. The key to hosting a successful session lies in planning. By paying attention to all the elements involved in the mix, you can ensure consistent delivery and improve your learning outcomes.
Are you looking forward to conducting VILT sessions for your upcoming corporate training? Well, here's an eBook that can help you keep up the motivation and engagement of your learners in the virtual setup. Grab your copy now!