Top 5 Benefits of Blended Learning in Corporate Training
Blended learning merges traditional, instructor-led, and independent online learning, offering the best of both for modern-day learning. Discover more.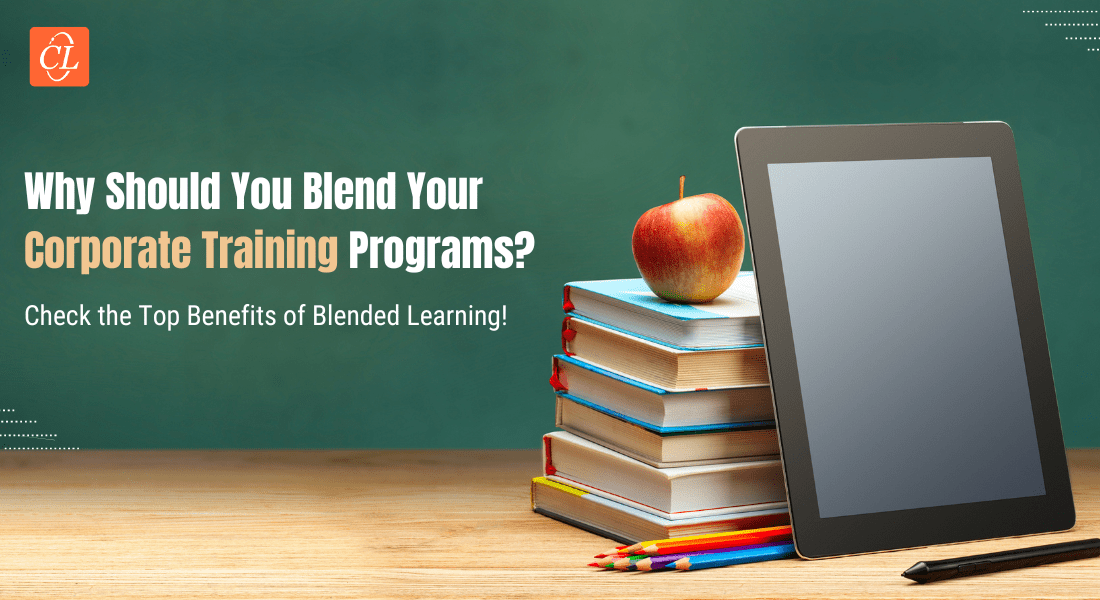 To blend or not to blend? Executives responsible for corporate training strategy may have asked themselves this question more than once in recent times. So if you find yourself in the fix whether or not to accept blended learning for your employee training, this article is for you!
Let us start with the answer to the question –
Yes!!! Blend your training strategies. Read on to know why
What is Blended Learning?
At its core, blended learning is the combination of classroom training and online training. The learners are taught using a mix of both traditional face-to-face teaching and technology-driven eLearning.
When used as a corporate training strategy, blended learning makes training sessions more effective and flexible. This will make the whole learning experience more impactful and accelerates employees' proficiency at work.
How Can Blended Learning Benefit Your Corporate Training?
Here are the top 5 benefits of blended learning:
Offers Unbeatable Flexibility
Suits All Types of Learners
Learners Have Better Control of their Learning Journey
Training Becomes More Cost-Efficient
Increases Trainers' Reach
Key Elements Of Blended Learning That Make It Unbeatable For Modern Learning And Training.
Blended learning is a mix of the traditional and modern ways of training.
Blended learning includes instructor-led live virtual classrooms, which is also known as synchronous learning. This enables learners to receive personal feedback via online mediums.
Blended learning offers the convenience of anytime anywhere learning.
Blended learning enables the learners to work on practical, applied projects which help them develop hands-on skills and also apply them in real-time.
The online lessons can be skipped in case the learner finds them irrelevant or something that they already know. At the same time, they can repeat a lesson if they need to.
Blended learning involves several learning formats like eLearning, microlearning, VILT, etc. These formats can be hosted on an Learning Management System (LMS), which further allows tracking and monitoring of the learner's progress and activity, and assist when necessary.
These elements of blended learning are a perfect option for modern-day learning. But what makes it the best for corporate training? Let us discover –
The Top 5 Benefits of Blended Learning for Corporate Training
Offers Unbeatable Flexibility
Blended learning includes different learning formats such as Live, instructor-led formats, on-the-job training, synchronous and asynchronous learning, self-paced learning and performance support job aids. With such diverse learning formats, it is more convenient for the trainers to present training content. They can choose the best way to present even the most complex of topics.
For instance, a trainer can choose to present a complex topic in the classroom or via a Live conference so the employees can get their questions and doubts resolved in real-time.
At the same time, the online component of blended learning makes it convenient for the learners to learn at their flexible, convenient time.
Suits All Types of Learners
Blended learning integrates both traditional learning as well as online learning. Thus, it can cater to all types of learners. Traditional learning methods such as Instructor-Led Training help learners get their questions and doubts resolved on the spot. On the other hand, eLearning, which combines instructional design and multimedia to make the content more appealing, is more convenient and easy to consume. Further, this content can also be reused whenever required. Trainers and instructors can use all these formats to make learning more effective and easy to retain.
The blended learning system also increases employee engagement levels through a variety of training modes, including multimedia, classroom workshops, instructor-led training, presentations, real-life projects, gamification, and more.
Learners Have Better Control Over the Learning Journey
Learning experts have put forward that 'a person learns the best when he/she has control over the pace of learning'. This is especially relevant in corporate training because the employees at an organization are much different from conventional students. At the same time, employees may have to battle time and energy constraints. So, when planning training and development sessions for them, it is more effective to give them control over the learning rather than doing the opposite.
In traditional corporate learning sessions, the pace of the learning is either set by the company or the group's quickest or slowest learner. Not all learners are comfortable with this pace. Solving this, blended learning allows learners to study online at a pace that suits them. They also have the choice to look for additional resources, skip over stuff that they are already familiar with, or rewatch it as necessary. Additionally, learners can access the material when they are in the mood to study and take breaks when necessary.
Training Becomes More Cost-Efficient
Strategies that improve your business and productivity are welcome, but think about the impact of an efficient strategy that also cuts costs! Well, that is exactly what blended learning offers. Blended learning lowers the expenses associated with in-person training, such as travel expenses, infrastructure costs, and accommodation costs (if the training is at a different location).
This is possible because the classroom-based training course is converted to blended solutions that can be delivered remotely. Even better, a blended course's online component makes it easy to be included in an employee's day during downtime naturally occurring rather than interfering with workflow with scheduled training sessions.
Increases Trainers' Reach
If your trainers and instructors are from within the organization, there are chances that they are overwhelmed with their work and other commitments. At the same time, it is also a bit difficult if you want to extend the training to employees across different locations.
Instead, you can opt for blended learning. With blended learning, not all courses have to be taught in a classroom, this frees the trainers' time and they can use it to extend their reach.
Wrapping Up
Blended learning for corporate training is a win-win for both trainers as well as learners. It is well suited for both modern workplaces and also addresses the learning preferences of modern learners. We have listed the features (elements) of blended learning, and the benefits it offers. Use them to improve your organization's L&D initiatives.
But you might still be wondering how to decide what part of the training program is good to go online and what should go into the classroom? This webinar recording will help you discover the secret formula to arrive at the perfect blend.