5 Common Misconceptions of Blended Learning Debunked!
Blended Learning is a highly effective training strategy that is often misunderstood. In this blog, we dispel five of the most frequent myths about blended learning. Read on to find out more.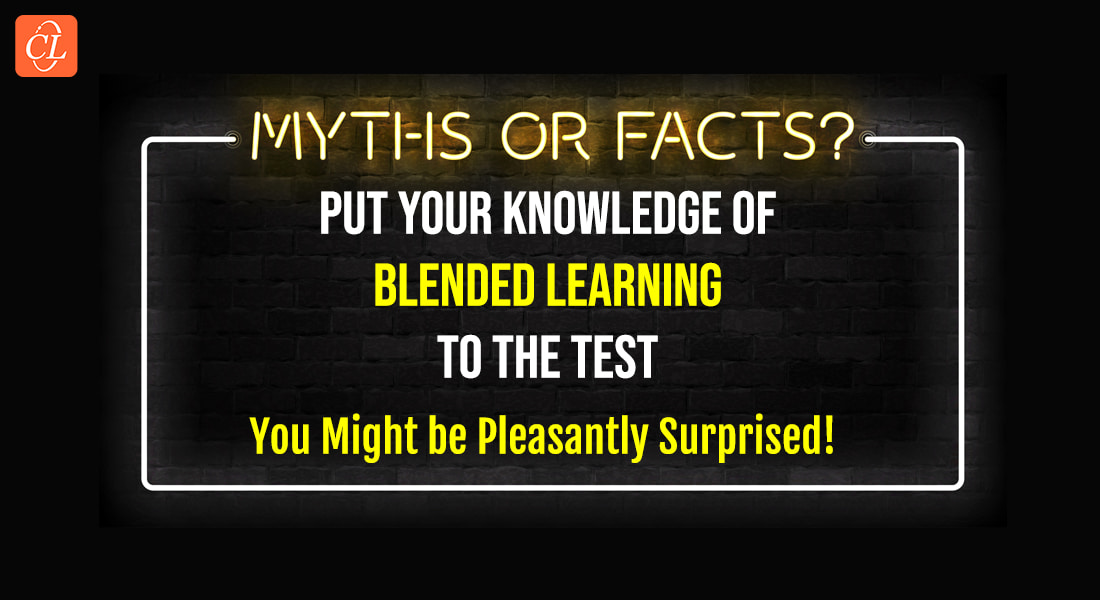 Pastries or pancakes, football, or baseball, ILT (Instructor-led training) or online training—which do you prefer? Before you respond, let me ask you another question. Why do you have to pick between the two? We always restrict our options to binary choices, never considering that there could be a third alternative; combining traditional classroom based ILT with eLearning. Many training experts believe that blended learning improves training efficiency, flexibility, learner engagement, and cost savings.
Most training managers that want to get started with blended learning have preconceived beliefs about it. They may meet opposition from classroom instructors who believe blended learning will cause them to become obsolete. That is why it is critical to comprehend the significance of blended learning.
What are The Common Myths About Blended Learning?
Here are 5 of them:
Myth 1: There is Only One Approach to Blended Learning
Myth 2: Blended Learning is More Expensive
Myth 3: Trainers are Replaceable in Blended Learning
Myth 4: For Blended Learning to Work, Learners Must be Tech Savvy
Myth 5: Blended Learning is Only a Steppingstone Between ILT and eLearning
What is Blended Learning?
Blended learning is an approach that uses both face-to-face classroom instruction and online learning to maximize the learning experience. The blended learning paradigm successfully blends the individualized attention of the classroom with the independence and flexibility of eLearning.
Instructor-led Training (ILT) + Online Learning (synchronous and asynchronous) + Performance Support = Blended Learning.
Blended learning is a very efficient method that provides outstanding returns on investment, excellent learning outcomes, and it enhances the learning experience when applied effectively. It is, nevertheless, an often-misinterpreted approach. Let's discuss five of the most frequent myths about blended learning.
Debunking 6 Common Myths of Blended Learning
Myth 1: There is Only One Approach to Blended Learning
You might think Blended learning implies that you should have several classroom sessions accompanied by several eLearning courses, or vice versa. That's myth number one. You can incorporate microlearning modules, job aids or social learning into the training blend. Based on the learners' need, there are a variety of online and offline training techniques on offer.
Begin with an eLearning pre-assessment then progress to classroom sessions.
Begin with ILT sessions and progress to eLearning courses for more in-depth learning.
You can conduct the course within the classroom and give post-training performance support through mobile applications.
Your blended training programs can incorporate job tracking, mentoring, peer mentoring, as well as seminars, conferences, and webinars.
You are free to develop your blended learning material and course the way you want to. More precisely, you are free to customize your blended learning modules in a way that you achieve the best outcomes and fulfill your learning goals. You can mix and match offline and online learning methods to create a unique blended learning cocktail. However, for successful training, you must integrate your training techniques with the learning objectives.
Myth 2: Blended Learning is More Expensive
One might think that using technology is costly. However, when you consider the drawbacks of classroom training, such as the cost of the venue, travel, hotel, meals, as well as losing operational hours in training, and the need to repeat the process every several months, you might want to consider blended learning as a cost-effective alternative. You can reduce costs through combining classroom sessions with an instructor along with eLearning tools and custom online courses.
The cost of developing blended learning course is dependent on your training needs, duration, and the type of interaction you want. It's simple, low-cost media such as podcasts and videos are available for use in a blended learning approach, as are more complicated formats like game-based designs and simulations.
You can save money through a blended learning strategy by supplying material online, and you'll need less, if any, material on paper. Also, revising course material becomes a lot easier and faster with blended learning.
The best part of blended learning is it's a low-cost solution to teach your global workforce. Everyone receives the same training at any time, and from any location.
Myth 3: Trainers are Replaceable in Blended Learning
The notion that instructors are unimportant in a blended learning program couldn't be farther from the truth. Also, you might think there is no face-to-face interaction, and people are less engaged during an online course than in a classroom session. However, this too is a myth.
This innovative learning strategy requires trainers to be truly committed to the whole process. From curating material to pre-coursework, trainers are involved from the very beginning of the blended learning development process. They must be intentional when connecting with their learners. Trainers also design all the course content. As a result, they along with subject matter experts collaborate with instructional designers to create successful online training programs.
Myth 4: For Blended Learning to Work, Learners Must be Tech Savvy
This fallacy is especially harmful to blended learning. Let's be real, online learning isn't rocket science. And misconceptions such as these make it seem that using an eLearning course is more difficult than it is.
Although millennials don't require support while using technology, this may not be the case for those from previous generations who didn't grow up in a progressively digital society. Blended learning helps learners get more comfortable using game-changing technology while also providing ways to obtain new skills. The eLearning courses are user-friendly and offer quick, simple, and easy navigation. Clear instructions are provided to guide learners through the course and ensures seamless learning.
Myth 5: Blended Learning is Only a Steppingstone Between ILT and eLearning
It might be difficult to transition your course from ILT to eLearning, however, blended learning can support you by allowing your learners to grow accustomed to online training. To imply that blended learning is merely a steppingstone is both unfair and inaccurate. Blended learning combines the advantages of both online and offline education. Most significantly, you can customize blended learning to the unique requirements of employee training in your organization.
Consider a training program for your sales team that provides them with skills on how to promote a new product. Every sales process requires both the ability to sell and to learn about the products being sold. Blended learning, in this case, covers a portion of the sales training through eLearning modules on product's features and specifications. It can also satisfy the need for learners to interact and master the art of selling through face-to-face classroom role plays. A fundamental principle of blended learning is to choose the optimal learning format for diverse learning goals to achieve comprehensive and effective training. The major purpose and advantage of blended learning is to assist your team in transitioning from outdated methods of training to eLearning. Blended learning is a stand-alone method that can be effective in multiple sectors.
Parting Thoughts!
Certainly, some L&D professionals may be wary to include blended learning in their training programs. If you're one of them, it's time to assess the success of your current training strategy and identify what needs to be changed. If you rely only on in-person training, for example, you could check out an eLearning course to see how it works before investing in it.
Blended learning may appear unusual and unnecessary. It can, however, have a positive influence on your employees' productivity, competencies, and on-the-job efficiency. If you want to embrace this powerful training technique, then this eBook can help you develop custom courses for your staff and organization. Get your free eBook today!