Why Training Managers Consider Blended Learning as Their Best Friend
Why do corporate training managers prefer blended learning as their primary approach? Let's find out the benefits of mixing training formats!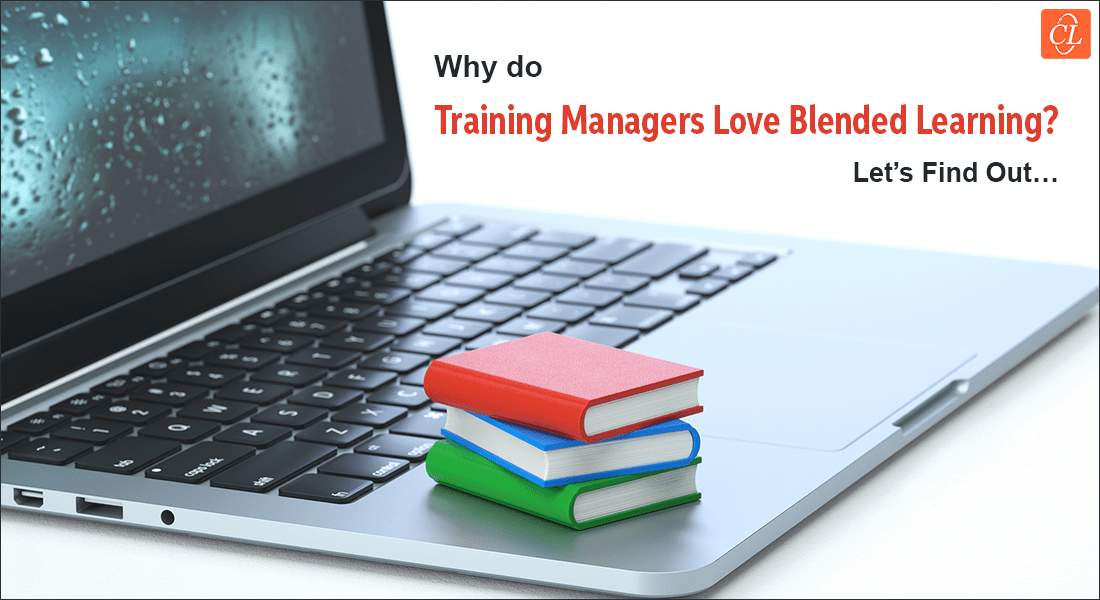 In today's corporate world, companies have broadened their horizons and innovative options are always welcomed. Due to the technological evolution in recent times, organizations have moved on from classroom training and have found other relevant options to learn anything they wish to. Training managers had to adapt to the learner's comfort and modify the training programs accordingly. Blended learning became an impactful solution for training managers because instead of choosing one out of many, they can mix and match multiple training formats according to their learner's requirements.
Are You Unsure About The Benefits of Blended Learning for Training Managers?
Here are some noteworthy benefits:
Facilitates Flexible Training
Promotes Collaborative Learning
Sorts Scheduling Issues
Makes Course Rollout Easy
Read on to find out the prerequisites of blended learning as well.
What is Blended Learning?
Blended learning combines multiple training formats to provide a personalized and engaging training experience for learners. Blended learning is majorly a combination of instructor-led training, online training, and performance support. To understand these formats further, I shall break them down into their sub-formats.
1. Live Formats
Instructor-led training – Traditional classroom training led by an instructor or a trainer.
Virtual instructor-led training (VILT) – A synchronous online training delivered virtually.
On-The-Job training – A form of practical training provided at the workplace.
E-Mentoring – A way to provide guided mentorship through online platforms.
2. Self-Paced Learning
eLearning – A way of learning assisted by electronic resources and online platforms.
Microlearning and mobile learning – Bite-sized information delivered on mobiles.
Online self-assessments and workbooks – Personalized questionnaires delivered digitally to understand and enhance the compatibility of employees.
External online resources – Internet platforms such as Youtube or Wikipedia.
Scenarios, simulations, and games – Immersive instructional design strategies to maximize learner engagement.
3. Social Learning
Discussion boards – An online bulletin board where employees can hold discussions.
Breakout rooms – Isolated split sessions to accommodate small groups of employees from the main meeting.
Online forums – An internet forum where people can drop their messages and start a conversation with other users.
4. Performance Support
Job-aids – Simple and clear instructions to perform a task and avoid basic job-based errors.
How-to videos – A video that shows a step-by-step procedure to perform any specific task.
Information databases – Structured data and analytics to understand the compatibility and track the progress of employees.
Mobile apps – Smartphone applications to provide "Just-in-time" training.
AI support tools – Online support tools or software powered by AI( Artificial Intelligence).
Now that I have discussed most of the formats of blended learning, they can be mixed and matched in different proportions and personalized ways to create functional blended learning models. There are 4 fundamental models of blended learning and they are mentioned below.
1. Rotational Model
A model where every training format has a fixed schedule and rotates among each. For example, for a one-month training program, each week will have a fixed schedule for one format of training to be delivered.
2. Flex Model
This model utilizes every training format but instead of a fixed schedule, it follows a customized schedule according to the learner's and training manager's requirements.
3. Enriched Model
Under this model, learners will have to attend mandatory classroom training whether physical or virtual, then they are free to finish the remaining course work remotely.
4. À La Carte Model
This model primarily comprises classroom-based training but furthermore adds various online training formats as a supplement either before or after the training sessions.
Benefits of Blended Learning for Training Managers
1. Facilitates Flexible Training
Today's workforce is spread globally and to train this hybrid workforce, classroom training isn't relevant anymore. Blended learning helps training managers to cater to different audiences whether local or global in their preferred formats. Training managers don't necessarily need to travel around as they can impart training even from their homes or any other fixed location.
2. Promotes Collaborative Learning
Whether it's traditional classrooms or virtual training sessions, blended learning allows learners and trainers to interact with each other, and learners can interact among themselves as well. Through these interactions, learners can share doubts, ideas, opinions, or experiences while the training managers can understand the strong points and weaknesses of their learners through personalized interactions and assist them accordingly.
3. Sorts Scheduling Issues
When training managers choose only one format for their training sessions, they had to be pre-scheduled. Most organizations are now spread globally, and thus their workforce functions under different time zones. Also, a hybrid workforce can't work as per the "one-size-fits-all" narrative. Blended learning solves these scheduling issues with the help of multiple flexible formats it supports. Microlearning and mobile learning are one of the most effective blended learning formats to train a hybrid workforce.
Things to Take Care Of Before Implementing Blended Learning Programs
1. Raise awareness in support of digitalization
Some training managers still might feel a bit dilemmatic when it comes to relying on technological advancements and prefer classroom training over anything digital. Raising awareness among the training managers, learners, and stakeholders is necessary to successfully implement a blended learning program. Case studies and relevant toolkits can be helpful in making them understand the benefits of going digital. Social media platforms can be of great assistance as well, when it comes to raising awareness, after all, who doesn't like to spend a bit of their time on social media these days?
2. Train the trainers
It's very natural for a trainer to fall short of all the latest and upcoming trends and due to this, sometimes, even trainers need to be trained. Trainers need to understand the technicalities of devices and tools the organization uses or the tools most learners are comfortable with and adapt accordingly. The most important part of this practice is to make sure trainers have developed the necessary mentoring skills to train the learners. Trainers also need to be trained about using VILT platforms and how to use different interactives like polls, quizzes, and surveys in their training sessions.
3. Keep the infrastructure ready
To implement blended learning successfully, online training sessions need to be held on a regular basis. An infrastructure that makes these online sessions seamless should be a preference for the managers and the organizations in general. Choosing the right LMS(Learning Management Systems) is the primary requirement to ensure a hassle-free online training experience. After the LMS is chosen, a team of administrators needs to be assigned to monitor the LMS activities.
Providing the learners and the training managers with required devices like a smartphone and a stable internet connection is a must-have as well. In case an organization prefers VILT, they need to decide the online platform they want to use. Some of the popular platforms are Zoom, Google Meet, and Microsoft Teams.
Parting Thoughts!
Blended learning has indeed been a savior for training managers as it offers multiple benefits and immense flexibility to their training sessions. Blended learning delivers much more value to organizations, training managers, and learners when its implemented with various versatile and innovative trends that are either the present or the potential future of eLearning. To discover the latest eLearning trends, refer to this free eBook.