3 Key Considerations for the Best blended Learning Course for Your Corporate Learners [Infographic]
Blending eLearning and classroom training can boost corporate learning. This blog explores 3 key factors for creating effective blended corporate training.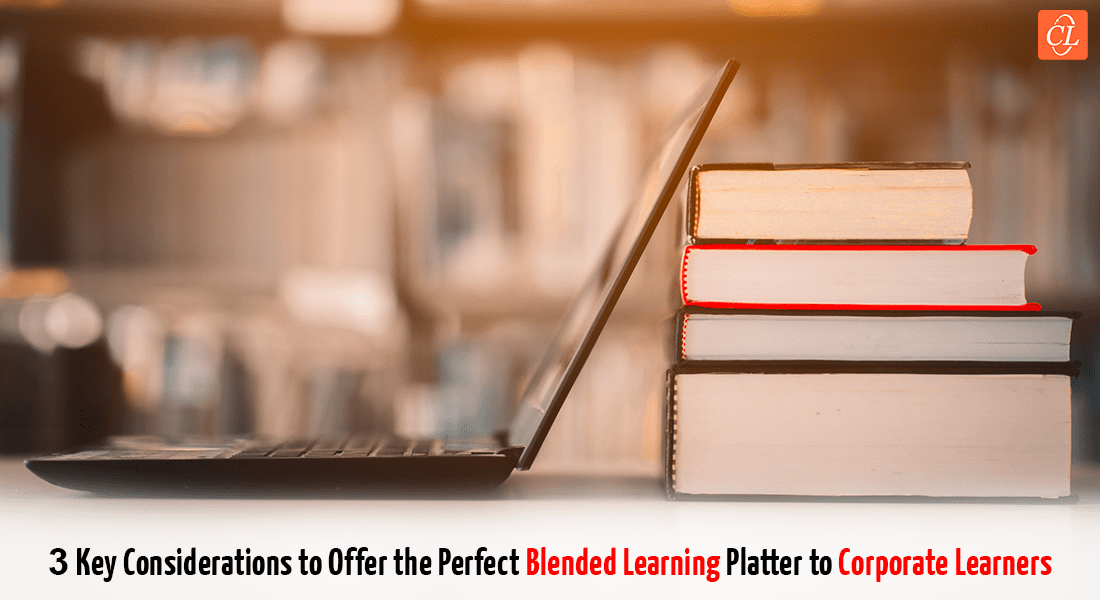 Organizations must embrace innovation since there are more new business opportunities than ever before, and customer requirements are changing rapidly. This has increased the continual demand for employees to upskill and reskill themselves. The pandemic has also changed the global workplace into a hybrid environment, which has increased the demand for training to adapt to the new methods of operation. This necessitates uninterrupted training. Is there a remedy? The answer is undoubtedly "Yes"! Blended Learning is the training approach that guarantees continuous learning in the current corporate training environment.
What Is Blended Learning?
Blended learning offers a combination of in-person and virtual training. It makes learning more engaging and realistic by providing a range of training formats such as classroom training, microlearning, VILT, and eLearning. Based on training requirements, learner profiles, and learning environment you can choose your preferred training formats to offer the perfect blended learning course to your learners. It's this flexibility to offer a variety of learning formats is what makes it the most popular training approach in the corporate world. Let's have a look at the various online training formats used under the blended learning umbrella.
1. VILT: Virtual Instructor-led Training enables instructors to relocate the classroom to an online platform by utilizing video conferencing apps such as Skype, Microsoft Teams, and Google Meet.
2. Microlearning: Microlearning is a flexible method of learning that consists of quick, bite-sized learning modules that can be applied in a variety of ways while emphasizing on a single learning objective. Some of the popular microlearning formats are videos, eBooks, podcasts, infographics and more.
3. eLearning: eLearning is learning facilitated by technology for its design, development, delivery, administration and evaluation. eLearning courses facilitate self-paced learning, and the learners enjoy the comfort of taking up the courses anytime and anywhere.
Using these multiple bended learning formats, you can create interactive courses that address the diverse learning preferences of today's workforce. So, what goes into creating a perfect blended learning platter for your learners? Let's have a look at the key aspects worth considering.
3 Key Considerations of Blended Learning for Effective Training
1. Assess your Learners
Every organization has a mixed generation workforce, and each group of learners has different learning needs, therefore based on these needs, you can select the ideal blended learning formats. For instance, millennials are tech-savvy and embrace flexibility in the learning process. Learning in bite-sized chunks is usually preferable to reading extensive text. As a result, you can use microlearning formats like infographics and videos for their training, while scenarios and simulations can be used for the training of seasoned employees as these learning formats sharpen their critical thinking and decision-making abilities.
2. Assess the Learning Environment
Blended learning is adaptive. Before developing a blended learning solution, it is vital to understand the learning environment. Hence, before implementing blended learning, ask yourself these questions.
How large is your training group?
Where the training will be provided?
Whether learners have the necessary equipment or not?
When determining the requirement for a blended learning approach, the answers must be discovered.
Let's say your organization is set to launch a new product on a global scale in the upcoming month. And now that your sales team are on the ground, you must swiftly train them on the essential components of this new product. There is an urgent need, and there are many learners. Hosting an ILT session alone is therefore no longer an option; instead, provide employees with access to a variety of microlearning resources, such as a quick video or infographic that highlights the key functions of the product. The details of the product and its benefits can be shared through eLearning courses that the learners can take up at their own convenience.
3. Choose the Appropriate Format and Platform
After assessing the learners and the learning environment, you can choose between classroom training, VILT, microlearning, or eLearning as the ideal format. Once you've chosen the format, you should decide over which platform would work best for your blended learning format. As a result, organizations and training managers should choose a platform that makes these online sessions simple. The first requirement for ensuring a trouble-free online training experience is choosing the right LMS (Learning Management Systems). Well, it is also essential to ensure the training managers and learners have the necessary equipment, such as a smartphone, laptop and a steady internet connection.
Now, if you're considering about implementing a blended learning approach, you should also be aware of the scenarios in which it will be most effective. Check out the infographic below to understand when blended learning is most effective and where you can use it.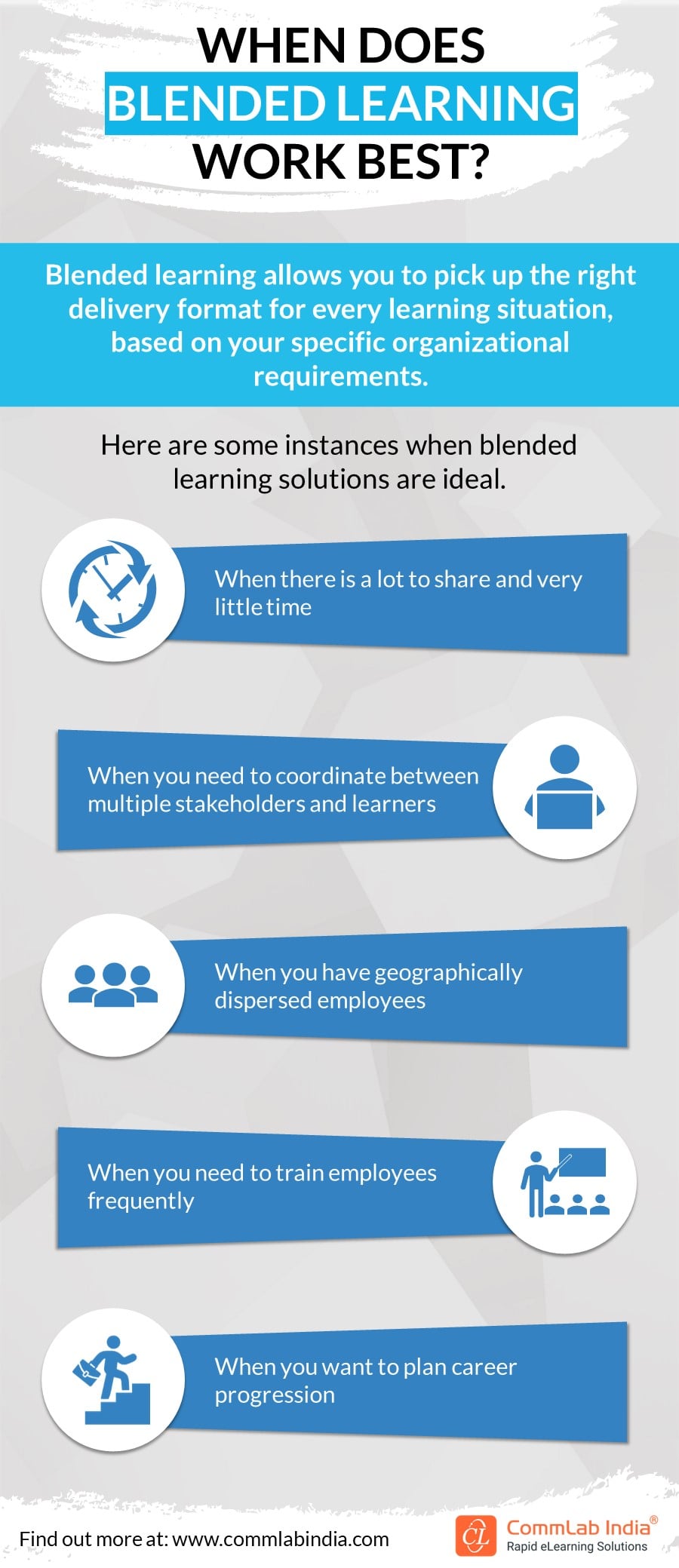 Wrapping Up!
A blended environment combines many types of learning into a cohesive curriculum that offers learners a holistic, engaging learning experience. As a result, it is an effective and critical training approach that you should explore to reach your business goals. Are you prepared for it? Download this eBook to learn how blended learning can be used to boost employee performance.