6 Crucial Stages of eLearning Design and Development Process
The eLearning Design and Development process is an elaborate affair. An effective eLearning program has multiple factors that contribute to its success. Get to know what it takes to create an effective eLearning course, the key components required and the right people to execute them.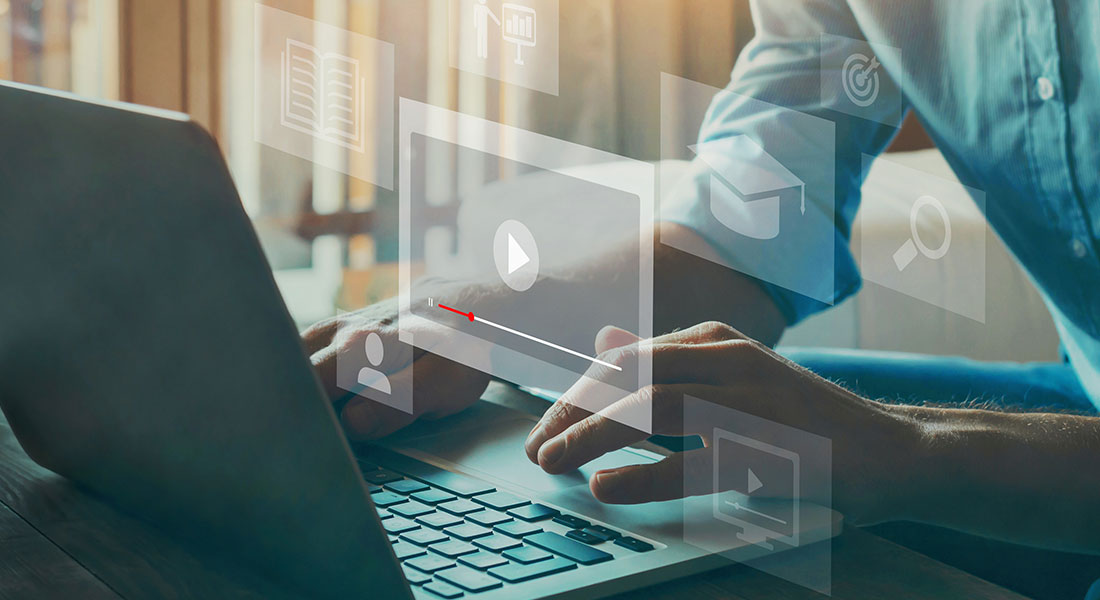 Globalization is one of the factors that accelerated the creation of online training solutions. Employees are located at different geographical locations and training them in the traditional way is time-consuming and costly. Added to this, business demands are constantly changing. Markets are expanding and there is a proliferation of products. Due to these reasons, it became imperative for employees to be constantly updated on their knowledge and skills. This means training must be continual and ongoing. Enter, eLearning. The benefits of eLearning, especially in corporate training, came into picture with catering to this business need.
The eLearning Design and Development Process
In simple terms, eLearning is the use of the latest tools and technologies to design and develop digital learning programs with a key focus on adult learning principles, different learning styles, and instructional design principles; enabling learners to learn anytime, anywhere.
The six stages in eLearning design and development:
Analysis
Design
Development
Evaluation and Implementation
Translation
LMS hosting
Essence of eLearning
What is eLearning?
eLearning is the use of technology that facilitates learning anytime, anywhere. Simply put, learning accomplished with the use of electronic media is eLearning. However, it is not as simple as it may seem. The information provided by subject-matter experts is made learner-friendly with the application of the principles of instructional and visual design and then produced using authoring tools/ software such as Articulate, Lectora, Captivate, Flash etc. Finally, it is made AICC or SCORM compliant and made available on the Learning Management System, Web Portal or intranet for users to access. The objective of an eLearning course is to teach or help individuals take up a self-paced learning approach.
However, eLearning is NOT just adding audio to presentations or recording live sessions and uploading them on an LMS/the Internet/a website. While this is easy and incurs less cost, it provides very little to the learner. After all, it is a one-way communication without any consideration for learners and their needs.
How is eLearning Developed?
eLearning is created considering adult learning principles, learning styles and instructional design principles as the foundation.
Adult Learning Principles:
Adults learn differently from children. According to the adult learning principles, Adult Learning:
Is autonomous and self-directed
Consists of different learning styles
Is time-bound
Is influenced by intrinsic and extrinsic factors
Is problem-oriented and goal-oriented
Emphasizes on practical and relevant learning
Brings prior knowledge and experience into learning
In the case of adults, we need to facilitate rather than teach. We need to connect the current learning to what they already know, and we need to make the learning solve their problems that they face at the workplace. We must bring in "What's in it for me" very clearly. Therefore, when designing eLearning courses, these factors need to be kept in mind.
Learning Styles:
People have different learning styles. Some learn better by reading, others by seeing and some others by hearing or doing hands-on activities. eLearning needs to address these varied styles of learning. This is done by carefully integrating text, audio, graphics, and images, so that it has a balance of all stimuli that appeal to all learners.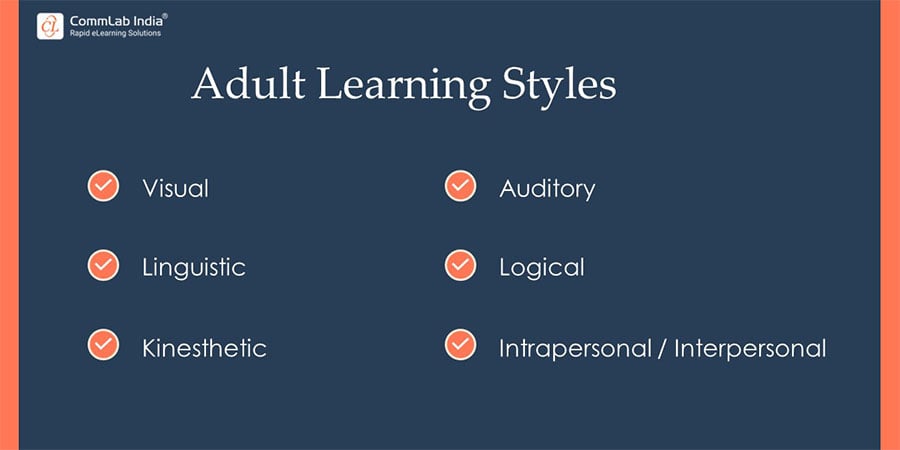 Instructional Design Principles:
Finally, we must apply sound INSTRUCTIONAL DESIGN PRINCIPLES to facilitate learning for adults. There are many models of instructional design we follow, depending on the audience profile and the subject at hand. The most popular and commonly used model is the ADDIE model. ADDIE is an acronym for Analysis, Design, Develop, Implement, and Evaluate. The model prescribes an audience and content analysis, then designs the course by deciding on the instructional, visual, and auditory strategy, develop the course with the appropriate authoring tools, implement the learning and finally evaluate it.
Another popular eLearning Development Model is called SAM, the acronym of Successive Approximation Model. As the name suggests, the model involves taking rapid successions of small steps to complete each milestone. In a way, SAM is an improvement to the ADDIE model. SAM incorporates rapid development strategies such as rapid prototyping and savvy start. The model consists of 3 phases viz:
Preparation phase – For information gathering and defining learning outcomes
Iterative Design phase – For designing, prototyping, and evaluating
Iterative Development phases – For evaluation, development, and implementation
There are many more models at the disposal of learning experts, and they need to choose the right one based on different situations. Designing an eLearning involves application of several principles and practices that is far more specialized than making a simple PowerPoint slide deck. This ensures that the course is effective, ensuring participants learn and apply what they learn to their jobs.
eLearning Design and Development
Now, let us see the different stages in eLearning design and development. The following six stages gives a bird's eye view of the entire design and development process lifecycle.
Analysis:
This is the first step of the eLearning development process. At this stage, you need to analyze the learning content, learning objectives and the profile of the target audience. You also need to look at the type of job or tasks that the participants are expected to accomplish after taking the course. Based on this, a broad instructional strategy is formulated to decide on the best way to present the content.
Design:
Next, learning experts need to create a design document that incorporates the recommendations of the learning management team. Requirements of the stakeholders, training objectives, assessments required, and design challenges are considered at this stage. This document also specifies the instructional, visual, and audio elements to be included in the course curriculum.
Develop:
The specifications in the design document are executed by incorporating the content, visuals, and assessments into a storyboard. The page layout, graphic user interface and multimedia elements are all finalized at this stage and incorporated into the course. There are a range of rapid authoring tools today such as Articulate Storyline, Lectora, Captivate, etc., which can be used for giving a definite shape to your eLearning course. Using rapid authoring tools expedites the course development process considerably thanks to their in-built interactivities and templates. Check out this online video that shares 4 tips to zero in on the right authoring tool for your eLearning course development.
Evaluate & Implement:
Next is the evaluation stage where the quality of the developed course is tested to ensure accuracy of functionality as well as content. Editors, instructional designers, subject matter experts and quality control managers check various components of the course to ensure perfection. Feedback is incorporated into the course and uploaded.
Translation:
If a course needs to be translated into one or more languages, it is done at this stage by following a separate sequence of actions to ensure accuracy and quality.
LMS Hosting:
Finally, the course is hosted on the LMS or any other learning portal. The target audience is given the link, user information and passwords to access the course. Using an LMS allows managers to monitor and evaluate the training program at every stage – how many users have registered, how many have completed, how many have abandoned mid-way, etc. This helps in taking corrective action and ensuring maximum success of the training initiative. Communication is the key, and one has to ensure that the courses are not just merely uploaded on to the LMS, but information about them is correctly and persuasively reached to the target audience.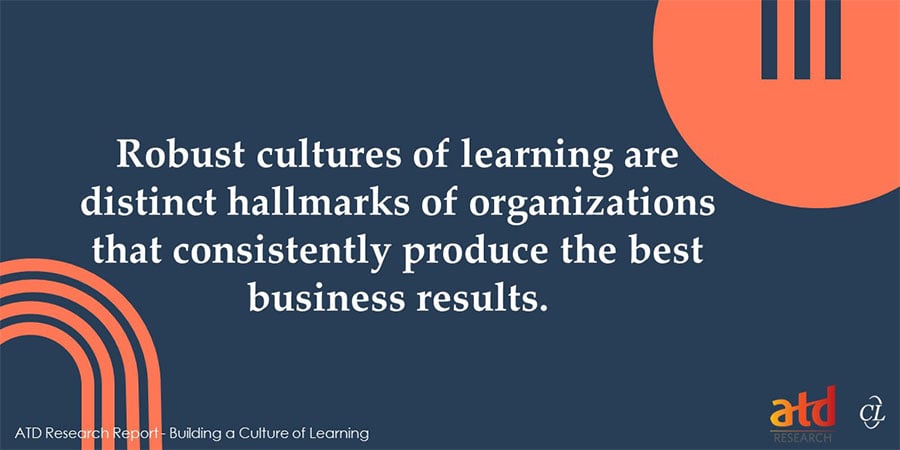 On a Final Note…
To summarize, a good eLearning course can be developed once you analyze your requirements and devise an effective learning strategy to share the knowledge required. You need to understand the components such as adult learning principles, learning styles and instructional design principles to create a course that meets your objectives. Finally, to develop the course you need to adopt a streamlined process and use the right tools to execute course development. The responsibility does not end here. Once the course is deployed, it needs to reach the target audience. For this purpose, you need to have a good communication strategy that ensures your intentions are understood, appreciated, and accepted by everyone. Hope you find this article useful. Do share your views. For a quick rollout, ensure instructional designers follow the best practices for Rapid eLearning Design for the best results.
Editor's note: This post was originally published in Aug 2016 and has been updated for comprehensiveness.