5 Building Blocks for an Online Library on Soft Skills and Technical Training
Training managers and L&D professionals who are wondering how to build an online library for soft skills and technical training can benefit from the tips listed in this blog.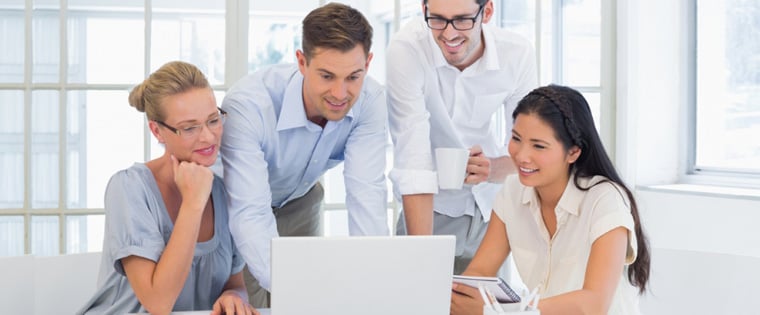 Every successful organization is aware that providing employees with continual opportunities to learn is far more beneficial than offering training programs once in a blue moon. Delivering online training programs has become the norm in many organizations. Some have progressed beyond that, and want to deliver a hybrid learning experience to their employees in the form of an online library. Organizations that have enabled e-learning at the workplace already have a Learning Management System (LMS) in place. They only have to leverage the strengths of the LMS to build an online library of standard courses for both soft skills and technical training, relevant to their industry. Read on to gain valuable tips to build an online library for soft skills and technical training.
1. Clear the Clutter
Before you go ahead with building an online library of standard courses, you need to clear the clutter of existing courses on the LMS. Determine what is required and what is not. Ideally, every organization looks for training programs on soft skills and technical training related to their industry. It is best to make a list of existing online courses that you have, and decide what needs to go into the library. Try to match the existing courses to employees' learning competencies and job responsibilities. Do away with courses that are outdated and no longer relevant to your industry. Your online content library is of more value to learners when it has courses that are relevant to their roles at the workplace.
2. Create or Curate Courses
The next step to build a library of standard courses in your industry is to decide whether to create or curate content. There are different ways you can follow to ease the process of building your online library. You can choose to curate by buying content off-the-shelf, create content and build courses in-house (if you have the resources to do so), or outsource course creation to an e-learning vendor. Apart from courses, the online library can host PDFs, classroom PPTs, videos, presentations, and other digital job-aids. You can also add microlearning assets developed from existing courses to the library.
To create a library of soft skills and technical training, here is what you can do. Soft skills training programs developed by experts in the industry can be purchased off-the-shelf while industry-specific technical training programs can be designed with the help of subject matter experts in your organization.
3. Organize the Course Library
You can organize your online library of standard courses on the LMS. Depending on the course content you have for soft skills and technical training, the different ways to organize content are:
By length – standalone courses, curricula, or microlearning nuggets
By topic – Skill set X, Y, Z, etc.
By complexity – Beginner, Intermediate, Advanced levels
By relevance to role – knowledge for your role, for related roles, for other roles
An LMS that lets learners navigate with ease and offers effective content management to administrators is crucial in building an amazing online library.
4. Prepare for Content Depreciation
As the years pass by, remember that training content depreciates in value. Technical training programs may need to be updated over time. For example, if you have a product training for medical reps that fits the bill currently, there is every chance that the training program will need to be updated in future, as new and innovative products are added to the sales portfolio. Keep in mind that uploading courses on a library is not a one-time activity. Ensuring the courses available in the online library are updated increases the utility quotient of the library.
There are times when organizations find themselves with a repository of legacy e-learning courses that are still relevant to their soft skills and technical training programs. Just because these courses are in older versions of SCORM and are not suitable for the responsive learning that's in trend today, does not mean you archive these courses. You can opt for legacy course conversion to responsive HTML5 courses. This ensures that your online library remains a storehouse of rich information always.
5. Focus on Learner-Centricity
One major factor that ensures the popularity of your online library is the value of the content you offer. Every course that's a part of the library has to be sound on instructional design. This is essential in keeping learners engaged. When you build an online library for soft skills and technical training, remember to include courses that address different learning styles. As the learning industry continues to evolve, stay abreast of emerging trends and keep your library up-to-date.
Building an online library can give learning and development (L&D) in your organization a boost as they help create learning experiences employees will cherish. The online library can become the local hub for continual learning, training and performance support for employees.
Do you have an online library in your organization? If yes, how has this benefited employees? Do share your thoughts through the Comments section.